The Scotch egg is my white whale recipe post. My editor has asked me to make this dish since I started writing recipes for Uproxx, some four years ago. I've put it off because, well, making a Scotch egg is sort of a pain in the ass. Sure, I've done it many times but I've never liked it.
Well friends, today I'm making a Scotch egg once again. At least now I can't be bugged about it anymore.
The thing with a Scotch egg is it takes very gentle cooking skills. You have to peel soft-boiled eggs — a pain in the ass. You have to make your own sausage — a slightly lesser pain in the ass. You have to wrap that raw sausage around those soft-boiled eggs without breaking them — a true pain in the ass. I don't mean to scare off anyone looking to make this recipe, just be warned that you will fail and it will be very annoying.
Full disclosure, only three of my four Scotch eggs made it. One of the yolks busted while I was gingerly wrapping the raw sausage around it and there was no going back. The rest, however, turned out beautifully. So… I guess I get a 75/100 for the day. Solid C.
Let me know how you do in the comments.
Also Read: The Top 5 UPROXX Recipe Posts of 2021
Scotch Egg
Ingredients:
Serves 4
6 large eggs
2 liters vegetable oil
1-lb. ground pork
1 tsp. sea salt
1 tsp. white pepper
1/2 tsp. garlic powder
1/2 tsp. cayenne pepper
1/4 tsp. ground allspice
1 sprig fresh sage, finely chopped
2 sprigs fresh thyme, destemmed
1 cup all-purpose flour
1 cup panko
Extra salt and pepper for seasoning
Get good quality and very fresh eggs. The fresher the eggs, the easier they'll be to peel. Beyond that, the rest is all pretty easy-to-find ingredients from any grocery store. I have used dried sage and thyme in the past and it was perfectly fine as a substitute. You can also make beef, bison, boar, or even venison sausage if you're into that.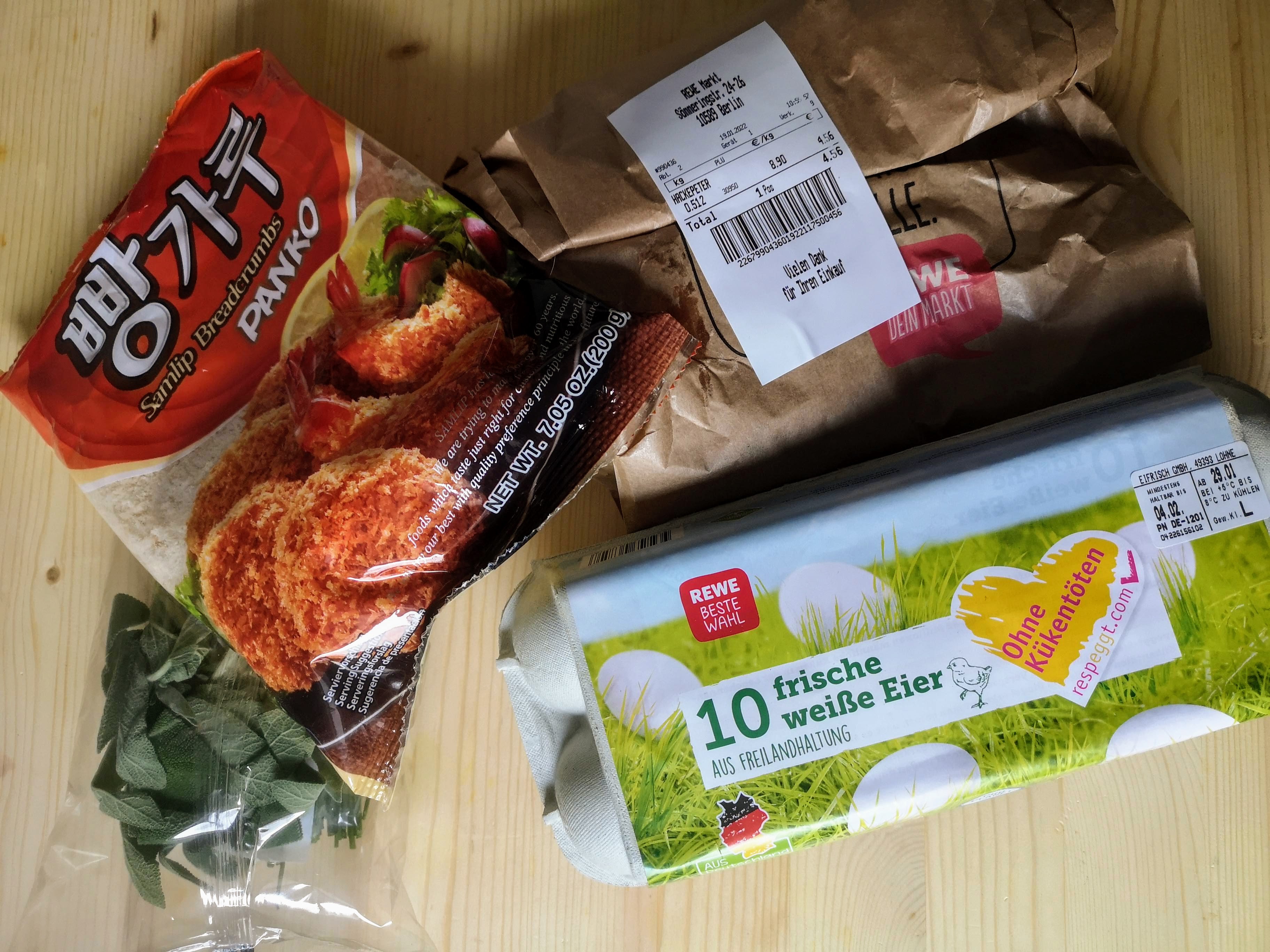 Optional:
I like a little dipping sauce with my Scotch eggs. But since these are already pretty labor-intensive, I'm cutting huge corners and mixing 3 parts aioli with 1 part smoked Sriracha — both from the grocery store. It's easy and delicious.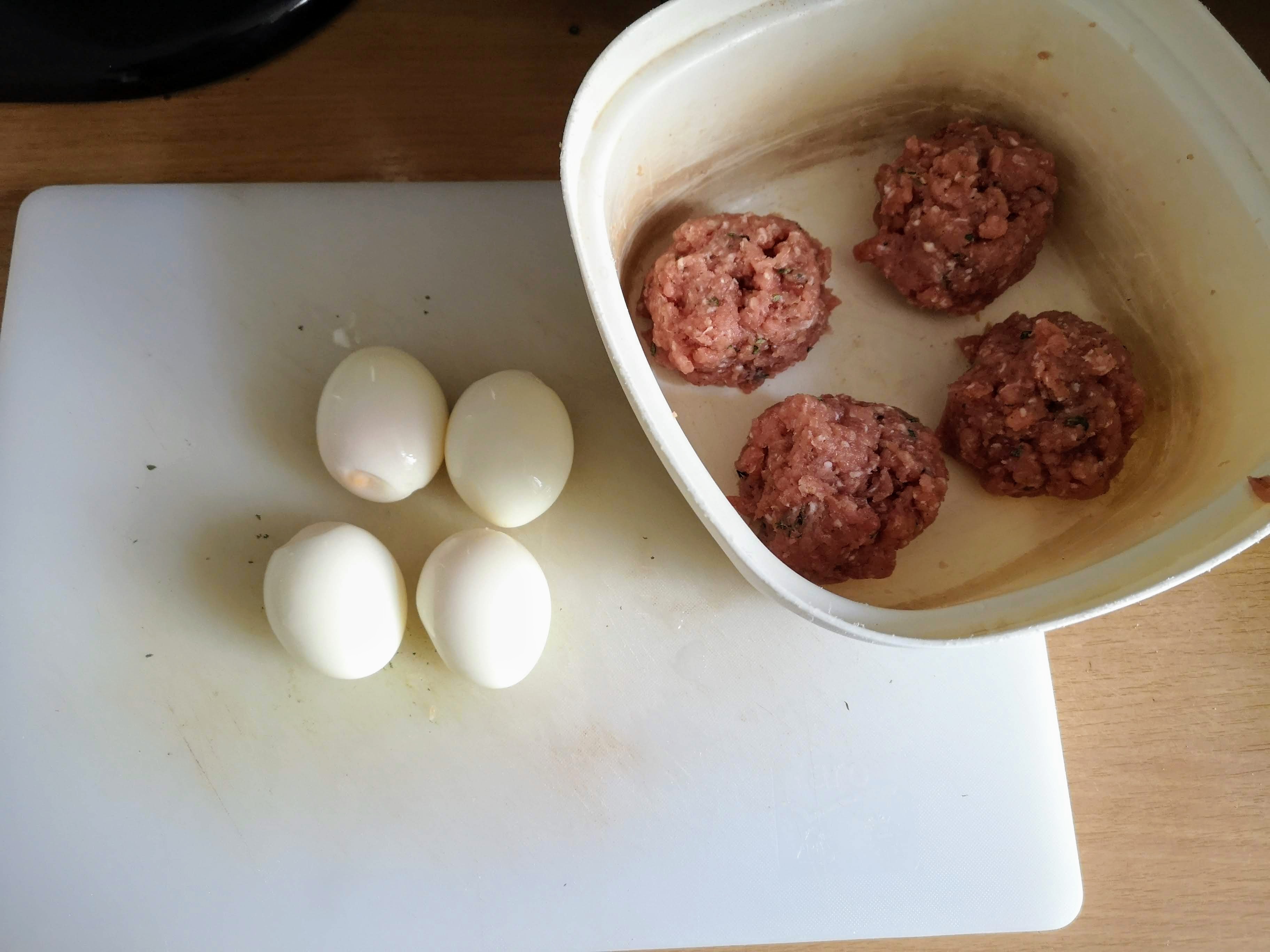 What You'll Need:
Medium pot
Large, heavy-bottomed pot (for frying)
Slotted spoon
Plastic wrap
Bowls
Kitchen knife
Cutting board
Wire rack
Method:
First, boil four eggs. Bring a medium pot up to a brisk boil. Gently lower the eggs into the water with the slotted spoon (this should avoid cracking the eggshells). Let them boil for 4.5 minutes for a jammy yolk and set white.
Remove eggs from the boiling water with the slotted spoon and plunge them into an ice bath to stop the cooking.
While the eggs are cooling, prepare the sausage by combining the ground pork with sea salt, white pepper, garlic powder, cayenne, allspice, sage, and thyme. Mix thoroughly with your hands until a nice, well-integrated sausage is formed.
Separate the sausage into four, equal-sized balls.
Set up a dredging station with three bowls: One for flour (with a pinch of salt and pepper), one for two eggs (scrambled), and one for the panko.
Pour the oil into a heavy-bottomed pot and put it on medium heat (you want to hit 350F for frying).
Crack the shells of each of the eggs and return them to the water (this will allow the water to get under the shell and separate it a little for peeling). Then very gingerly peel away the shells and place the eggs on a cutting board.
Place a sheet of plastic wrap over a section of the cutting board and then place a sausage ball (about the size of a billiard ball) in the middle. Flatten into a sausage patty that's about 1/4-inch thick.
Place the egg in the middle of the patty and use the plastic wrap to gently roll the sausage meat around the egg and seal it at the top. Remove the plastic wrap and use your hands to smooth out the sausage around the egg and make sure it is completely sealed. Repeat this with the remaining eggs.
Once all of your eggs are coated in sausage, dredge them in flour, egg, and then panko. Make sure that there are no wet spots coming out of the panko and the egg is completely covered. Use your hands to gently press in the panko a little bit. Repeat with remaining eggs.
Check the temp on your oil, it should read 350F. Lay the eggs in the hot oil. If the oil doesn't completely cover the eggs, use a spoon to dash some oil over the top that's sticking out.
Fry the eggs until evenly browned, about seven to nine minutes. Flip once or twice for even frying. The outside should be a fairly dark brown and the sausage should be 100 percent cooked.
Place the Scotch eggs on a wire rack to cool and drain the excess oil.
Serve immediately with a pinch of salt and the aioli and hot sauce (I also minced some chive for garnish).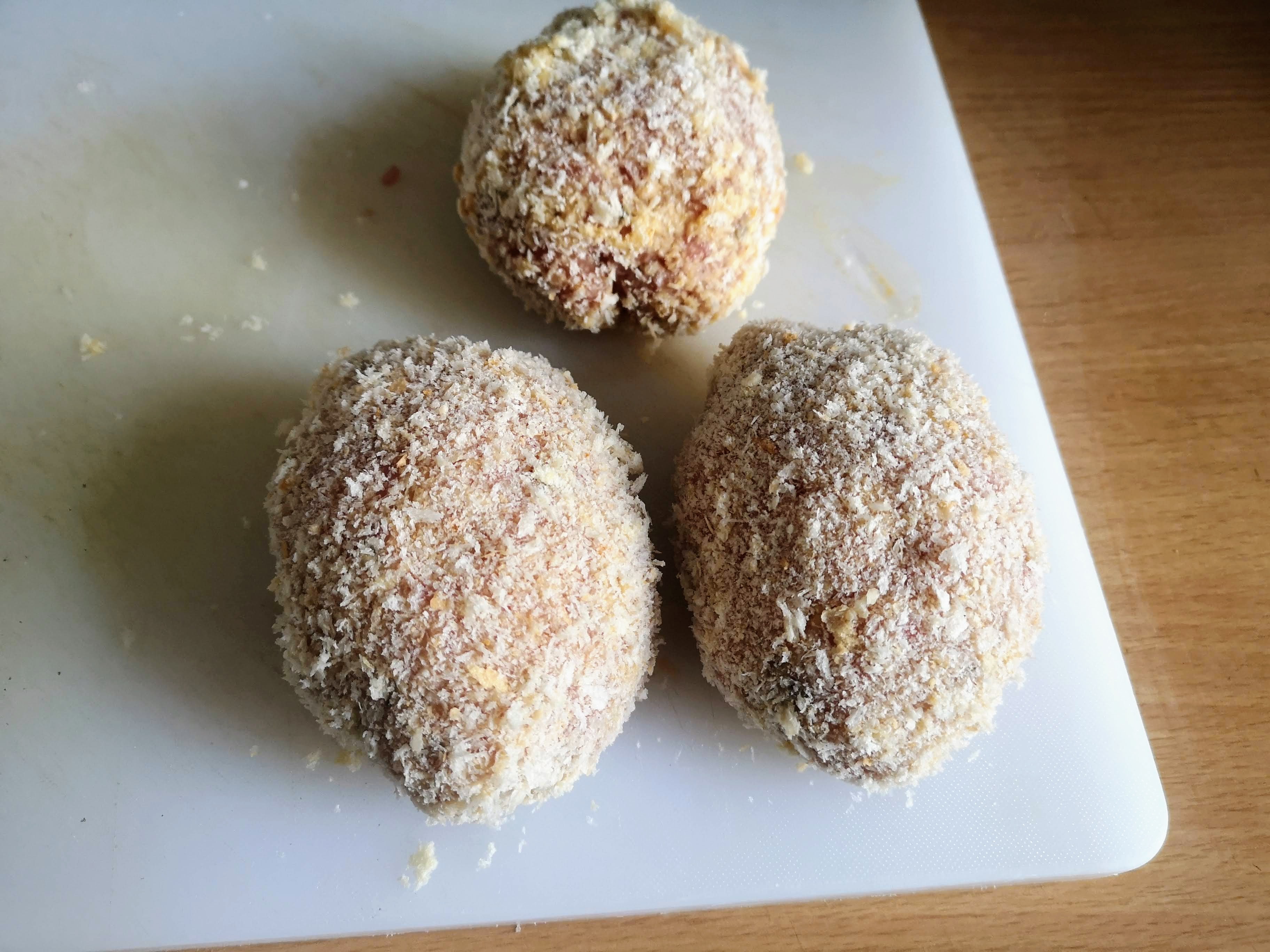 Bottom Line: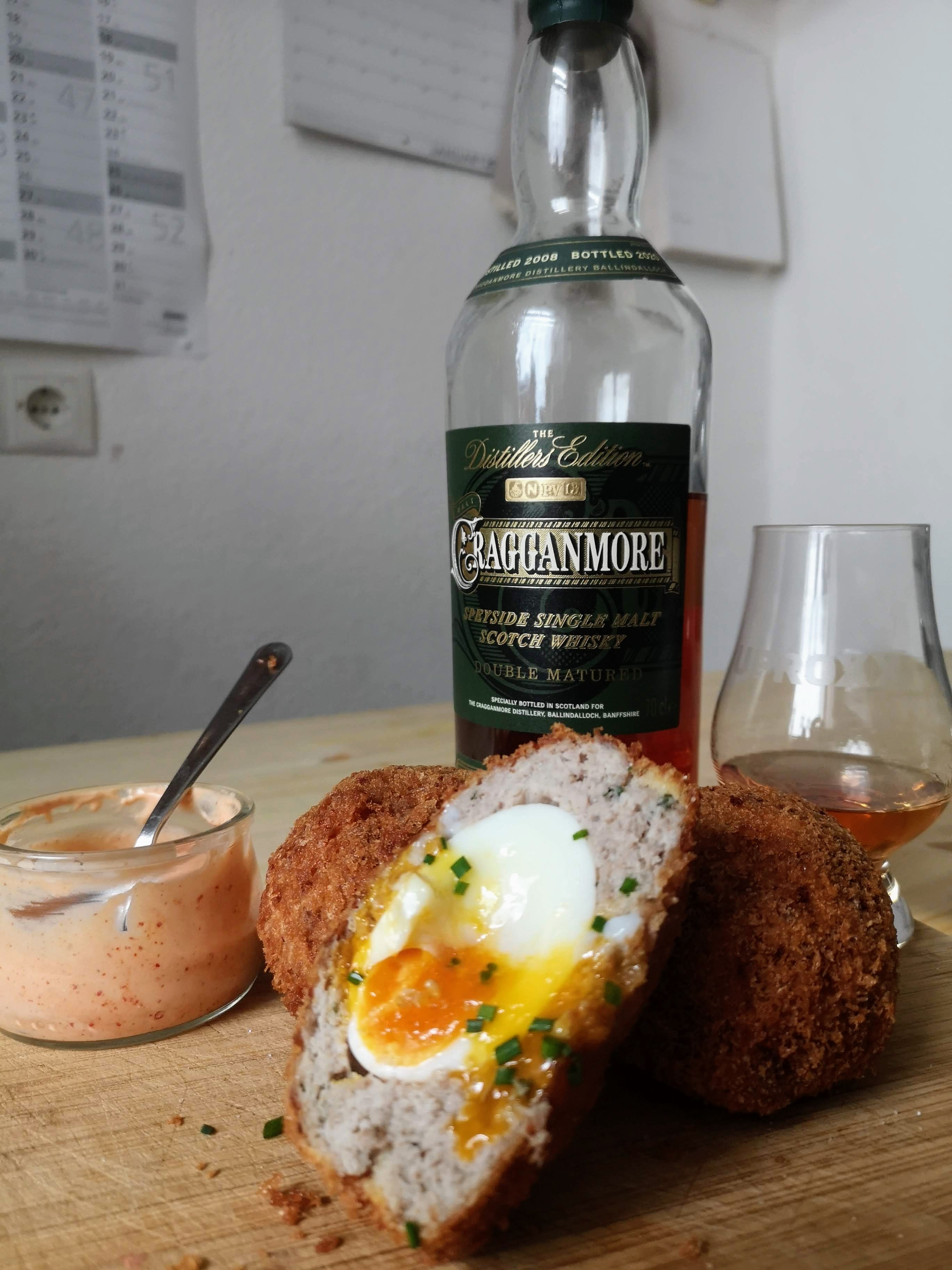 We made it! Okay, these are delicious and worth the effort. Am I going to make them again this month? No. I will make them again this year though. They're that good — even though they remain a hassle.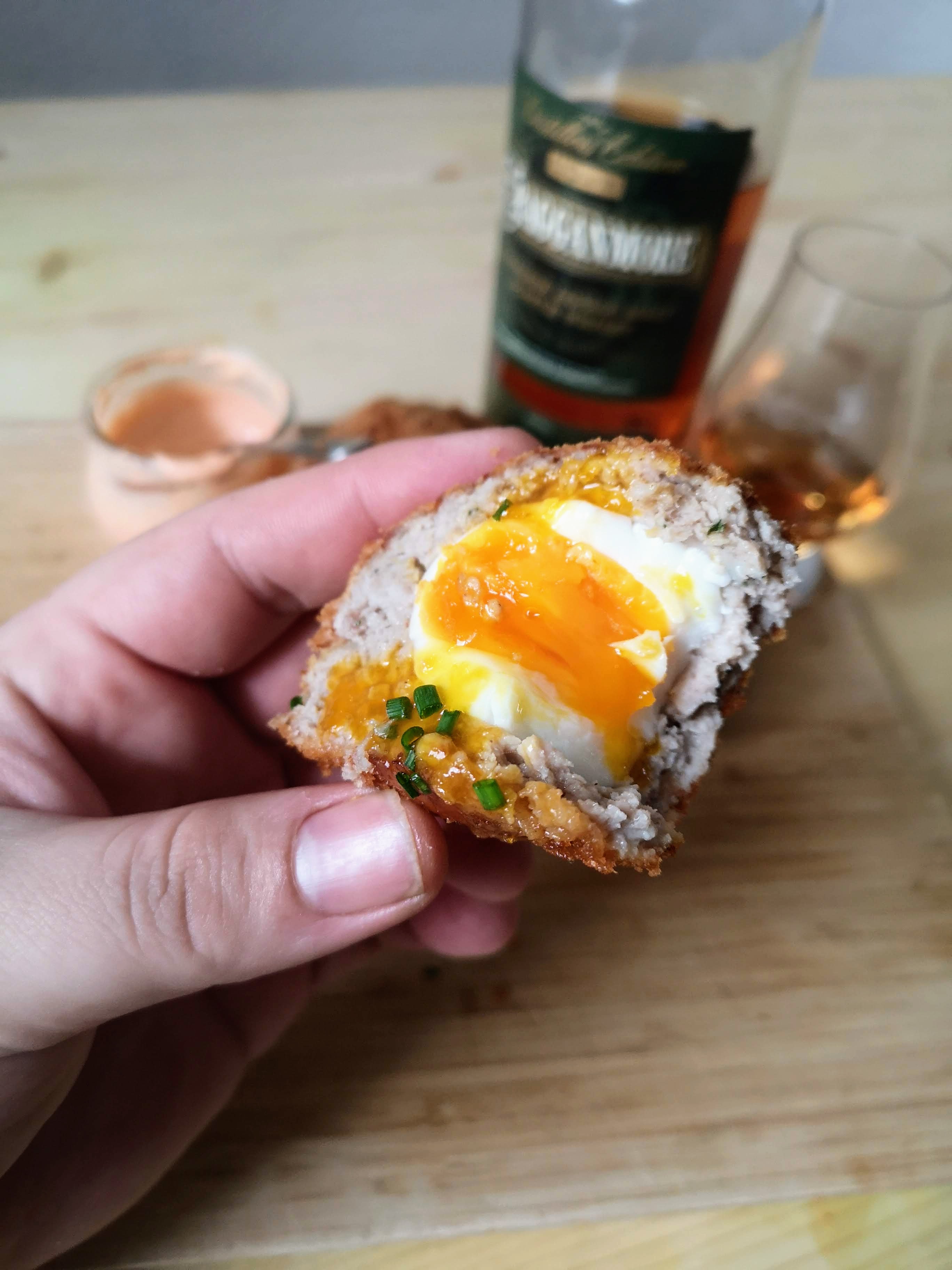 The real beauty is the sage-forward sausage with a touch of spice that's still moist against that jammy and runny egg yolk. It's like a breakfast one-hander that's messy, unctuous, and delicious.
The outer crunch of the panko crust is the perfect counterpoint to all of that. It really ties the whole dish together. The spicy aioli is great and adds an extra layer of heat, which is nice.
I cut open the other two, to give you a chance to see inside those too. You can see them below. Now, it's time to pour a Glencairn of good Scotch whisky and enjoy the fruits of my labor.