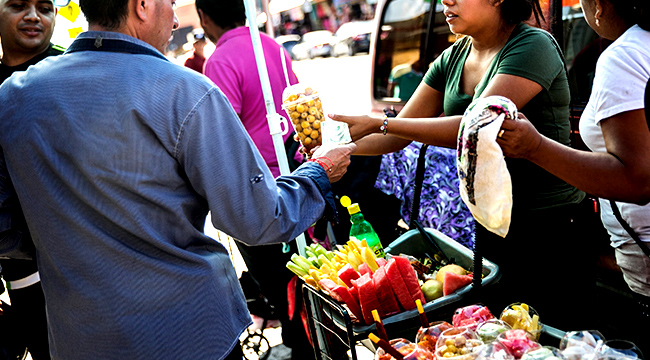 The sun is setting in Boyle Heights. The air is filled with the smell of freshly made tortillas and carnitas. Across from La Favorita Bakery, Caridad Vasquez — draped in her signature "Legalize Street Vending" apron — readies my order of tacos. I try to be patient, but my face can't hide that I'm suddenly aching with hunger, thanks to the intoxicating smell of fresh Mexican food being grilled mere inches from me.
A gathering that at first consisted solely of the occasional passer-by, enticed by the smells of fresh tortillas and tacos de papa, soon grows into a crowd of many in this largely Latinx enclave of Los Angeles. Strangers extend niceties through glances and smiles and greet one another in a chorus of Spanish and English. Construction workers, artists, gardeners, city officials, people from all walks of life have come together to share this nondescript corner on the east side of Los Angeles.
I speak with Caridad, with East LA Community Corporation organizer Abraham Zavala acting as my translator, as she readies my meal.
"Vendors bring community," she says. "People come and eat their own cultural foods and taste flavors from other cultures. My cuisine is from Michoacan and Jalisco, that's the style that I bring. As Latinos, we love food culturally, and for a lot of us, we can't go back to our country."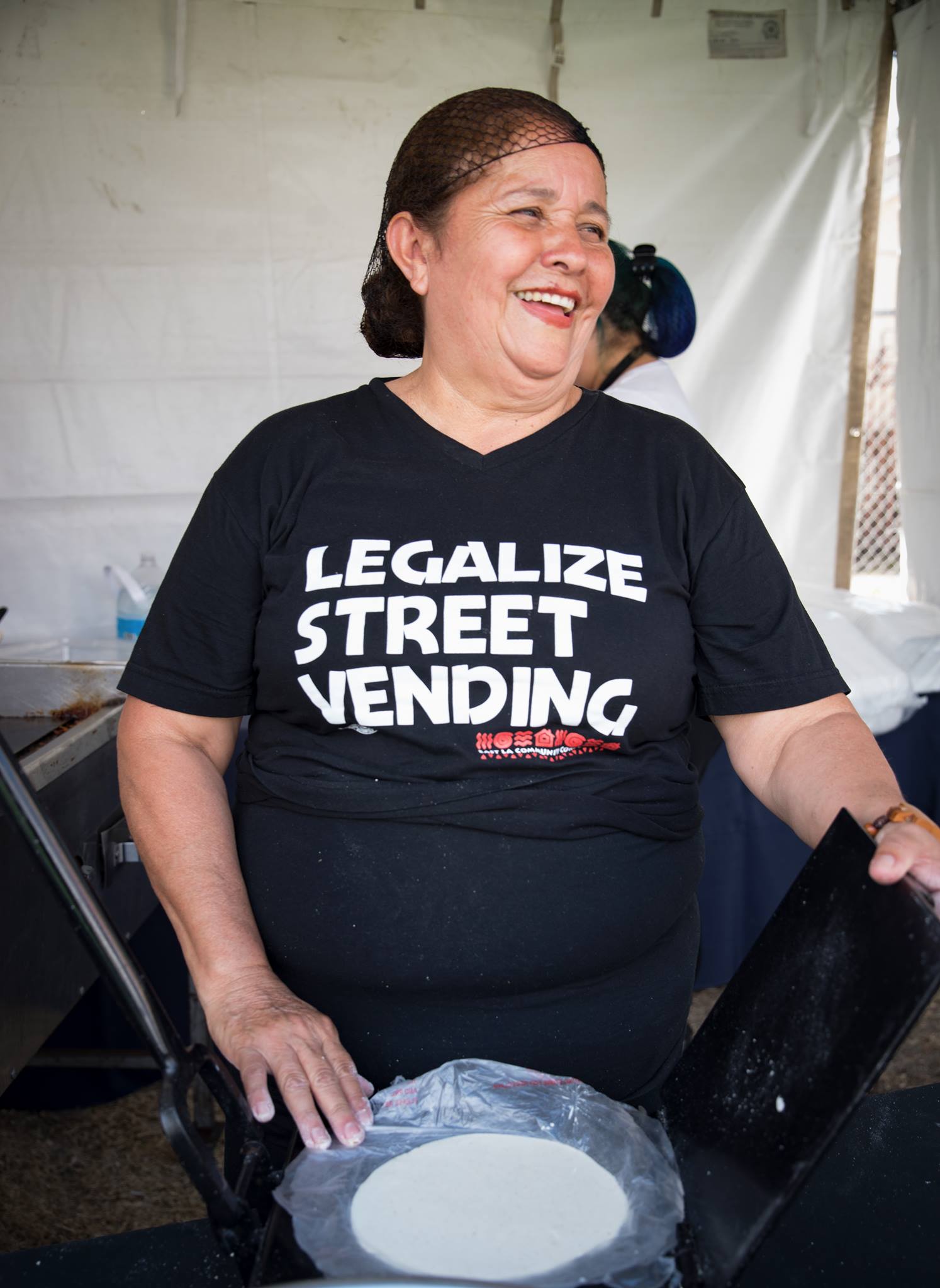 Caridad has been a vendor since the age of eight. With over 50 years of experience perfecting her craft and cuisine, she's every bit the chef as those with bigger platforms or more media clout. Her artistry is evident as she grills me up fresh carne asada tacos — sprinkled with cilantro and onion, topped with a mix of sour cream and guacamole, all punctuated by the kick of tomatillo salsa. This is the Los Angeles I grew up knowing. Frankly, it's the only Los Angeles I want to live in. A city where lovers of great flavors can connect on sidewalks and in parking lots.
As a native of this city, I grew up seeing vendors and assuming, considering the crowds they often draw, that their operations are legal and sanctioned. But that isn't the case. At least not quite yet. In fact, murky laws about street vendors — from bacon-wrapped hot dog hawkers to elote vendors to more sophisticated setups like Caridad's — have long plagued the city.
Earlier in the year, California Governor Jerry Brown signed Senate Bill 946 — which prevents California cities from banning vending in parks. It also gives vendors the right to operate without having to ask adjacent businesses for permission. But before this law goes into place, city councils are scrambling to set up specific rules that work in their homes towns. Los Angeles city council approved their rules at the end of October.
Caridad has fought hard to get to this point.
"Legally, we don't have permits yet. But we don't have issues with the police, either," she says. "Before the police would show up and take our stuff… the sadness that one has to begin all over… it's so hard for us."
It's fascinating to watch Caridad explain all this, a subject she obviously has a deep passion for, without slowing down her service for a millisecond. It's also interesting to note the overarching context of the conversation. Most street vendors in Los Angeles are Mexican. Overwhelmingly, they're immigrants. The fact that our president doesn't see their contributions to society is not lost on them.

Regardless of the action that cities have taken, Governor Brown's bill will go into effect January 1st, 2019. It's a major win for street vendors across the state. As quickly as things may be moving, issues with some of the language of the city council rules worry Caridad. Particularly the fact that vendors will be limited to two per block.
"Because a lot of vendors travel, it's important for us to have a place to vend," she notes. "Especially in areas where there are a lot of vendors."
Another point of contention with the ordinance is banning vending in specific areas like Hollywood Boulevard or Dodger Stadium. Some fear that such restrictions will lead to a form of red-lining, essentially segregating communities by income.
"It's bad that they exclude those areas because we're used to working in those areas," Cardidad says. "There is no concrete reason to exclude these areas. We uplift the economy! People will see that with the permits — it'll be helpful to the economy, for us as chefs, and for the community."
It's clear that community is everything to Caridad. Not just because an active, bustling environment empowers her livelihood, but because food remains the best way to connect us together and to remind others of home. Her message is, in many ways, is the same as Anthony Bourdain's. It's a plea for us to connect through food and for us to celebrate culture rather than homogenize it.
As we chatted with help from Zvala (and I gorged myself on tacos) there was only one moment when Caridad stopped working, turning to address me directly.
"Here at this spot, in this country, I'm bringing the food that people miss from their home country. Since some of us can't go visit, this is one way for them to be reminded of home."
She watches me long enough to make sure the point has landed, draws a breath, and returns to her grill. After all, there are people to feed.