It's crazy to think that the very act of air travel was once a status symbol for those who hoped to embody American luxury. Flash forward to 2019 and flight prices are more egalitarian than ever. Still, it's tough to seem fancy when the person in front of you has reclined straight into your kneecaps, the dude next to you is a walking ball of phlegm, and some little jackass behind you is kicking your seat. If you want to feel big time in this era, comfort and convenience reign supreme.
What mid-century American travel had that modern travel doesn't — aside from space and comfortability — was style. Everything just looked sleek back then, from cars to buildings to interior design. And while it doesn't look like airlines are getting better anytime soon, at least you can live out all your Mad Men jet-setting fantasies at JFK airport's new TWA Hotel.
Partly housed in what was formally the 1962 Eero Saarinen-designed Trans World Airlines Flight Center, the TWA Hotel is a 512 room midcentury modern hotel located at New York City's JFK Airport.
Reservations are now open for potential guests, with the hotel set to open formally on May 15th. The property will be perfect for layovers, given that this is the only hotel literally at JFK airport. The hotel even offers an air train straight from the property to your terminal (style and convenience!) but given the vast amount of amenities and curiosities on display at the TWA Hotel, you might just never want to leave.
You'll be like Tom Hanks in The Terminal, only without the whole military coup subplot, and you have to pretend it's the mid-60s. So… maybe nothing like Tom Hanks in The Terminal.
The TWA will be home to six restaurants, including the Chef Jean-Georges Vongerichten run Paris Café, eight bars, high-end retailers, floor-to-ceiling windows with stunning views of active runways, a Jet Age museum, a modern gym, a rooftop observation deck and pool where you can get all romantic and watch flights take off while you sip on old-fashioneds and dream-up advertisements — or you know, just swim around.
The hands-down coolest aspect of the whole hotel is the tireless attention to detail in recreating the mid-century interior design. The TWA team really went all out, showcasing vintage TWA uniforms, rewiring rotary phones and equipping them with free long-distance calls, and partnering with Intelligentsia for an of-the-era inspired coffee bar where baristas will take orders from custom mobile carts.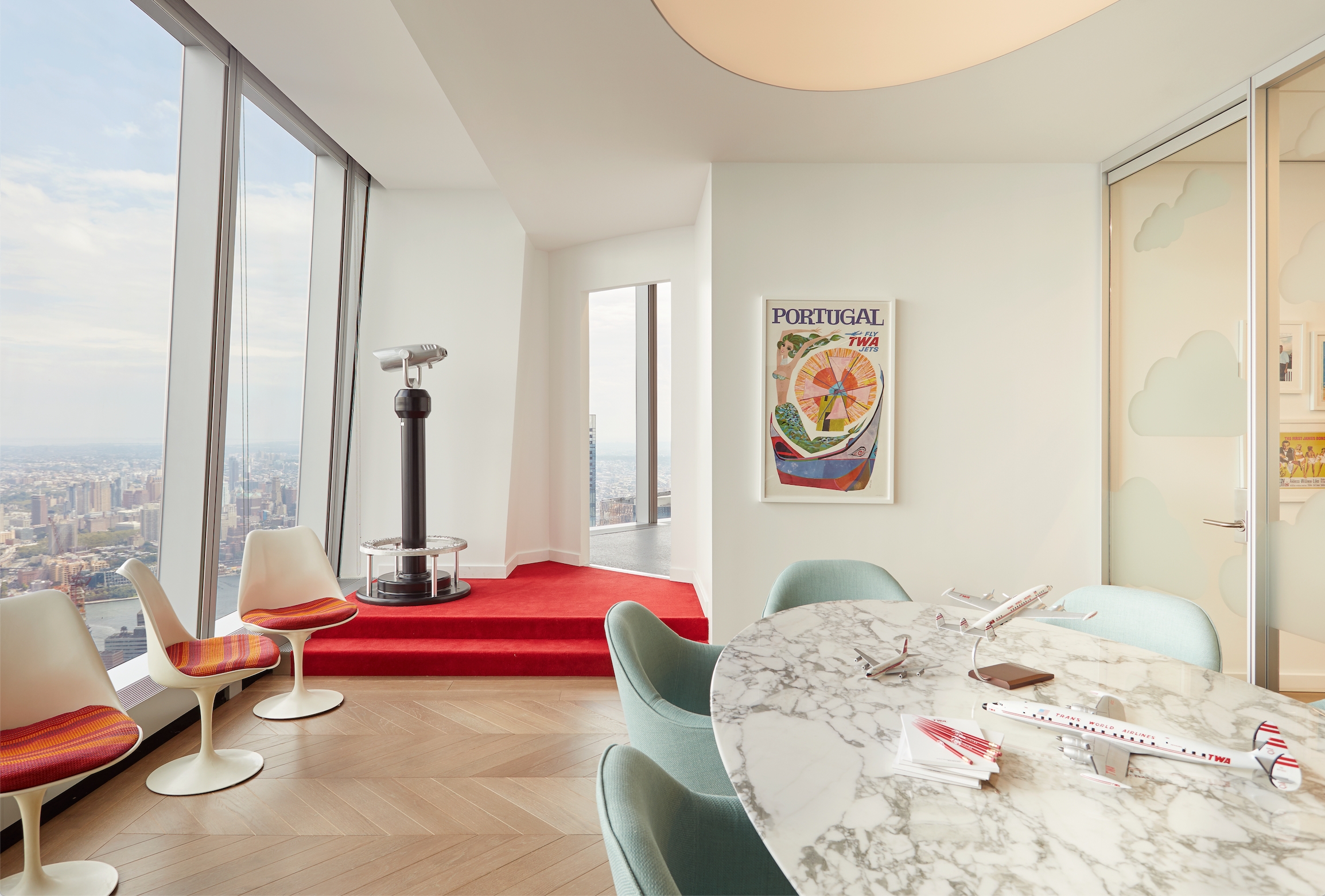 Okay, okay. It's A LOT of gimmicks, but honestly has the idea of going to the airport ever sounded this cool? Now, what if we told you that you could also drink cocktails in a decommissioned 1958 Lockheed Constellation airplane, completely restored with original parts and turned into a cocktail lounge? Getting drunk in a 50s era plane sounds like something only super-rich jerks get to do. If nothing else, the rate of $249 makes this a pretty affordable way to pretend to be a super-rich jerk.
If you've been reading this just waiting to chime in on the comments to say something like "the idea of staying in a hotel near an airport runway sounds like the most annoying shit ever," the TWA people seem to be way ahead of you. The TWA boasts the highest Sound Transmission Coefficient, which is just a super-fancy way of saying you won't hear any airplanes or noisy-guests next-door living out their Man Men fantasies way too loud.
Currently, since the hotel hasn't had any guests, all we've had to see of the TWA are the super-corny press photos which have only led to some seriously pressing questions. Will the hotel staff be wearing these era-appropriate uniforms, and also, what's with all the Tab? Does the hotel just have cans of Tab at the ready? (You better believe we contacted the hotel to find out this very important information — we still haven't heard back but when we do we'll let you know!)
Rooms at the TWA will start at $249 a night, no word yet on the pricing for shorter by-the-hour layover stays. Jet over to the TWA website if you're interested in booking a stay. Megan Draper won't pick you up at your terminal, but at least you'll be able to sit in an aesthetically pleasing chair with a whiskey (or Tab, apparently!).