"What's your favorite place you've ever been?"
People ask travel writers this all the time. Until recently, I've never had a clear answer. It's not for a lack of sample size either. Having made landfall on all seven continents within a calendar year, I should be well equipped with a response. Yet whenever folks ask, my go-to answers have always seemed canned.
"There are just so many…"
No more. Having recently returned from a tour of New Zealand's South Island, I can firmly proclaim an end to this affliction. This is the place for me. If you'll accept the common idea of New Zealand as a verdant paradise, then please believe that the less-inhabited South Island is the freaking Garden of Eden. It's small enough to squeeze into two weeks and large enough to encompass a variety of terrains (beach vs. mountains), climates (tropical vs. alpine), and activities (sipping on wine at a world-class vineyard vs. sea kayaking with seals).
In fact, you can enjoy much of this variance in a single day. Especially if you have wheels.
This spring, my girlfriend, Jess, and I had ten days to burn while returning to the US from Brisbane, Australia. After reading an article by Uproxx's travel editor, Steve Bramucci, about renting a van to cruise the East Coast of Australia, we decided to go full #vanlife. Here's our self-styled "rules" for making your own South Island adventure an epic one.
1. Embrace the Vanlife
Jess and I drive Steve's Australia route a couple of times a year (we met in Byron Bay), but since we have places to stay in that region we'd never considered renting a camper for one of our adventures. But as we talked about our New Zealand trip, it seemed like a natural fit for two non-planners. In Christchurch, we booked a midsize camper from Apollo — which we affectionately christened Dumplin', after the Dolly Parton inspired film we'd seen on the flight from Brisbane.
Dumplin' was a dream van. Two captain's chairs in the front and an entire studio apartment in the back, a decent-sized bed, fridge, bathroom/shower combo (with a window to air dry those wet towels and wetsuits while driving) and a gas stove. The dining area doubled as a workstation and folded up nicely if more room was needed or another couple needed a place to crash. Having written two cookbooks, I'm a huge proponent of gas stoves and I'd take this one over the electric stoves in even the fanciest kitchens (more on this in a bit).
There are slight drawbacks to combining transportation and housing while on the road – the inability to spread out, to reset, change scenery etc. – but there are efficiencies that are hard to ignore. The most obvious is cost. If you're planning on renting a car and staying in hotels, combining your housing budget and your transportation budget helps the cause. We used the saving to eat out at a couple of nice restaurants and try a few activities that we hadn't explicitly budgeted for (like last-minute helicopter-white-water-rafting).
The advantage that was most obvious was in time management. When I'm on vacation I am passionate about maximizing my daily time. Any amount of minutes saved in checking in, moving stuff from car to hotel and back, unpacking a bit, finding the toiletries, is time saved. A half an hour in the morning and a half an hour at night means a full hour that can be used to reach a further destination on the road, spend more time at the beach, or make a longer, food-oriented pit stop. This trip made us believers in the "travel by campervan > other modes of travel" ethos.

2. Make a List, Check it Twice, Throw it Out
There are a couple of popular South Island Routes for just 10 days. However, they rightfully prioritize either the north or south side of the South Island, with Arthur's Pass separating the two. The top route highlights Kaikoura, Marlborough Wine Region, Nelson, Abel Tasman National Park (a dream!) and a possible ferry transfer to the North Island. The Southern way focuses around the West Coast Glaciers, adventure sports in and around Queenstown, the Fiordlands and stunning Milford Sound, Wanaka and Mt Cook. Christchurch is the jumping-off point for both, if you're heading south to north.
Jess and I have some serious road trip miles under our respective belts, so we recognized that the limiting factor of the mentioned itineraries was drive time. We prefer, however, to do more and see more, and neither of us will bat a single wayward eyelash if waking up with the sun to drive five hours somewhere means we get there at 10am and have a whole day ahead of us. In short, we decided to try both lists but we also went forth with the knowledge that something might have to drop off the end. So be it.
We set off toward Kaikoura after picking up Dumplin' and gathering supplies and groceries. The Kaikoura Peninsul is literally peppered with sublime sunset spots, and the strip is an easy walk for food and beach strolls. Kaikoura is famous for whale watching, dolphin sightings, and swimming with seals. We figured we'd get our share of sea life in Abel Tasman and decided to trade our Kaikoura day for an extra day in the park.
That was our first list item thrown out. We took off early with our sights set on Marlborough.
3. Plan To Do Something Unplanned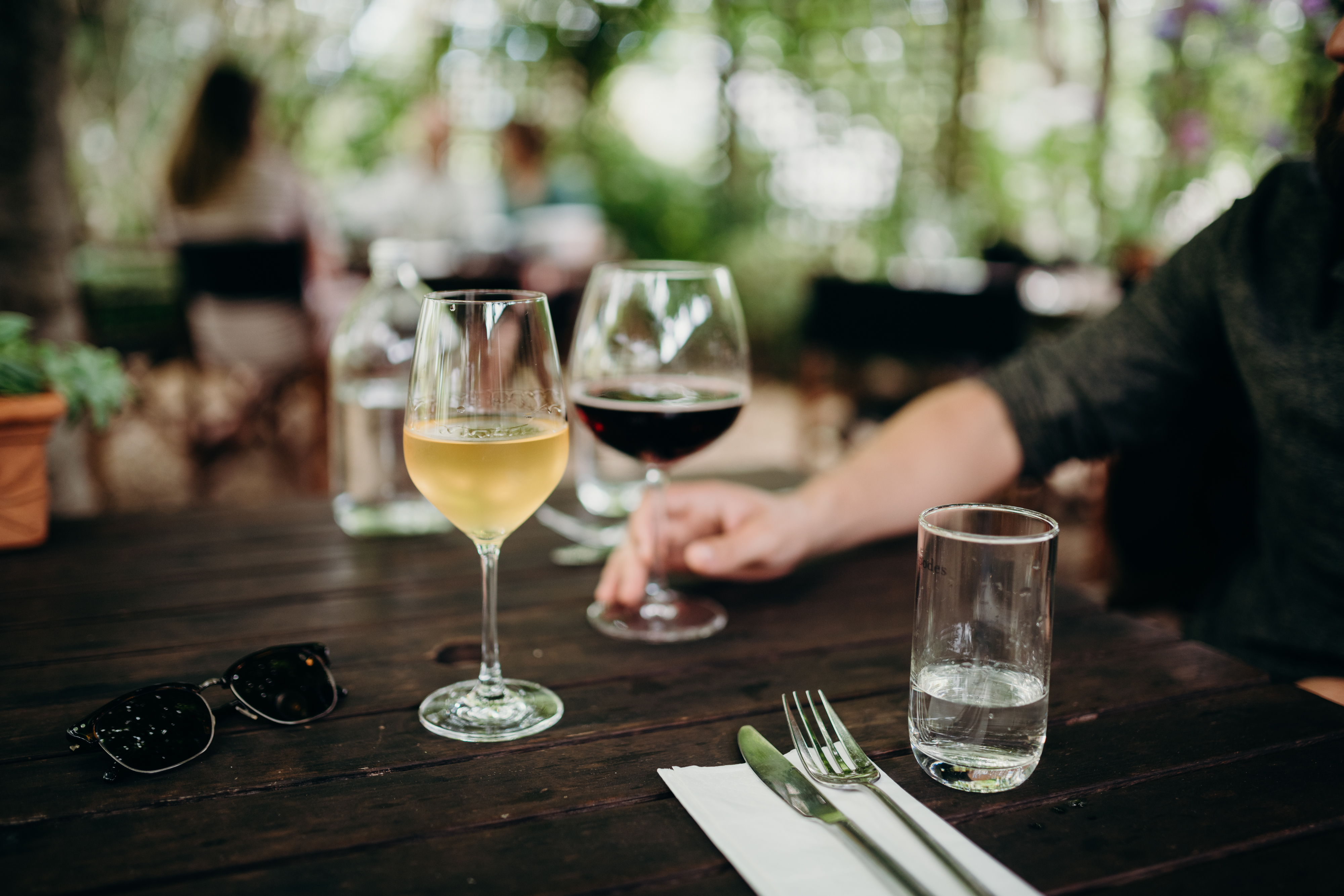 With our extra day in tow, Jess and I felt ahead of the curve. We descended upon Hans Herzog winery and restaurant with the vigor of gamblers playing with house money. This is an organic winery, which is important to us. But we'd also heard Hans Herzog Estate was one of the more engaging tours. As a veteran of winery visits in Chianti, Porto, and Mendoza, I can attest to the vast difference in enjoyment between a vineyard that is committed to hosting guests and one that just provides tours out of an expectation. After the tour — which included tastings of some of their more popular wines — I took advantage of the 50% off discount of shipping to the United States to order half a case of Spirit of Marlborough.
We took a boozy and jet-lag induced nap before coasting up to Nelson for the night. From there we would begin our memorable siege on Abel Tasman. We'd booked the last campsite at a campground in the park, which was only accessible by a 11 km service road that teetered dangerously close to breaking our service contract with Apollo. Luckily, their limit was 12 km and by the odometer hit that number we found ourselves winding into one of the most majestic orange beach campsites either of us had ever seen. We'd struck gold reserving a campsite with the user-friendly New Zealand Department of Conversation website — underscoring the "everything runs better in NZ" mentality that you so often hear about.
4. Find Your People
We pulled into the premier campsite on the beach just as a megaRV that had been there for a month was pulling out. Our new neighbors – perhaps relieved for our smaller footprint – offered fresh kingfish sashimi that had just been pulled out of the ocean. For a dessert treat, we received a list of local activities that included the aforementioned seal swimming, hiking, and fishing charters. Abel Tasman looks nearly Caribbean, and wanting to get out on the water, we opted for sea kayaking with seals the following day with Golden Bay Kayaks out of Tata Beach.
Our guide was from nearby Hokitika and gave us a new list of the best spots to stay and a recco on the best meat pie on the entire west coast. We repaid the sashimi favor that night with our campsite pals by legally foraging fresh mussels along the shoreline and steaming them in olive oil and white wine on Dumplin's gas stove. The share community within the campground was ideal, anyone with extra was constantly sharing wine, food, and firewood with those around them.
Our next couple stops would be quick ones, so we enjoyed the serenity and the sound of the tide with an open door that evening. With New Zealand's best meat pies on the mind, we got on the road early for Hokitika with a planned stop in Arthur's pass. Armed with tips and suggestions from the folks we met in Abel, we needed to decide whether to go straight to the glaciers or head back east through the pass and tackle Mt. Cook and Wanaka.

5. Follow Your Gut
We considered skipping the glaciers. "I've been to Antarctica, glaciers only do so much for me," I said. Jess argued that something might reveal itself in the area and we should explore it anyways. As is her custom of manifesting adventures, an hour later I was staring at a brochure in our holiday park for Eco Rafting NZ: heli-rafting glacial whitewater. We looked at each other… definitely not in the budget. My adventure funds were being held for bungy jumping in Queenstown. We called and they had just two spots for the following day but nothing for the next month, "definitely a sign" argued Jess. The next morning we were standing beside an iridescent, frosty blue river as the helicopter that was giving us and the rafts a lift up the mountain descended from the sky.
I thought I loved white-water rafting. Ocoee River in Tennessee is a must-do. Kenebec River with Three Rivers in Maine is one of the Northeast's sneaky value adventures. But rafting down glacial rapids the color of ice blue Gatorade is something I'll remember forever. I always volunteer for the front if no one else wants it and bobbing up and down getting drenched by barely melted glacial water is my literal definition of a good time.
We camped at Fox Glacier that evening and I prepped myself for my first ever bungy experience, set to take place the next day.
6. Don't Let Popularity Ruin a Good Time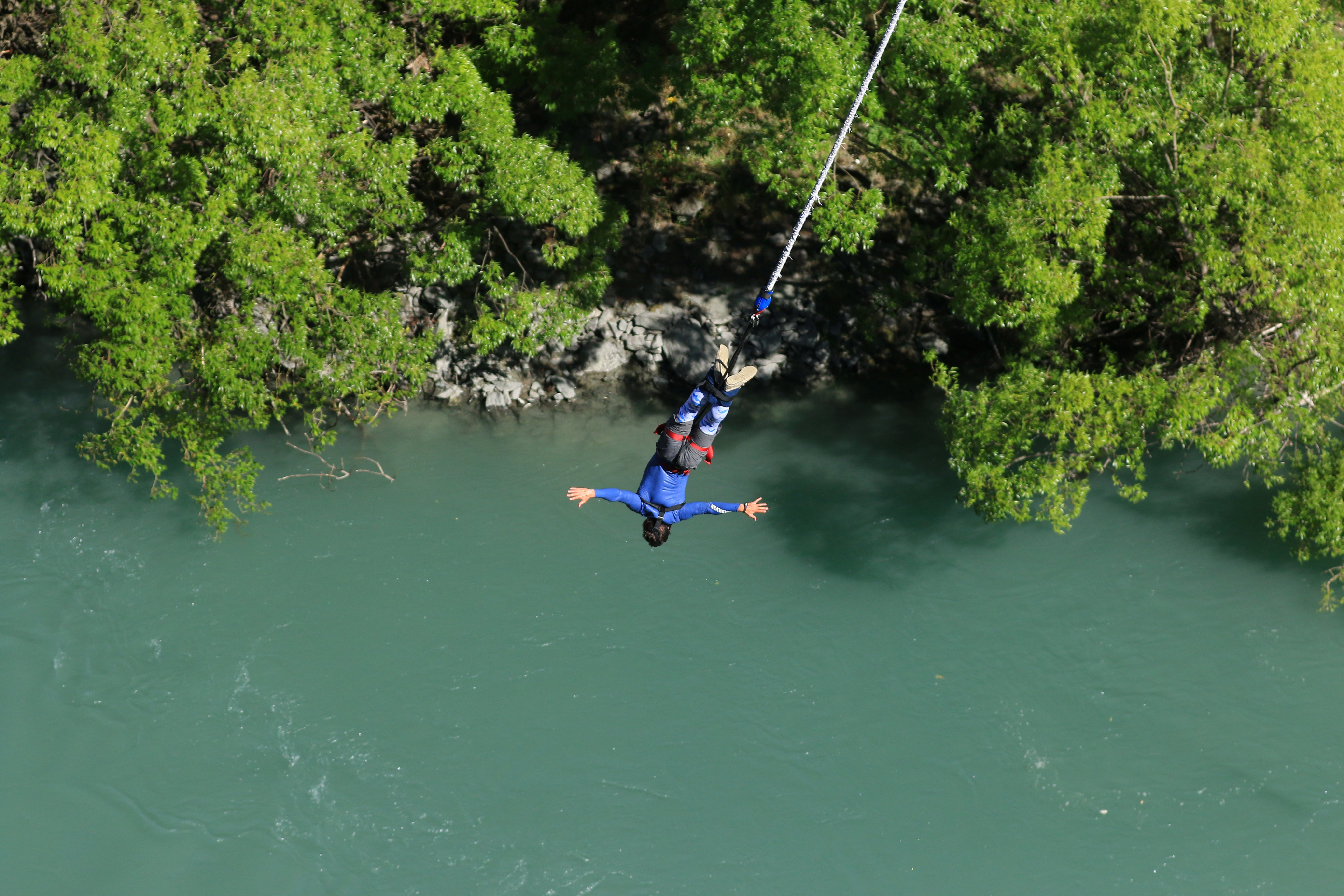 I believe it's important when traveling to oscillate from time to time off the beaten track onto the paved road. Sure, it's great to find the hidden gems but sometimes activities are popular because they deserve to be. The adventure sports of Queenstown are just such an attraction. AJ Hackett Bungy at Kawarau bridge was the first commercial bungy jump operation in the world and it is now a well-run pushing-people-off-a-bridge machine. Since they have a deal if you bungy twice on the same day, I opted in for the 134 meter Nevis bungy as well.
Though I forewent the option to jump naked — I'll save that for next time — I did take the dip into the river below, which at just 43 meters comes quite quickly. So many people jump from the bridge that there is a built in crowd of friends and family ready to judge your efforts. I loved it though, and the high that comes the last moment prior to jumping rivals any illegal or legal substance I've ingested. Two jumps and whitewater within 24 hours had cleaned me of adrenaline so Jess took most of the driving shift up to Lake Pukaki and Mt. Cook.
7. Treat Yourself
We were both keen to have a rest day and Wanaka loomed. Thankfully, recent honeymooning friends gave us a solid tip on a lodging called Wanaka Homestead and a recommended restaurant called Kika. Seeing the Wanaka Tree was almost accidental due to the Homestead's proximity. I must admit, despite my love for roughing it, the charming rooms and serene environment was most welcome. Dinner that night at Kika was a welcome respite from sardine sandwiches and hard-boiled eggs.
After settling in, we went on a day hike — but not to Roys Peak to take the site's famed Instagram photo. Instead, we circumvented the crowd, and the annoying photo op line at the top, and hiked Isthmus Peak. Just six months out from arthroscopic knee surgery, this was my right leg's first major test. It performed admirably on the way up. My spirits soared as it held up as well as it ever had through any multiday, backcountry hike I've ever been on.
The way down was a different story. As Jess hopped, skipped, and jumped her way down the mountain, my lack of cushion gave me pain with every step. Still, I had zero regrets. Not only was that evening was the perfect night for a bit of luxury, but we were joined at the top by just three other couples. The simultaneous view of both Lake Wanaka and Lake Hawea separated by the Neck and the Isthmus, without crowding, compares very favorably to waiting in line at the top of Roys for a photo.

8. Leave a Few Extra Days
We lost a day in the mix to our whitewater rafting escapade, so we had to make some tough choices near the end of our trip. Milford Sound is a world heritage site and nearly everyone you meet on the road mentions it. We felt like it was one of those things that you have to do even just to avoid the conversation "You went to New Zealand and DIDN'T go to Milford Sound?" Plus, it was just more Dumplin' time. The end of our journey was approaching and we had grown to love our house on wheels. We booked a DOC site near the ferry terminal and the drove through the cliffs and hills of the Fiordlands. That alone was breathtaking. The ferry tour through the sound was lovely too, and the landscape was vast and ancient, but being completely honest it felt more like one of those items completed just to be ticked off the list. Compared to being on the front of a small raft being fully powered by a glacial river racing towards the sea, I found it a bit… routine.
Our stopover at Mt. Cook was for sightseeing the mountain and the lavender farms, rather than say, ice climbing. But we longed to do so much more. With a few more days we could've explored the true south: Dunedin, Invercargill or Stewart Island. Or we could have spent a few more days in a spot we favored. Or…
Next time. There's always next time.
I suppose that's the big takeaway: Vanlife in New Zealand will make you want to stay. And come back. It has enough variety to make each day different from the last. It's small enough that you can divert course at a moment's notice when you see something shinier than what you originally had planned. And it's so wildly fun that you'll be looking at return tickets as you arrive at the airport to fly home.
More photos: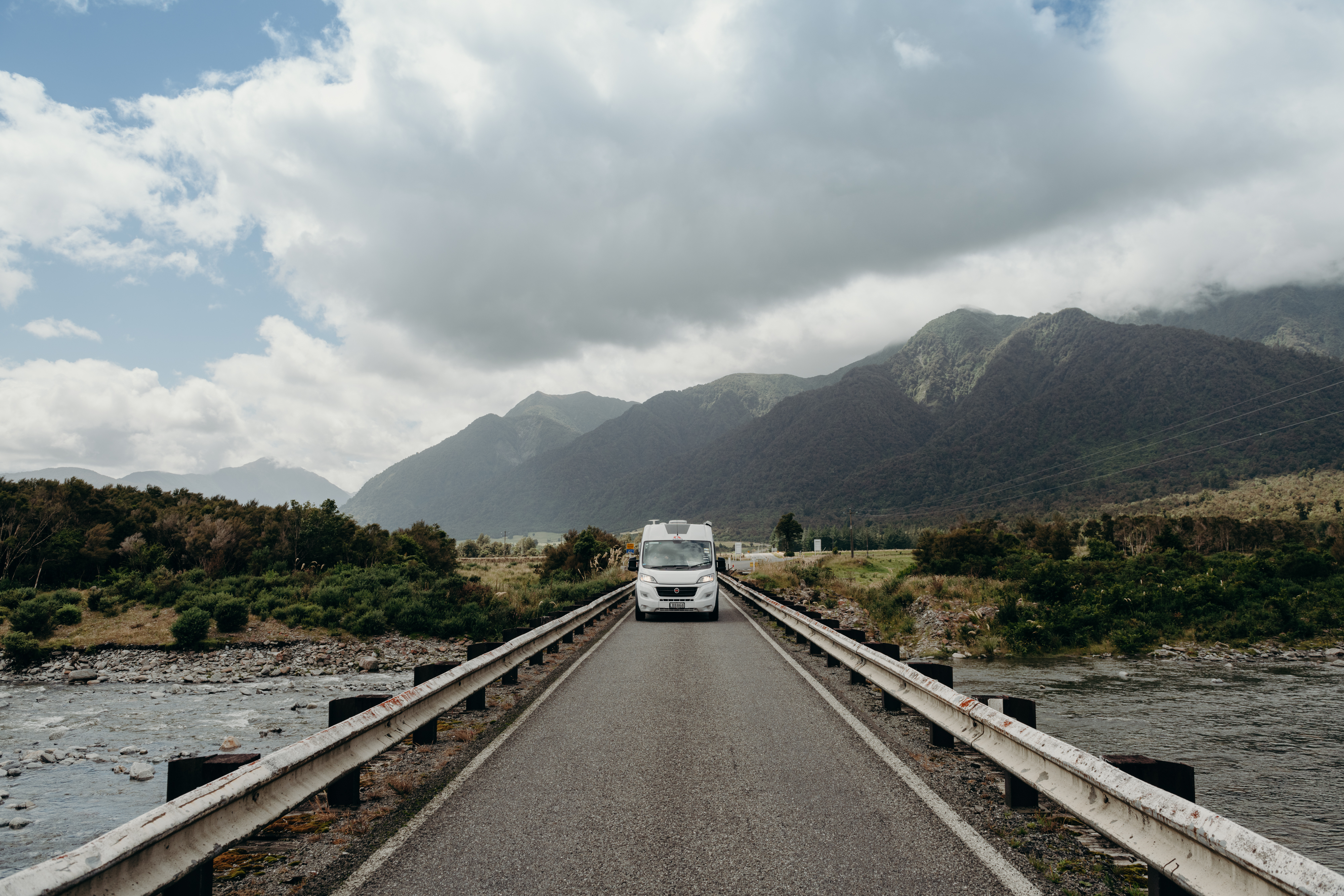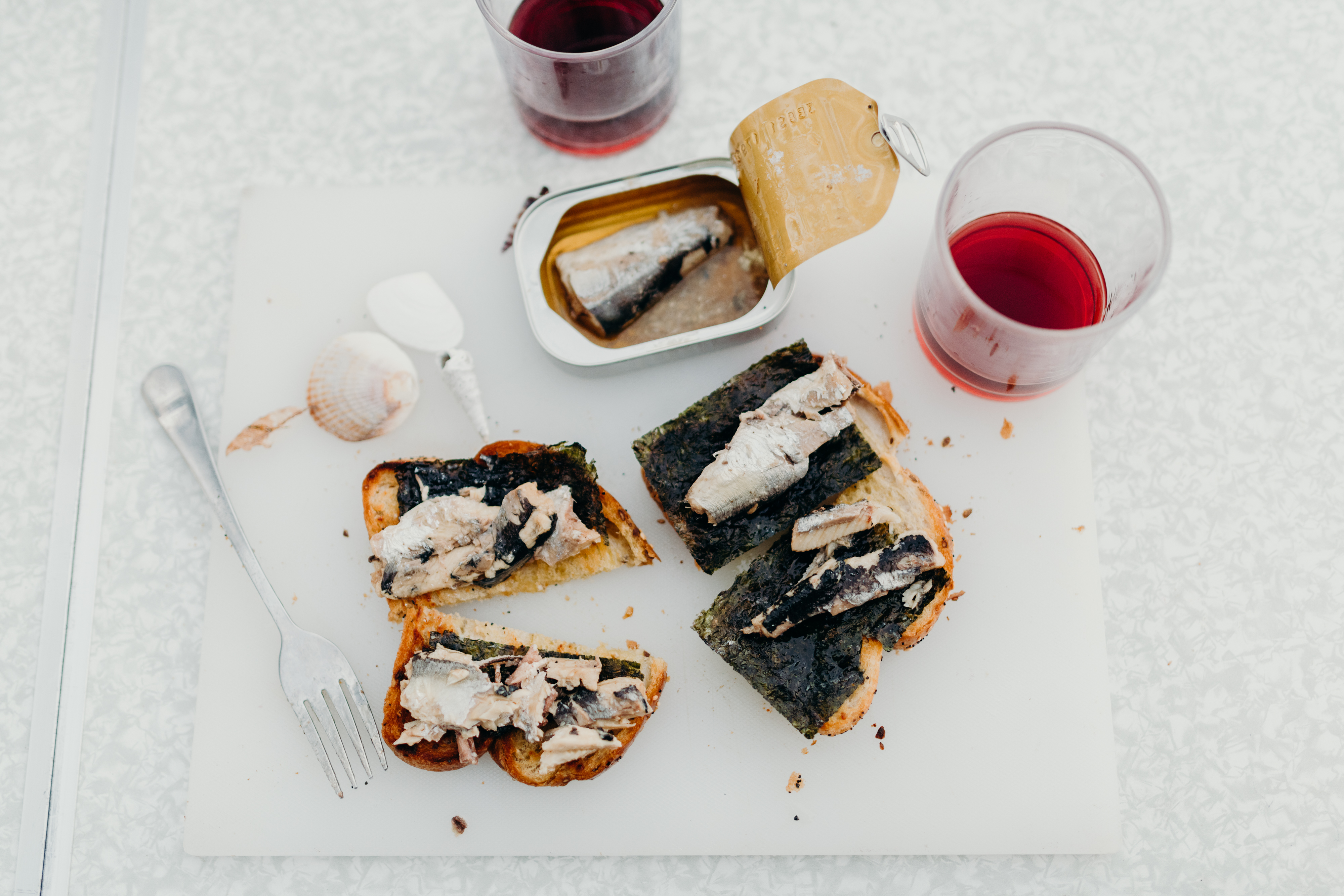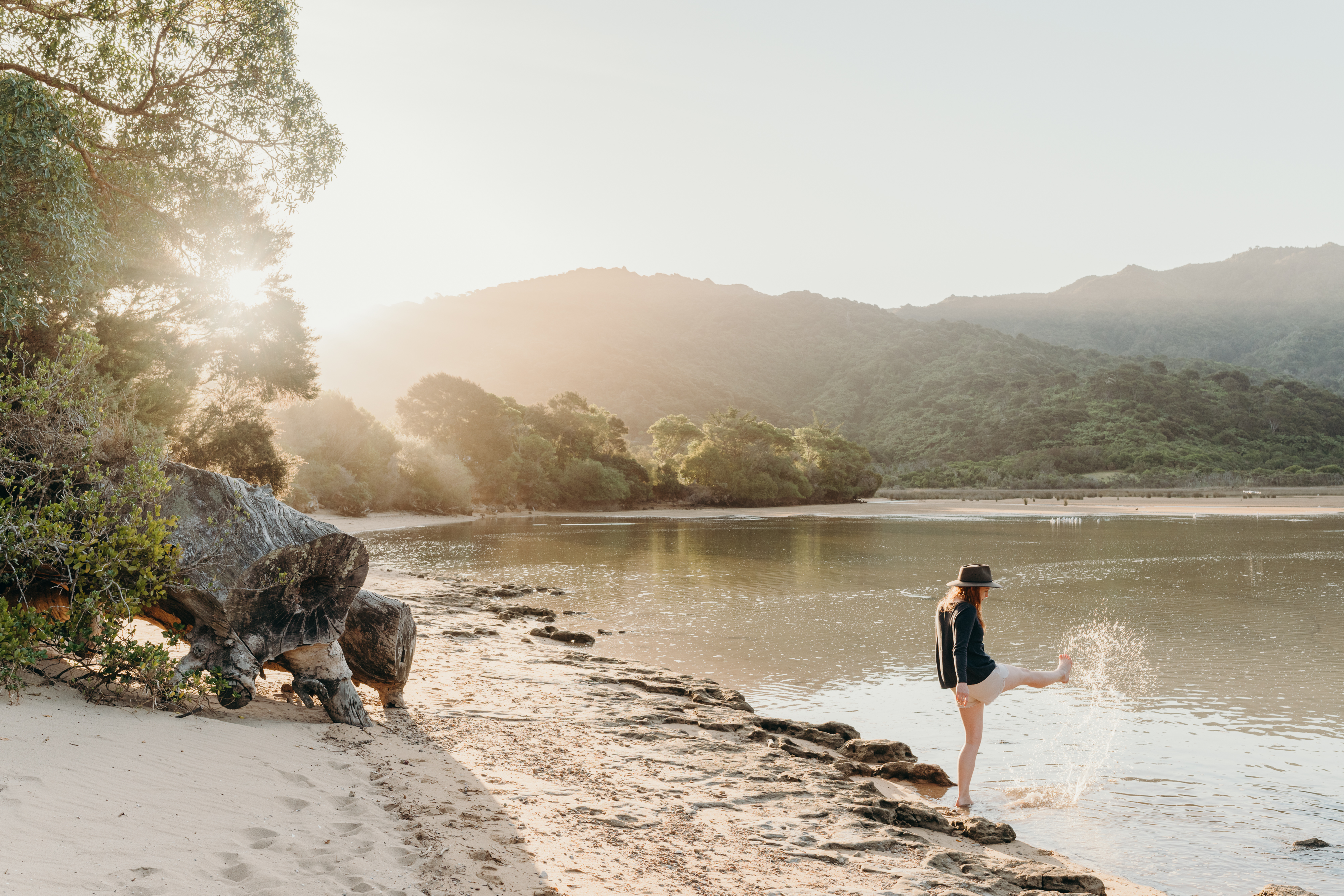 Uproxx received discounted fares on some of the services provided in this article. However, providers did not review or approve this story. You can learn more about the Uproxx Press Trip policy here.