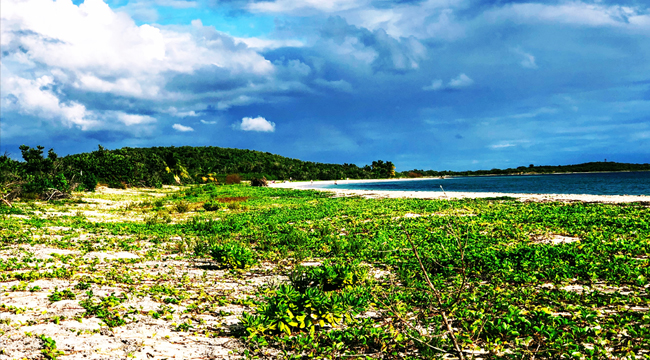 I'm sitting by a beautiful, sparkling pool, reading a novel. The sun is warm on my legs and, having just spent two weeks in the snowy midwest, it feels decadent as hell. The beach is just a few feet away — a small stretch of incredibly soft sand that gives way to the gentle crashing of clear, turquoise waves. It's not officially private, but it might as well be. In the 48 hours we've been here I haven't seen another soul, though I did see a group of wild horses grazing lazily near the shoreline.
Earlier in the day, I waded out in the Caribbean just to float – going further than I normally would, letting the draw of the tide envelop me. I'm not used to ocean water that feels so warm. I live in LA, where the water is always colder than the air, even in the heat of summer. By contrast, the Caribbean feels welcoming. As I floated, I had memories of my grandfather in the same ocean, swimming out toward the horizon. Time and again, he'd disappear and I'd stretch my neck — toes in the sand and pail of beach toys in hand — to track where he'd gone. Then he'd surface again, bobbing up from the waves with cold, raw seaweed in his hands.
"Want some, it's delicious?" he'd ask.
"No, abuelo," I'd reply.
Being back in Puerto Rico surfaces all sorts of memories like this. My dad was born here, but my grandparents moved the family to New York when he was a kid. Which makes me one of the five million people of Puerto Rican descent who lives on the mainland. Growing up in the midwest, we went to Puerto Rico every few years, but it always felt like summer vacation. Years have passed since the last time I visited, at 17.
When Hurricane Maria hit, I was glued to my TV and phone. I watched the government response. I saw people — my people — suffering and I felt called to go back. This wasn't just the longing of a tourist. It was about being a daughter of the Puerto Rican diaspora, eager to help my home.