Girl's Trip (2017)
The defining characteristic of great raunchy comedy is its ability to transform a seemingly innocuous food into a sex toy. That's what this female-led romp starring Jada Pinkett Smith, Queen Latifah, Tiffany Haddish, and Regina Hall does – desecrating the sanctity of citrus fruits for laughs as its stars f*ck, fight, and raise hell around New Orleans. Vacations are comedy breeding grounds but rarely do women get to behave so badly on them while also reaffirming the power of female friendship. (And good luck keeping your jaw closed any time Haddish drops an improvised one-liner.)
Bridesmaids (2011)
Not too long ago, Hollywood questioned whether women could be both crass and funny, so Melissa McCarthy, Kristen Wiig, Maya Rudolph, Ellie Kemper, and Wendi McLendon-Covey shit themselves — in bathroom sinks and bridal suites and busy streets — to silence those doubts. Paul Feig's female-fronted comedy never lets up on the gas, launching with a laughably cringe sex montage before plugging as many crude punchlines and smutty setups as possible to tell the story of Annie (Wiig), a failed bakery owner competing for the title of "Maid of Honor" in her best friend's upcoming nuptials. She's pitted against as deftly funny Rose Byrne but her biggest adversary is herself, which is why everything goes to shit (literally) when she hallucinates on airplanes and melts down near chocolate fountains in preparation for her bestie's big day.
Forgetting Sarah Marshall (2008)
Coital supercuts, Dracula musicals, Paul Rudd playing a surf instructor filled with existential advice about lemons and shark attacks … this Judd Apatow-produced comedy really does have it all. Jason Segel does some of his best comedic work playing a composer trying to heal from a breakup with his actor ex while on vacation only to run into her and her new rockstar boyfriend at the same resort. His attempts to both avoid and confront the reasons they separated are hindered and helped by a slew of funny co-stars like Rudd, Mila Kunis, Bill Hader, Jonah Hill, and Jack McBrayer while Kristen Bell and Russell Brand cluelessly bang their way around the island and add to his misery.
Bachelorette (2012)
Bridesmaids may have delighted in the chaos of wedding planning but this underrated comedy starring Kirsten Dunst, Rebel Wilson, Isla Fisher, and Lizzy Caplan gives us the coke-fueled, stripper-stuffed, sex-crazed bachelorette party that film never got to. The premise follows Dunst, Wilson, and Caplan — three friends from high school reuniting for the wedding of their less popular fourth wheel (Wilson). The girls are mean, rude, horny jealous hangers-on who spend the night before the wedding hooking up with male bridal party members, nearly overdosing, and desperately trying to repair the wedding dress they destroyed in a moment of cruelty. They are entirely unlikeable and yet, easy as hell to laugh at.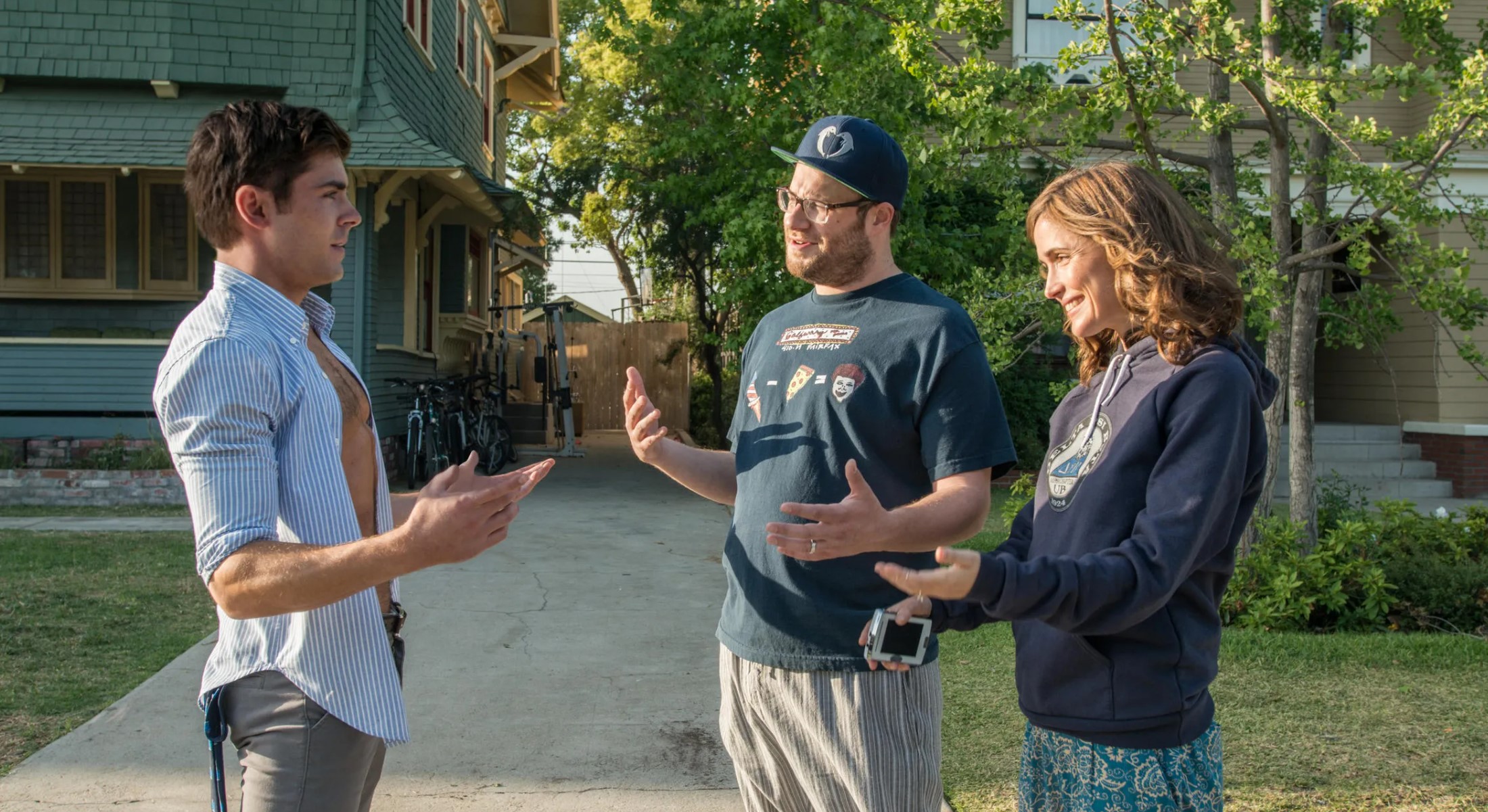 Neighbors (2014)
Seth Rogen and Rose Byrne fend off the fraternity from hell in this debauched comedy littered with used condoms, airbag pranks, and dildo fights. The two play a couple of reformed partiers parenting their newborn when Zach Efron, Dave Franco, and their brotherhood move in next door. What begins amicably devolves into a war of one-ups for the block as the college kids punish the couple for calling the cops on their parties, making it harder to sell their once-beloved home.
Step Brothers (2008)
Adam McKay's joke-per-minute coming-of-middle-age tale isn't technically that risque, but there are enough crude innuendos and shirtless Will Ferrell gags to warrant its spot on this list. Most of the dirtiest comedy bits come from the enemies-to-brothers storyline that sees Ferrell and John C. Reilly playing two grown men still living at home when their parents marry and blend their unconventional families. Catalina wine mixers, sleepwalking hijinks, teabagging drum sets — it's all here, as is a deliciously funny subplot involving Reilly and Kathryn Hahn as a wildly horny housewife desperate for some action.
For a Good Time Call (2012)
A truly underrated gem about two frenemies who start a phone sex business, this R-rated binge is a surprising comfort watch. Uptight Lauren (Lauren Miller Rogen) is forced to room with her college enemy Katie (a terrific Ari Graynor) who runs a phone sex line to pay for her Grammercy pad. When the two join forces in the name of making rent, they end up bonding over the strangest things — first-time threesome dial-ins, phone anal, adjectives that pair well with genitalia. What starts as a ridiculous, raunchy romp turns into a surprisingly sentimental ode to female friendship — albeit one you wouldn't want to watch with your parents.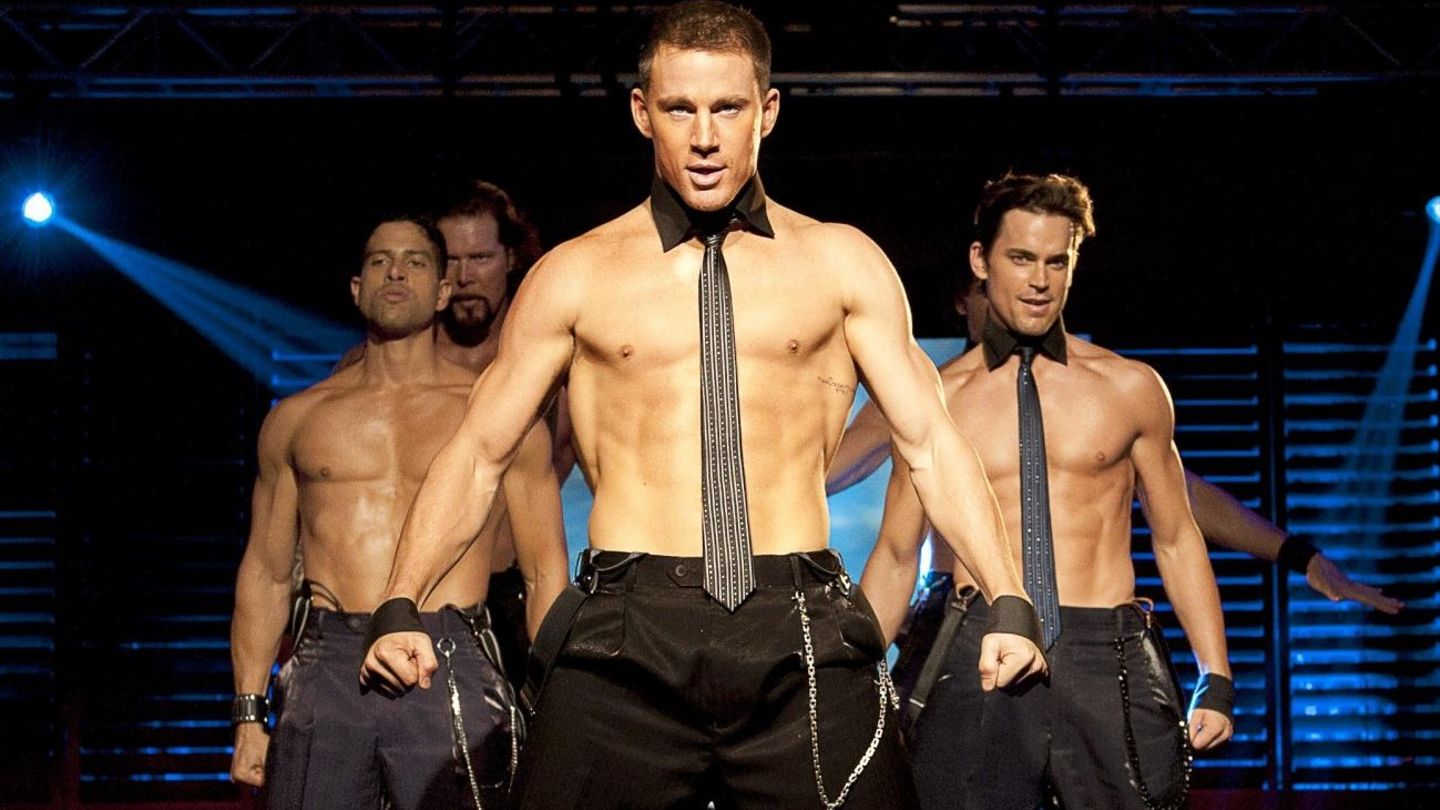 Magic Mike XXL (2015)
Steven Soderbergh's first strip club outing was all moody lighting and dramatic redemption stories which … fine. But the sequel to Channing Tatum's real-life inspired come-up is wilder, racier, and funnier, focused more on the absurdity of the main character's profession and committed to squeezing its premise of every titillating drop. The boys reunite (sans shirts, obviously) for a convention in Myrtle Beach, surviving the usual road trip gaffes while crafting a routine filled with enough thrusts, gyrations, and body rolls to leave you laughing (likely uncomfortably).
Good Boys (2019)
A movie so vulgar, its own underaged cast probably can't watch it, this coming-of-age comedy starring Jacob Tremblay, Brady Noon, and Keith L. Williams as three sixth graders on a quest for popularity is filled with cringe-humor. Most of the film sees the trio in tense negotiations with Molly Gordon over a bag of ecstasy and a high-tech drone as they battle frat bros, cross busy interstates, and wield dildos against police officers. The boys are foul-mouthed but naive and that dichotomy is what sets up most of the funniest jokes.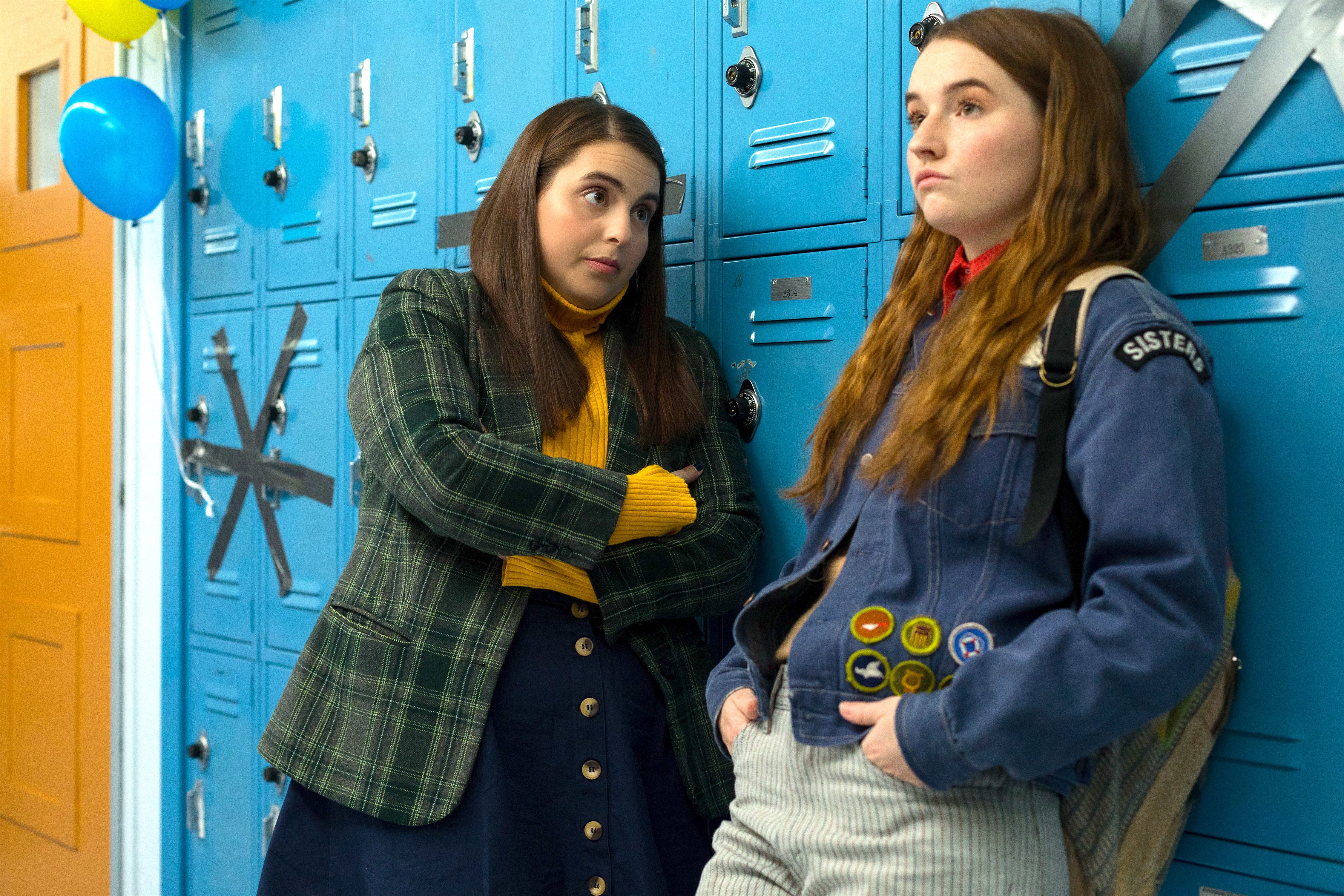 Booksmart (2019)
Olivia Wilde's directorial debut sees Beanie Feldstein and Kaitlyn Dever play two straight-A students determined to indulge in one night of depravity before they ship off to college. The movie delights in toying with stereotypes — the popular kids the duo is determined to party with are also Ivy League bound — and doesn't shy away from the messy Queer hookups and toxic teacher friendships and drug-fueled mistakes that have come to define modern coming-of-age stories. It's a bit more tame than most on this list, but it's just as funny.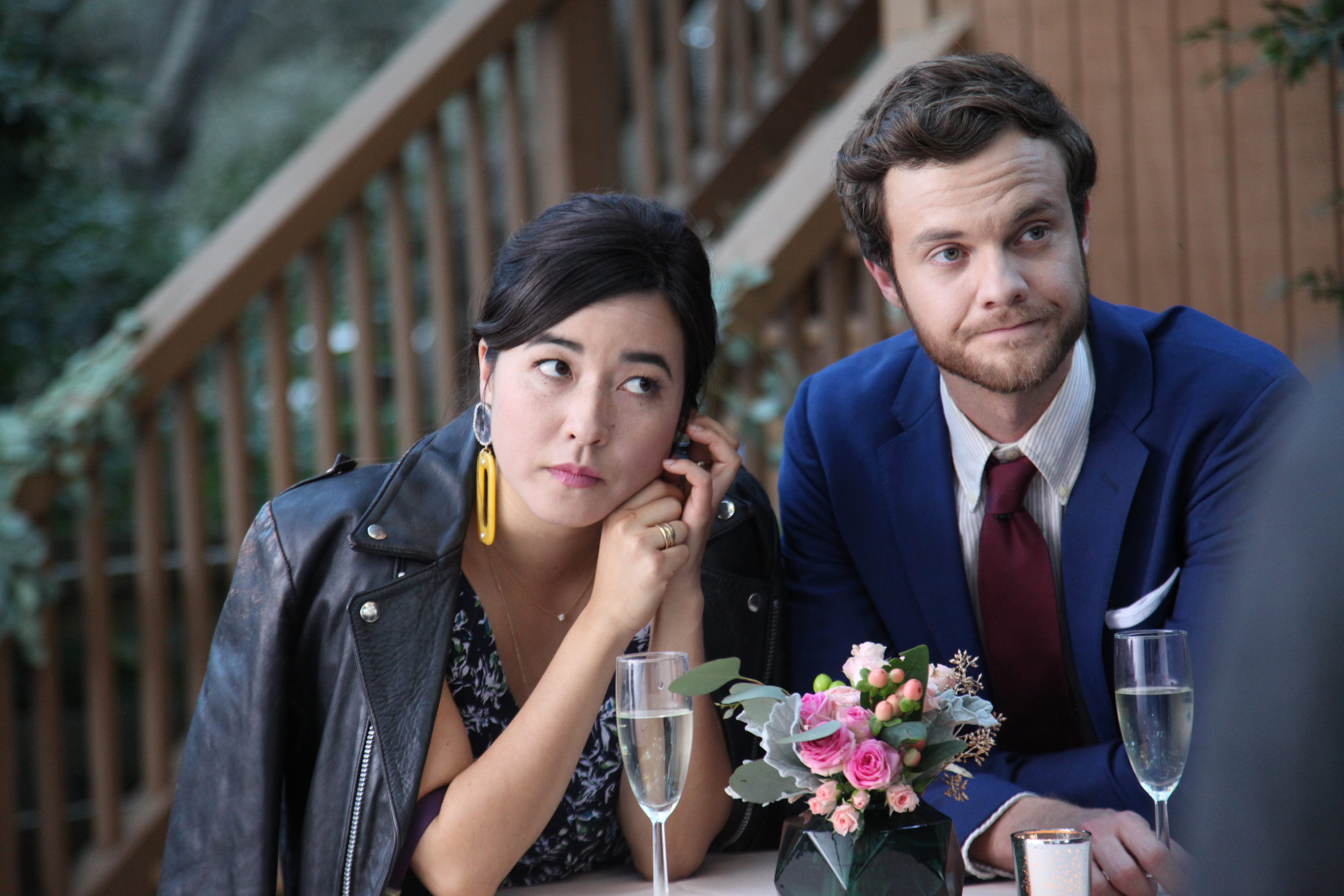 Plus One (2019)
Another under-the-radar rom-com worth a watch is this R-rated indie starring Jack Quaid and Maya Erskine as two best friends who brave a busy wedding season as each other's plus ones. As Alice and Ben, Erskine and Quaid have terrific chemistry, getting blackout drunk on dance floors, boinking in graveyards, and perfecting the art of being each other's wingmen. Erskine borrows the same comedic sensibilities that made her PEN15 show so funny, crassly kidding about everything from accidental boners to unkempt bushes while Quaid plays the embarrassed straight man type just trying to get laid.