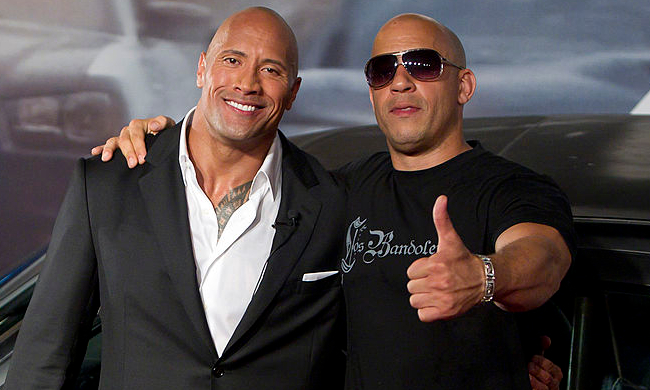 Even though it's almost painfully obvious as a marketing scheme, the Fast 8 feud between Dwayne "The Rock" Johnson and Vin Diesel has been entertaining as hell. Even Jason Statham has been dragged into the drama. It's simply fun to imagine that Diesel, the guy who seriously thought Furious 7 deserved Best Picture, is mad at the biggest action movie star in the world because of a really dumb, harmless joke from the HBO series Ballers. It's even more fun to imagine Diesel locked in his massive trailer, stomping his feet over that stupid joke, while the cast and crew wait for him to come to the set and grumble a few lines about family and Coronas before throwing fake punches and pretending to drive fast cars.
But just as our wrestling guru Bill Hanstock pointed out earlier this month, The Rock's viral "candy ass" video simply featured a wrestling icon doing what he does best: cutting a promo. And considering Fast 8 hits theaters on April 17, it didn't take much for people to realize that Rocky could use that icon status to build up some exciting and fun advertising two weeks before the film hits theaters. WrestleMania 33 takes place on April 2, so it would be foolish to assume that this isn't all about getting Vin Diesel into the ring at the biggest event of the year for sports entertainment.
Still need convincing? Life & Style, of all places, has word from "an insider" that this so-called feud is absolutely, 100 percent related to WrestleMania 33.
"They are playing a huge prank, and it's all for publicity," the insider shares.

"The Rock convinced Vin to amp up the drama between them so they could turn it into a WWE match to help promote the April 2017 release of Fast 8," the insider explains.
To play devil's advocate, since the inclusion of anonymous crew members would suggest a lot of coordination in getting that many people to not only keep secrets, but also strategically leak lies, I have one reason the WM33 angle doesn't make sense: Fast 8 doesn't need help with promotion. Furious 7 made $1.5 billion worldwide, so unless Diesel and Johnson are concerned that a domestic haul of $353 million wasn't good enough, what's the point? I'm pretty sure the overlap on the Venn diagram of WWE fans who watch The Rock's movies is a perfect circle.
But more than anything, I hope it's all a work and they've simply left Tyrese out of the plan. It's fun to think that Tyrese is out there trying to broker peace between his costars in the name of family. Especially if it means bringing Gibsihana and the memory of Pablo to WrestleMania 33.
(Via Life & Style)