Ocean's 8 earned $41.5 million during the film's opening weekend, which is more than the previous Ocean's movies, Ocean's Eleven, Ocean's Twelve, and Ocean's Thirteen. (Ocean's One is just Carl Reiner waiting for everyone to be born.) This is excellent news for fans of heists, which includes literally everyone at Uproxx. Not committing an actual heist, of course (wink wink), but reading about them, especially if they involve lobsters, hurricanes, or Iron Man's suit. But if we were going to rob, let's say, the Met Gala, we would need a crack team to accomplish the task at hand. The Ocean's 8 crew — Sandra Bullock, Cate Blanchett, Anne Hathaway, Mindy Kaling, Sarah Paulson, Awkwafina, Rihanna, and Helena Bonham Carter (but not you, James Corden) — have the experience, but who would be the BEST heist partner? Let's find out!
8. Helena Bonham Carter
Helena Bonham Carter doesn't do "subtle." Her characters, whether Bellatrix Lestrange from the Harry Potter movies, Madame Thénardier from Les Misérables, or the Red Queen from Alice in Wonderland, are cocksure and loud — there's an entire article that praises her "masterful yelling technique." I suppose you could make the argument that Bonham Carter's admirably flamboyant way of living would make her a good diversion, but everything would go to heck when the Met Gala is evacuated after a live bird flies out of her hair.
7. Sarah Paulson
Sarah Paulson isn't here to plan a heist.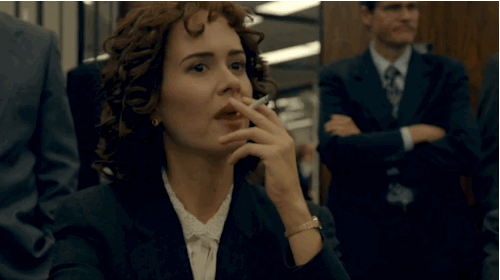 She's here to catch the people behind them (besides, even if she wanted to get involved, her disguises are not exactly The Americans-level strong).
6. Mindy Kaling
In 2014, Mindy Kaling gave the commencement speech at Harvard Law School. In her remarks, The Office star revealed that she's "obsessed with justice. Actually, in my mind, law is that pesky thing that often gets in the way of justice. I believe in the Clint Eastwood School of the Law. An eye for an eye? I don't think so. That solves nothing. You take my eye, I take your life, my friend, in a duel, Aaron Burr-style. I don't want your stupid eye, for what? My eye collection? You're dead." Kaling is too much of a wild card for a skillful heist.

5. Anne Hathaway
I struggled with where to put Anne Hathaway, the Ocean's 8 MVP who our own Vince Mancini called "delightful as the high maintenance actress Daphne Kluger, probably because she's allowed some pathos and an arc, and doesn't have to drag around the burden of knowing more than everyone else." I can't think of a reason for or against Hathaway on my team, although in her personal life, she dated a con man (experience!), and in her professional life, she played a literal cat burglar… I now regret putting Hathaway this low, although not as much as she regrets saying "yes" to hosting the Oscars. To survive that nightmare, you need to ignore the haters, and Hathaway's made a career out of proving them wrong. It isn't fair, but it's what makes her good at capers.
4. Cate Blanchett
There's a recurring joke on Unbreakable Kimmy Schmidt involving Titus wondering if Cate Blanchett is a good actress, or whether she's "just tall." I don't have any answers for Mr. Andromedon (although I would point him towards Carol), but I do know that Blanchett would be a solid addition to any heist team. She'd come prepared and, as Titus suggests, could reach the hidden plans in the cookie jar on top of the fridge; also, look what she wore to CinemaCon. She's wearing pants…with pockets, while, everyone save Awkwafina (who we'll get to soon), is rocking dresses. Nothing but respect for Kaling's Stella McCartney dress, but Blanchett's suit is way more practical. You never know when you're going to need to hold [quickly searches Google for "robbery tools"] ceramic spark plugs [immediately clears laptop search history].
3. Sandra Bullock
In Miss Congeniality, Sandra Bullock plays an FBI agent who goes undercover as a beauty pageant contestant. She's a bus-driving hero in Speed, a paycheck hero for starring in Speed 2: Cruise Control, a survivor from a marriage with an adulterer who posed with Nazi memorabilia, and on March 6, 2010, she showed up in person to collect her Razzie for her performance in All About Steve; the very next day, she won an acting Oscar for The Blind Side. Bullock is a cool customer, someone who wouldn't let the pressure of a high-profile heist get to her. Also, in Gravity (years-old spoiler alert), she survives and George Clooney dies, which clearly means Debbie Ocean is better at this than Danny Ocean.
2. Rihanna
Rihanna has 14 number-one singles, and sold over 250 million albums, and won nine Grammys, all before the age of 31 years old. Rihanna was the best part of the not-great movies, Battleship and Valerian and the City of a Thousand Planets. Rihanna has her own lingerie line. Rihanna is so powerful, her criticism of Snapchat cost the company $1 billion. You try telling her she's not good at literally everything. But, in terms of robbing the Met Gala, she's not the best. That honor belongs to another multi-hyphenated talent who goes by one name.
1. Awkwafina
Awkwafina is the least famous name in the Ocean's 8 ensemble — if you know her from anywhere, it's probably Neighbors 2: Sorority Rising (although she does have a substantial role in Crazy Rich Asians) — which is what makes her so dangerous. It's no wonder the comedian/actress/musician/writer, real name: Nora Lum, is listed as "the thief." She's more unassuming than, say, Sandy B or RIHANNA, but charismatic enough to get out of tight jams. Of course, her sneakiness is gradually fading away with every "who is Awkwafina?" article (782 of those have been published this week alone), but I still like my odds. She even already has a cool nickname. That's half the battle in planning a heist.