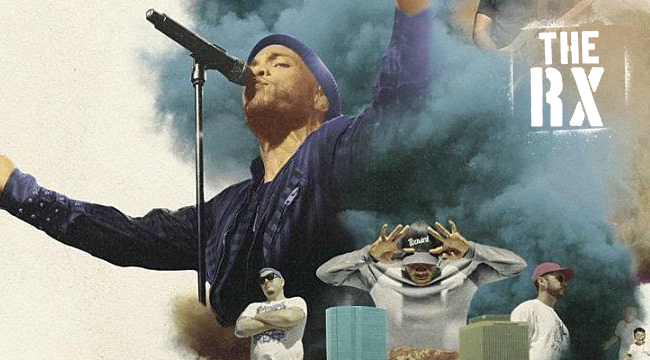 The RX is Uproxx Music's stamp of approval for the best albums, songs, and music stories throughout the year. Inclusion in this category is the highest distinction we can bestow, and signals the most important music being released throughout the year. The RX is the music you need, right now.
It's really hard to dislike Anderson .Paak or his latest collection of silky smooth, funk-washed bops dedicated to his sleepy hometown. You're welcome to try to hate on Oxnard, the soulful album on which the southern California native excavates fresh caverns of introspective grooves, but eventually, the talented singer/rapper/drummer will break you down like a backline solo near the end of one of his soul-soaked, sun-bleached, retro-futuristic bops. It's only a matter of time.
Not that anyone would understand the impulse. Anderson .Paak is the consummate, scrappy underdog, a musical Rocky Balboa. He worked his way up from the bottom through sheer determination and charisma, and he's a nice guy, to boot. Dissing the dude is just un-American.
But this is where we find ourselves in hip-hop in 2018, the year that just wouldn't end. Every other album is overlooked, every third artist isn't just a must-listen, they're a must-hate-listen. It's so hard to enjoy anything with a constant barrage of filler needing to be filtered through snarky cynicism and guarded, practiced faux-intellectualism. Everybody just needs to chill out.
That's where Anderson .Paak comes in.
Starting out at the height of the so-called "blog rap" era as Breezy Lovejoy, .Paak crafted his first few lovingly, painstaking compilations from scratch, working as an assistant to Sa-Ra Creative Partners producer Shafiq Husayn. Those first musical experiments flashed glimpses of the space-age musicianship and attention to detail that would eventually become Anderson's calling cards, leading to the eventual release of his first album under his switched moniker, Venice. An ode to the "Menace Beach" of old, the album began to solidify the musical style that became his trademark. Heavily marked by the funk and soul that he grew up on, as well as touches of the gangsta rap that permeated the Southern California air in the 1990s of his youth.
One of the pioneers of that gangsta rap sound would take Anderson under his wing for his own, long-awaited comeback album. Dr. Dre featured the rising singer/songwriter on six tracks on 2015's Compton, a sort of companion album to the biopic Straight Outta Compton. Folks were, to be sure, bewildered by Anderson's out-of-left-field funk stylings and raspy, melodic delivery. They were hesitant to grant him much credit at first, but all that changed with the release of his own follow-up, Malibu, which dropped in 2016 to rave reviews and a Grammy nomination for Best Urban Contemporary Album, while granting Anderson himself Next Big Thing status among hip-hop fans and other musical connoisseurs.
Oxnard picks up where Malibu left off, asserting itself with "The Chase," a sweeping, expansive intro straight out of a Blaxploitation movie, encouraging the listener — just as he had for the six years prior — to slow down, soak up the sunshine, and simply experience the music, rather than trying to intellectualize it. Anderson .Paak is here to be heard. Chill out. Enjoy the ride.
The perfect song for that: "Tints." The Kendrick Lamar-featuring single celebrates the California sunshine ("why you got the roof down / you know it never rains out here") and all of his newfound success ("I can't be ridin' round and round that open strip / I need tints") over a loose, bubbly groove created by longtime .Paak collaborator Om'Mas Keith (also of Sa-Ra) that doubles as a slinky roller rink bop. It's all-skate music for the World On Wheels set and rolling down Crenshaw at 10 mph on a Sunday night music for the gangstas. .Paak is as versatile as he is talented, winning by sheer force of personality and charm.
He's just as capable as creeping over a midtempo 9th Wonder beat on "Saviers Road" as he is embracing the casual menace of the chest-and-chin flexing on "Brother's Keeper" with Pusha T. You know what I mean; chin up, chest out, shoulders squared, dangerous music. That he pulls it off despite being better known for a mile-wide grin than a scowl is a testament to his chameleon-like ability to blend into beats and concepts that might otherwise baffle a lesser talent. He also draws some peak performances from his guests; Pusha especially is at his most expansive, rhyming openly about his strained relationship with brother No Malice who "just turned down a half a million dollars for being one half of one of the greatest duos in hip-hop history." Snoop Dogg is just as winning on the shoulder shimmying "Anywhere," while Q-Tip's "Cheers" verse is damn near heartbreaking.
That the album "ends" with "Cheers" (not counting "bonus tracks" "Sweet Chick" and "Left To Right") a bouncy, but secretly heart-rending ode to the late Mac Miller, offering evidence of .Paak's ability to bare his soul while disarming and upending convention. What might have otherwise been a somber recollection of wistful memories becomes a celebration of his friend and collaborator's legacy. It's the ultimate Anderson .Paak song, turning tears into sunshine and bringing out the best in everyone around him. You can try to hate that if you want, just know that it won't definitely won't work any better than it has before.
Oxnard is out now via Aftermath Entertainment. Get it here.