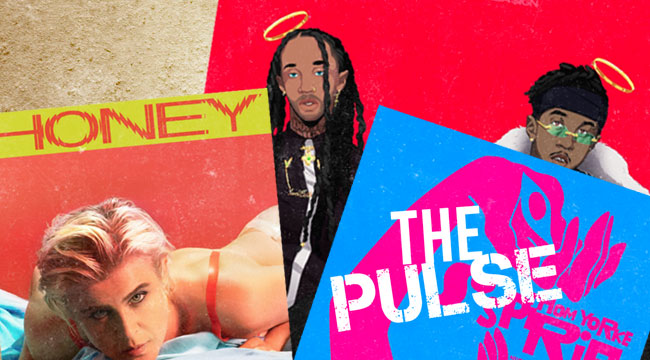 The Pulse is the Uproxx Music guide to the best new albums, mixtapes, and other music releases that matter this week. Find our complete list of the records coming out in October here.
It's been a long time, but now, the Swedish pop queen has finally returned. Eight years after her previous album, Robyn is back with Honey, her first batch of new music in a long time, and it's just as sweet as the title suggests. Today also marks something of a return for Radiohead frontman Thom Yorke as well: Suspiria is his first soundtrack album, and it's also his first solo record since 2014's Tomorrow Modern Boxes.
Not only that, but boygenius went ahead and dropped their supergroup EP early, meaning Lucy Dacus, Julien Baker, and Phoebe Bridgers are going to be serenading plenty of people through the weekend with standouts like "Me & My Dog."
There's a lot going on in hip-hop, too. Ty Dolla Sign and Jeremih dropped their highly anticipated collaborative effort, Tory Lanez just dropped his second album of the year, and Mick Jenkins followed up his much-hyped debut album from 2016. It's a good week, so find all that and more below.
Robyn — Honey
Just because Robyn has been gone for a while doesn't mean that she's no longer the best at what she does. Her new record is filled with the gleaming and emotional pop that has made her an icon, like the thumping title track and the resounding "Missing U."
Thom Yorke — Suspiria
The Radiohead leader has released music on his own away from the band before, but this is his first ever film soundtrack. The horror film seems a perfect match for Yorke's talents, as he gets as experimental and dark as he would like throughout the soundtrack.
Ty Dolla Sign and Jeremih — Mihty
These are two of the most talented guys in R&B/hip-hop, so having them together on one album is certainly noteworthy. The two know emotion, and they address a tumultuous situation on the single "Going Through Some Things," a smooth track that's a prime showcase of the pair's talents.
Boygenius — Boygenius
Three of the brightest figures in indie music today (and a trio of pals) got together and made an album, and it's special. There are tracks that play to the strengths of Julien Baker, Phoebe Bridgers, and Lucy Dacus in different ways, and the EP features some of the finest songs of their careers.
Nao — Saturn
Nao made a splash in the UK with her debut album For All We Know, which found itself near the top of the charts in 2016. Now she's hoping to break through in a similar way all around the world, and she proved she has the goods on songs like the Sir-featuring "Make It Out Alive."
David Crosby — Here If You Listen
Crosby's solo career has been sporadic, to say the least: His first four albums came out in 1971, 1989, 1993, and 2014. He's been consistently active in recent years, though, and on his latest, he proves that he still knows his way around a song, such as on gentle tracks like "Glory," "Vagrants Of Venice," and "1974."
Read our interview with Crosby here.
Unknown Mortal Orchestra — IC-01 Hanoi
UMO already dropped Sex & Food earlier this year, and while IC-01 Hanoi was recorded simultaneously with that album, it's a different beast. It's the group's first instrumental record, and it's led by the sprawling, jazzy, and ten-minute "Hanoi 6."
Tory Lanez — Love Me Now
Lanez is another artist who's double-dipping in 2018: He already shared Memories Don't Die in March, and he's already back with his second record of the year. This one features contributions from 2 Chainz, Meek Mill, Trippie Redd, and a host of others.
Julia Holter — Aviary
Holter released her first four albums during a productive stretch between 2011 and 2015, but her fifth album has taken a bit longer to gestate. It was worth the wait, though: Just listen to "Words I Heard," an evocative and stirring track that's full of strings and a sense that it'll bust through the clouds and take to the skies any second.
Mick Jenkins — Pieces Of A Man
Jenkins has established himself as one of the most interesting lyricists in hip-hop, and he really thrives on songs like the Kaytranada-produced "What Am I To Do," in which he goes in on rapper, politicians, and more all with a tremendous confidence and flow.
Ian Sweet — Crush Crusher
Since moving back to Los Angeles, Jilian Medford has made Ian Sweet a solo project again. She previewed the album with the gloomy and bold rocker "Holographic Jesus," the title of which is actually pretty literal.