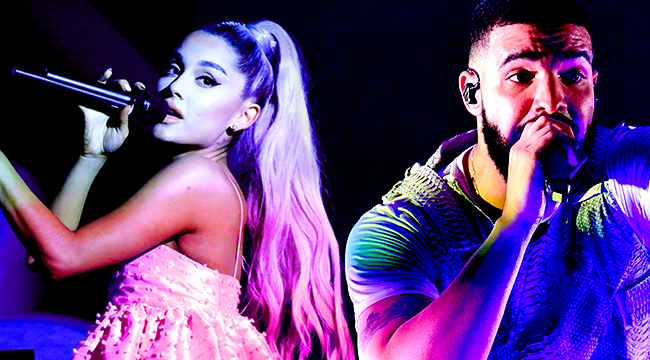 Keeping up with new music can be exhausting, even impossible. From the weekly album releases to standalone singles dropping on a daily basis, the amount of music is so vast it's easy for something to slip through the cracks. Even following along with the Uproxx recommendations on a daily basis can be a lot to ask, so every Monday we're offering up this rundown of the best music released in the last week.
This week saw the return of some old classics from Drake and an update of a recent Khalid song. Yeah, it was a great week for new music. Check out the highlights below.
Drake — Care Package
A compilation album may not make as much sense now in the age of streaming as it used to, but it does when the songs on the mix weren't previously available on streaming services. Drake's Care Package gets a lot of songs from his career onto Spotify and Apple Music for the first time, like "Trust Issues" and collaborations with J. Cole and Rick Ross. For some Drake fans who only get their music from streaming services, this is their first time hearing some of these songs, so great for them.
Ariana Grande — "Boyfriend" (with Social House)
Before "Boyfriend," it had been a minute since Grande shared new music: The Social House collaboration is her first song since Thank U, Next (unless you count "Monopoly," which later appeared on the Japanese deluxe edition of the album). It's a welcomed return for Grande, and Social House's R&B influences plays well with Grande's brand of pop.
Khalid — "Right Back" Feat. A Boogie Wit Da Hoodie
Khalid's Free Spirit album track "Right Back" managed to chart despite not having been released as a single at the time, but now he's given the song a proper standalone release. He beefed it up for its turn in the spotlight, too, as the remix features A Boogie Wit Da Hoodie. While the original version of the song works just fine, the introduction of A Boogie Wit Da Hoodie adds an extra oomph that could make it another hit for Khalid.
Angel Olsen — "All Mirrors"
Angel Olsen is in the midst of the longest gap between albums of her career, but she recently announced that she'd be returning soon with All Mirrors. She also shared the title track from the record, and it has all the alluring darkness that has fans excitedly waiting for the full record. In under five minutes, the song covers a lot of ground, and it's a promising tease of one of the year's most anticipated indie albums.
Brockhampton — "I Been Born Again"
Although it's been a relative minute since Brockhampton has shared a new album, they've announced that Ginger will be out at some point in August. Now they've previewed the album with "I Been Born Again," an energetic track that builds and builds until it reaches a bass-heavy and cathartic climax. If this is the start of their next era, it's a strong beginning.
Clairo — Immunity
The 20-year-old establishes herself as an up-and-coming pop star on Immunity, and the album is definitely just the start. Helping out is Rostam Batmanglij, who has proven himself to be a major producer for some of the finest in indie and pop, so the fact that he's behind the boards of Clairo's entire new album means a lot.
Read our review of Immunity here.
Haim — "Summer Girl"
Haim is featured heavily on the new Vampire Weekend album, but now the familial trio is back with some new music of their own. They haven't announced a new album yet, but they did share "Summer Girl," a relaxed and warm new song that's an ideal fit for the titular season. The band also said this is the start of them releasing songs as they finish them, so hopefully there's more to come soon.
Sleater-Kinney — "Can I Go On"
Sleater-Kinney have shown an enthusiastic willingness to experiment with their new album, like on the The Center Won't Hold title track. That doesn't mean they're eschewing straighforward rock altogether, though, which is great news because they're awesome at it. That's the case on "Can I Go On," a song that's upbeat in its instrumentation, in contrast to its emotional themes.
Lil Durk — Songs 4 The Streets 2
Lil Durk may end up spending some serious time away in light of his recent legal troubles, but before anything potentially happens on that front, the rapper has shared a new collection of songs. Songs like "Turning Myself In" highlight a confessional nature of the album, and beyond that, there are appearances from Nicki Minaj, A Boogie Wit Da Hoodie, 21 Savage, and other guests.
Teyana Taylor — "HYWI?" (feat. King Combs)
Teyana Taylor recruited King Combs (Diddy's son) for "HYWI?," a smooth single that's aggressive in its lyrics. It's a single overflowing with sexual energy, evidenced by lines like, "You're my enemy, tonight I plan on f*cking you to sleep."
Some artists covered here are Warner Music artists. Uproxx is an independent subsidiary of Warner Music Group.