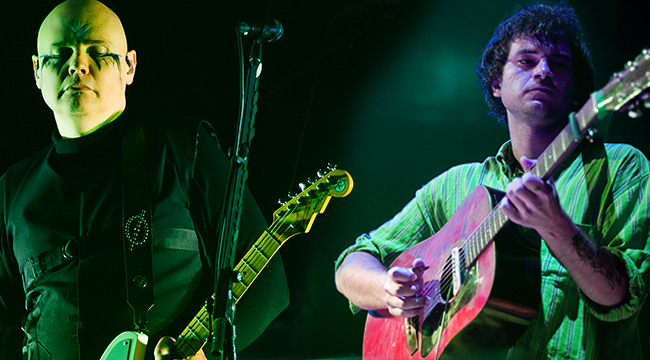 Despite plenty of think pieces loudly proclaiming the contrary, rock is not on its last legs in 2018. In fact, it's thriving quite nicely. Are there artists dominating the charts in a Drake-like fashion this year? No, and it doesn't seem like there will be anytime soon. Regardless, the slate of new and amazing music being released on a monthly basis for those who love a fuzzed-out guitars has been downright impressive.
Here are the best new rock albums that dropped this week.
Smashing Pumpkins — Shiny and Oh So Bright, Vol. 1 / LP: No Past. No Future. No Sun.
It's been 18 years since the last time Smashing Pumpkins made a record with guitarist James Iha back in the fold. While some of the iconic alt-rock band's diehard fanbase will continue to lament the absence of original bassist D'Arcy Wretzky, I imagine they'll soon get over it — much like I did — after hearing they soaring strings on "Knights Of Malta" or the '90s throwback vibes of "Silvery Sometimes (Ghosts)," on this new album. I appreciate the resolve that frontman Billy Corgan, drummer Jimmy Chamberlain, and Iha had had to just make music together again. While some of the band's greatest works were in service of a higher concept, meticulously executed and engineered, these eight songs, which have little to nothing to do with one another feel like an unexpectedly pleasant gift.
Sloucher — Be True
This is one of my favorite albums of 2018. I say something to this effect every week in this space, but it's been an unnaturally fruitful year for new rock music. Anyway, Sloucher, is an indie rock band hailing from one of the great bastions of the genre, Seattle. Their new album Be True, is an emotionally wounded masterpiece of hummable, shiny melodies, and searing guitar solos. Think Figure 8 era Elliott Smith, when he got really into electric guitar. My favorite song on the album is "Complacent," but really, they're all pretty great.
Ryley Walker — The Lillywhite Sessions
Ryley Walker managed to pull off quite a feat with his new album The Lillywhite Sessions in getting those who weren't previously fans to appreciate the musical stylings of Mr. Matthews. The song "Diggin' A Ditch" in particular is a scuzzed-up stroke of discordant, revelatory genius that I keep coming back to. Kudos Mr. Walker.
The Good, The Bad & The Queen — Merrie Land
Damon Albarn has had an extremely prolific run these last few years. Between making a record with his legendary Britpop band Blur, and releasing not just one, but two different albums with his "digital" band Gorillaz, he somehow also managed to find time to link back up with Paul Simonon, Simon Tong and Tony Allen to make the first new record under the guise of The Good, The Bad & The Queen in over a decade. Described by Albarn to The Scotsman as, "a reluctant goodbye letter," it definitely hits on contemporary themes that might seem familiar to even American ears, in a time where both nations have receded from the ideas of globalism. The music itself is jaunty, but the themes are pretty intense. The single "Gun To The Head" is a prime example of what I mean.