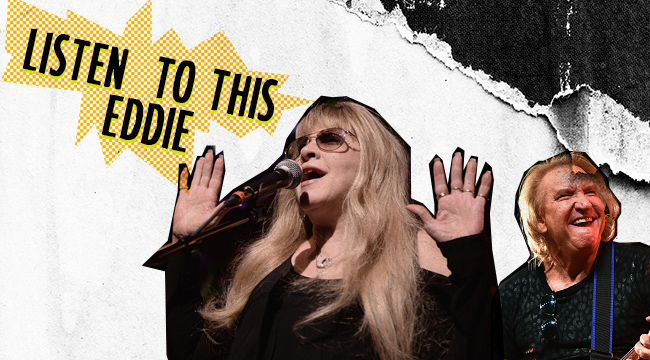 Last weekend I had the opportunity to catch Tom Petty deliver an amazing, two-hour long performance at Wrigley Field in Chicago. He played "Won't Back Down" and "American Girl. It was incredible. This coming weekend, I'll be making the drive up to Milwaukee for Summerfest so that I can watch both Bob Dylan and Willie Nelson in concert. In a little less than a month, I'll also see both Roger Waters and Paul McCartney in a three-day span. Actually, you know what? Stephen Stills has a gig right in between them, maybe I'll try and fit that in too.
One of the sad realities that classic rock fans increasingly are forced to come to grips with is that all of our favorite artists are getting older and older, and lately, have been dying at an alarming rate. They aren't the immortals we all once thought they were. 2016 was particularly brutal. We lost David Bowie in January, Glenn Frey of the Eagles not too long after that, Prince, Leonard Cohen, Leon Russell, Paul Kantor from the Jefferson Airplane, and so on and so on and so on. This year, we've already had to endure the losses of the great Chris Cornell, lead singer of Soundgarden, both Gregg Allman and Butch Trucks from the Allman Brothers Band, and the father or rock and roll himself, Chuck Berry.
All that being said, if an opportunity exists to witness one of the greatest, most impactful artists from the last half century live and in-person, I say take it. Are they missing a member or two? Take it. Has the singer lost an octave? Take it. Are they playing one or two towns over? Take it. A year, a month, hell, maybe even a week after the fact you might come to regret not making the gig.
I'll tell you the band that haunts me: AC/DC. Despite several opportunities, I never managed to catch the Aussie rockers when they've landed in my area. It wasn't always lack of desire that prevented me from seeing them — the tickets ain't exactly cheap –- but I could've made more of an effort. They played Wrigley Field in 2015 and the United Center in 2016. I should've gone to one of them, but didn't. Now, because of an ear ailment that lead singer Brian Johnson suffers from, I'll never get my chance to belt out "Dirty Deeds Done Dirt Cheap" with a towering inferno of flames blasting at my face. I regret it very much. And don't even start with that Axl Rose business. It's not AC/DC.
Later this month, the great classic rock events of 2017 will take place at both Dodger Stadium in Los Angeles and Citi Field in New York. They're called the Classic West and the Classic East and they're set to go down on July 15 and 16 and July 29th and 30th respectively. For fans of breezy '70s-era yacht rock, the lineup couldn't be more stacked. Fleetwood Mac tops the bill on the first night, supported by Steely Dan and the Doobie Brothers, while a newly constituted Eagles with Glenn Frey's son and Vince Gill leading the second evening's show following Journey and Earth, Wind & Fire.
"While I was still in shock during some interviews after Glenn passed away, I did say that I thought that was the end of the band," singer/drummer Don Henley told Rolling Stone. "But I reserved the right to change my mind. Ralph Waldo Emerson said, 'A foolish consistency is the hobgoblin of little minds.'" The group's manager, and the powerhouse behind both Classic gigs added, "To me, the fans and the legacy and everything was saying, 'It doesn't have to be over.'"
You can scoff at the entire thing as blantant money grab. Eagles partisans — of which I'm not, though I did see them when Frey was in the band and will fight anyone who has a cross word to say about guitarist Joe Walsh — might roll their eyes at this Frey-less lineup, but as I mentioned, you have to take your opportunities when you can get them. Desert Trip, aka Oldchella, as well as the Grateful Dead's stadium sized reunion shows proved that there's an incredible market to be tapped for these classic rock mega-events. As long as the stars are still around to draw the people in, I say keep them coming.
Of course, if you can't make it out to either Classic gig, there are plenty of opportunities this summer to catch some of the titans of rock and roll's past in a venue near you. Here are some of the best who've decided to hit the road in North America once again this year. You can check the full itineraries by clicking each artist's name.
Here's some of the best advice I can give you: Go see Paul McCartney. As far as songwriting goes, the man has almost no peer and his shows are three hour long marathons of spellbinding musicianship and superhuman stamina. Chances are he'll play your favorite Beatles song, tell a joke about Eric Clapton before playing Jimi Hendrix's "Foxy Lady" and blow your mind with fireworks and pyro during "Live And Let Die." Fans in the Midwest, New York and Florida are very much in luck this go-around.
Like Sir Paul, Roger Waters is Desert Trip veteran. The Pink Floyd singer comes equipped with one of the most visually impressive live shows I've ever seen. As Daniel Ralston wrote in his review of his recent gig at the Staples Center, "Roger Waters doesn't do anything small." There's laser light pyramids, a floating pig emblazoned with Donald Trump's face, a full replica of the Battersea power station from the cover of the Animals album. Trust me, you won't want to miss "Pigs On The Wing."
U2 may have wrapped up the first leg of their tour celebrating their classic album The Joshua Tree, but if they failed to make it to your town in the first go-around, or you merely want to see them again, they have a new slate of shows back in the US come September. The visuals alone — a gigantic 8K screen brings an incredible life-like quality to the images and videos presented throughout the show — make it worth the price of admission. As Uproxx Music Editor Caitlin White observed during their performance at the Rose Bowl, "It is important to hold onto the small, flickering lights that still exist. It is also important to stare down the darkness and acknowledge its existence. The Joshua Tree tour does both."
So, this one isn't quite official yet, but the word from those in the know is that the Boss intends to stage an unprecedented eight-week long residency on Broadway sometime this fall. I have to warn you, if/when these tickets go on sale, they are going to command Hamilton-esque rates. The opportunity to see Bruuuuuuce, a figure who could sell out MetLife Stadium seven nights a week for a month straight ply his trade in a room that can only fit 1,000 people is one too great to miss for his biggest fans. Might need to start thinking about cashing out that 401k now.
Slowhand isn't playing many shows this year. Actually, he only has four dates scheduled, all in September; two at Madison Square Garden and two at the LA Forum. It might honestly be the most iconic marriage of historically important artist and historically important venues of any rock act hitting the road this year. I'm thinking I might personally try and make one of the shows at MSG just to see him play "Layla" — the Derek and the Dominoes version — one more time in that hallowed bastion of rock.
The reunion that no one thought would ever happen just keeps rolling on. After blowing people's minds in massive outdoor stadiums last summer; Axl, Slash, Duff McKagan and the gang are bringing their act to America's finest basketball and hockey arenas this year. You can snicker all you want at Axl's beefier frame or the semi-freuquent breaks he takes to get a little bit of oxygen, the dude still has the pipes. The second Slash launches into those immortal opening notes of "Sweet Child O' Mine," it's like the years just fade away.
Tom Petty And The Heartbreakers
Tom Petty and his iconic band the Heartbreakers keep rolling…on; keep rolling on. This year, they're delighting their millions of fans in venues across the country while celebrating 40 years together as a working rock and roll band. Having caught the show at Wrigley Field last week, I can personally attest to their incredible powers as a live band. While the hits like "Free Falling" and "Mary Jane's Last Dance" are total crowd-pleasers, prepare yourself to be dazzled by guitarist Mike Campbell's fretboard wizardry over the Wildflowers deep cut "It's Good To Be King."
I cannot sing the praises of this scion of Detroit, Michigan enough. With his catalog of incredible albums finally finding its way onto most streaming services this year, this feels like the perfect moment for Seger to hit the road and introduce himself to a new generation of fans who, until recently, had to scour the dustiest corners of their local record store in hopes of listening to Live Bullet. He may be on the other side of 70, but that voice, the incredible gravel-encrusted holler, is still all the way there.
There aren't many dates left on Metallica's first, full-scale tour of the US in six years, but those on the West Coast especially have more than a few opportunities coming up to catch the greatest band in heavy metal history rage their faces off inside your nearest professional football stadium. The setlist is peppered with some material from their most recent album Hardwired…To Self Destruct, but you'll also get plenty of favorites like "One," "Master Of Puppets," and of course, "Enter Sandman."
I've never seen Deep Purple, and I'm sure they're great — "Smoke On The Water" is the de facto first song played by every aspiring bedroom guitar player — but the reason I've included this particular tour to close out this list has everything to do with Alice Cooper. I went to Motley Crue's final, farewell tour a few years back pretty much exclusively to see Uncle Alice do his thing. He didn't disappoint. All the tricks, from the mock execution to the massive boa constrictor were on display. And the hits like "School's Out," "No More Mr. Nice Guy," and "Ballad Of Dwight Fry" remain just as potent today as they were when he laid them down decades ago. I really hope that the rumors are true and that he'll play a few dates soon with the living members of the original Alice Cooper band as it existed at the height of his powers in the late-'60s/early '70s.
The Bootleg Bin
I don't know if you caught it up there, but this weekend I'm going, once again, to witness the legend Bob Dylan live. Every time I've seen Bob has been a treat. It's almost like visiting the Statue of Liberty or something. He's such an iconic presence in American legend and lore, you can hardly believe he's really there crooning to his heart's content right in front of your face. In anticipation of this show, I've been listening to my fair share of Bob recently, but have always had a soft spot in my heart for his 1974 run with the Band.
This tour was Dylan's official return from seclusion after spending much of the last eight years out of the public eye while supposedly recuperating from a motorcycle accident. As he did on his previous jaunts before hiding out in Woodstock, he hit the road once again with The Band and performed a collection of greatest hits shows as well as some stuff from Planet Waves that was eventually dropped. For real Bob aficionados, there's a collection floating out around there called the 1974 Soundboard Collection that features professional recordings taken from a variety of shows from that run, but for our purposes, this gig at the Capitol Center in Landover, Maryland on January 15, 1974 will do just fine.