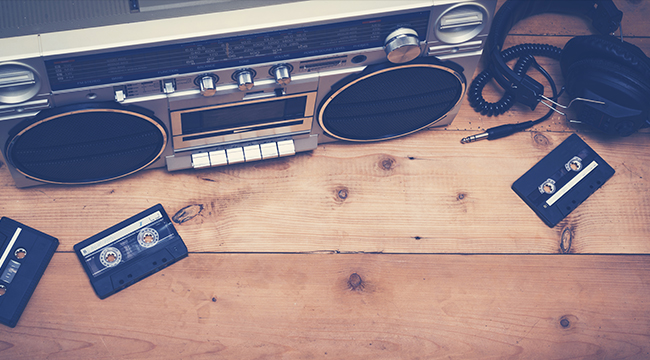 Ever since Santa Claus came to Hollis Queens to drop off a million dollars for MC Run, the bar for hip-hop holiday giving has been pretty high. Fortunately, the finicky rap fan in your life will likely love at least one gift on this list, whether they're a hardcore backpacker or a round-the-clock trapper. From sneakerheads to movie buffs to vinyl collectors, hip-hop heads, gather 'round. Without further ado, here's Uproxx's guide to gift "rapping" this holiday season.
Kendrick Lamar DAMN. Double LP 2P
Kendrick Lamar's fourth studio album debuted at No.1 on the Billboard Hot 100 (his third album to do so), went platinum in just three weeks, earned him an Album Of The Year Grammy nomination, and set off a firestorm of both critical praise and controversy. In short, it was one of the most beloved, most popular, and most talked about albums of the year, and Urban Outfitters currently has a double LP set available that any true Kendrick fan would enjoy finding under their tree.
Funko Notorious BIG Rock Pop
Our 2016 hip-hop gift guide included a reference to the Tupac Funko Pop! figurine, so why not use 2017 to complete the set? After all, Tupac and Biggie are pretty much inextricably connected in the minds of hip-hop heads, due to both their rivalry and the proximity of their untimely deaths to one another.
And putting the pair together via these officially licensed figurines is probaby a more ethical investment than the unauthorized T-shirts that Kylie and Kendall Jenner insisted on foisting upon the world, while also being a pretty cool conversation starter for houseguests and office visitors. Unfortunately, the Notorious BIG Pop is currently vaulted at Funko's official site, so you'll have to try your luck on Amazon, where the collector's item will run you about $400. However, given its limited availability and historical significance, that might be a small price to pay.
Stretch & Bobbito Stance Socks
For those who don't know, DJs Stretch Armstrong and Bobbito Garcia (aka DJ Cucumber Slice) are two of the most pivotal names in hip-hop. Their Stretch Armstrong And Bobbito Show on Columbia University's WKCR radio broke a number of the most important names in rap music throughout the '90s, including Nas, Jay-Z, Busta Rhymes, Big L, The Notorious BIG, DMX, and Talib Kweli. The groundbreaking duo is the subject of the documentary Stretch And Bobbito: Radio That Changed Lives, and Bobbito's voice can be heard talking trash and gassing up highlight reel-worthy plays in the games NBA Street, Volumes 2 and 3. He also helped launched the career of underground rap supervillain MF Doom.
These socks commemorate Stretch and Bobbito by pairing them up forever with Stance's iconic character style. They'll keep your feet as fresh (or funky) as they kept the airwaves in the early days of hip-hop — and today, as they've got a new NPR podcast that's worth a listen. Grab them here.
A Signed Copy Of Chuck D's This Day In Rap And Hip-Hop History
While Chuck D is known nowadays as a kind of rap elder statesman and kind of a grumpy old guy yelling at the kids to get off his lawn, he's more than earned the right after nearly 30 years in the game. His longstanding relationship with hip-hop has made him one of the culture's foremost historians. It's an expertise he's more than happy to bring to the 500-page tome full of anecdotes, photographs, and one-of-a-kind insights from the former Public Enemy and current Prophets Of Rage frontman. Having procured a copy for myself, I have to say, it's well worth the investment. Almost no other history book of the culture and music has such a distinctive voice or broad-ranging view of both the early days and the history that's led hip-hop to become one of the most powerful cultural forces in the world.
Future Reebok Furykaze
Inspired by Future's zodiac sign, the Reebok Furykaze is a hybrid of two of the brand's most iconic silhouettes. The venomous arachnid's carapace inspires the shape and details of this intriguing model, and while the rapper sneaker du jour may be the insanely popular Yeezy line of shoes endorsed by Kanye West, the price point of the Furykazes ensures you won't have to break the bank or splurge on an unnecessary bundle featuring a pair of shorts and a hoodie to get it — which you can do right here.
Brown Sugar DVD
This one I included for personal, sentimental reasons. I know that DVDs are, like, so last generation, and Brown Sugar has some corny views on the culture, but it's also nothing more and nothing less than a love letter to hip-hop in the guise of a romantic comedy. Plus, at just $6 depending on the retailer, it might make a great stocking stuffer for the grouchy old head in your life that keeps complaining about how bad modern rap is. That's basically the plot of this movie, cheerfully portrayed through the eyes of Taye Diggs and Sanaa Lathan's characters' twenty-year relationship, with great supporting performances from Mos Def (aka Yasiin Bey) and Queen Latifah. If nothing else, you can make your colorful-dreaded little cousins watch it, while you poke them in the ribs and yell "you don't know nothing 'bout that, young blood!" It's a win-win all around.
Nike Air Jordan 1 "Off White"
The hot ticket sneaker release of 2017, the Virgil Abloh Off-White Air Jordan 1s are going to cost a pretty penny, so save this one for the Jay-Z or Beyonce of your life to let them know how much you care. Riffing on the first official shoe of the modern hip-hop age (Adidas Superstars were very first-generation rap head sneakers of choice), the Off-White AJ1 is part of Nike's The Ten collection, a selection of the brand's most iconic shoes of its 30-year run of dominance over sneaker culture deconstructed and redesigned by Abloh. Abloh was the art director for Jay-Z and Kanye West's Watch The Throne tour, and his Off-White brand has received seemingly hundreds of shout-outs from prominent names in rap music, including Migos and 2 Chainz.
Golf Le Fleur Shirts
Tyler's Golf Wang line may be the most sophisticated and understated label out of any rapper's, which looking at the selections, might be an odd thing to say, but these pieces are the kind you actually find in luxury boutiques on Rodeo, while some other rappers are trying to convince you Zion-chic from The Matrix series is ever going to catch on (considering who's in office, post-apocalyptic rags may very well be the wave in no time at all, but for now, let's stick to something a little more realistic).
However, The Creator is far too down-to-earth to ever insist on a snooty boutique and ensured that his Golf le Fleur line continued to be a mainstay of his Fairfax district stomping grounds, opening a new store there in October. You can check out the offerings online if you aren't lucky enough to live in driving proximity to the shop. These pieces are bright and poppy and perfect for the spring, so you can rest assured the recipient will appreciate having a starting point when for their wardrobe turnaround when the cold weather goes. If they're a Los Angeles resident, like yours truly, they may not even have to wait, as winter still has yet to hit the Left Coast, and might not until January.
Dope Blu-ray/Ultraviolet
In contrast to the other blast-from-the-past hip-hop film on this list (incidentally both directed by Rick Famuyiwa), Dope is a youthful and vibrant look at how everything old becomes new again. The millennial rap nerds in this film idolize the '80s and '90s, from their fits to their propensity to listening to vintage cassette tapes on salvaged Walkman players. It's a reminder to your cranky uncles that there are plenty of kids who are still into the "good old days" and just need a little guidance, as well as to your younger cousins to remember to respect their elders who paved the way.
It's a fun, funny, and surprisingly emotional coming of age tale set in Inglewood, California, that incorporates a dozen threads to weave a tale of young love, drugs, and wild parties that will keep heads riveted from beginning to end. Unlike Brown Sugar, Dope comes on Blu-ray and Ultraviolet, so you can simply stream it to the device of your choice, and it's still pretty much a giveaway gift at just $10.
ASAP Mob Gingerbread Cookie Kit
ASAP Mob Gingerbread Cookies.
Chance The Rapper New Era "3" Hat
In his new song, "First World Problems," Chance laments that his daughter barely recognizes him without his signature hat. In fact, ever since the lead-up to his groundbreaking 2016 album, Coloring Book, Chance has rarely been seen without his ubiquitous "3" baseball cap, and now he's making sure you can follow his excellent example with your very own "3" fitted from New Era. It's nothing too fancy, but that pretty much sums up Chance himself. He's a humble guy who always seems to be in the giving spirit. If he's not the perfect person to emulate for the holiday season, I couldn't think of a single person who is. Get the hat on Chance's official site.
Christian Louboutin Highness
These expensive, yes, but hear me out. They are also red bottoms, therefore, they are bloody shoes. I rest my case.
You haven't been able to get the song out of your head, so you may as well help a special lady in your life get some of Cardi B's favorite heels (this is the pair Cardi sports in the video for the inescapable "Bodak Yellow") onto her feet.
If you need more ideas, check out our indie rock and classic rock gift guides as well.