Looks can sometimes be deceiving. For music festivals, a lineup poster comes out, culinary partnerships are revealed, and art installations are booked, all causing fans to experience FOMO before the event even takes place. But that doesn't mean that the fest is necessarily going to be good. With something like Coachella or Lollapalooza, you know the festival will achieve a certain level of functionality, that the infrastructure will be sound, the bones sturdy. But smaller fests are more of a gamble, where the lineup and amenities are just one aspect of creating a good time. In a sense, they have to stick the landing.
In its sixth installment and first as a spring event, Miami's III Points has previously survived hurricane threats and headliner cancelations, only to emerge more and more impressive-looking from the outside.
As outlined last week, the festival clearly has an identity and put together a bill for 2019 that speaks very much to where music's most interesting sounds are being created, without ignoring things that actually hold some popularity. With headliners Tyler, The Creator, SZA, and ASAP Rocky and a bill that included Beach House, James Blake, Erykah Badu, and Blood Orange, this wasn't a mishmash of music with good streaming numbers and major label filler with the right management; this was music that actually formed a coherent thesis. Women were well represented at the top, as were people of color. If 2019 festival lineups were to have a standard bearer, this was it.
But just as great as what was happening on stage was how III Points executed the event. There was the act of getting into the festival, featuring a wealth of lines for speedy entry, only to be transported onto the grounds via a tunnel-of-lights art installation courtesy of Erica Bernhard, all with the III Points logo fixed at the end like a pot of gold at the end of a rainbow. Once onto the main grounds, III Points felt as much like an immersive art exhibition as a festival. Part of this was how compact the place was, a fraction of the size of its bigger peers but with just as much to do and look at. Part of this was the warehouse vibes where each room could create its own aesthetic. And part was just the creativity at the heard of it. Want to sit inside a shipping container and watch private art films courtesy Judy Chicago? No prob. Want to freefall from tall structures onto giant inflatable cushions thanks to Blu vaping products? Sure. Want to spend your time roller skating in an art exhibit? Yup, you can do that here.
It's one thing to put these options on the table at a festival, but III Points knows its audience and knows that people will be game to participate in something out of the box and a little weird, making for an experience more fulfilling than simply watching musicians perform songs. One installation required attendees to lay down in the middle of the room and look upwards at the ceiling while listening to oppressive droning. It was almost always packed.
III Points offered up the festival essentials (Spicy Pie! A giant mirrorball! Premium VIP viewing!) as well as the ingeniously superfluous (you could literally get a medical marijuana prescription and then buy said medical marijuana at the Green Space), and presented it all seamlessly. One booth boasted psychic readings only to make me wonder why more festivals don't have such out-of-the-box activations. A little imagination goes a long way, with the average fan caring as much about the experience and vibe as they do about the actual talent. Great booking will get people to a festival once, but a great experience will get them coming back.
That isn't to say that III Points' music wasn't, ahem, on point. By getting Tyler, The Creator and ASAP Rocky to both headline days (Friday and Sunday) respectively, it made for the opportunity for the frequent collaborators to join each others' sets, effectively squashing a minor beef (Rocky popped up for "Telephone Calls," while Tyler returned the favor for "Potato Salad" and "Who Dat Boy.") These are the kind of moments that make big festivals the subject of social media boasting, and are essentially the lifeblood of success. Even more memorable was SZA, who took her Saturday night appearance as a chance to debut a cover of Sixpence None The Richer's "Kiss Me" while announcing that her follow-up to the landmark Ctrl was about halfway done. All three of the evening-closing acts made their sets feel like events, not just another stop on their tour, and getting both Tyler and Rocky to clearly hang around Miami for the weekend spoke to the festival's ability to work with their talent and keep them engaged in the entirety of the event, rather than just their 90-minute slot.
Elsewhere, James Blake gave the live debut of the material from his latest album, Assume Form, while splicing in the older material like his Feist cover "The Limit To Your Love" and "The Wilhelm Scream," all while the new album's inspiration, The Good Place's Jameela Jamil, stood beaming from the photo pit. Blake thanked the audience for making his first run through of the new songs so painless, easily expressing the joy — through both his words and his music — that some critics fail to find in his work. The mighty Beach House was equally in top form, with their newly unearthed affinity for midtempo rockers (thanks, 7) only adding to their live majesty.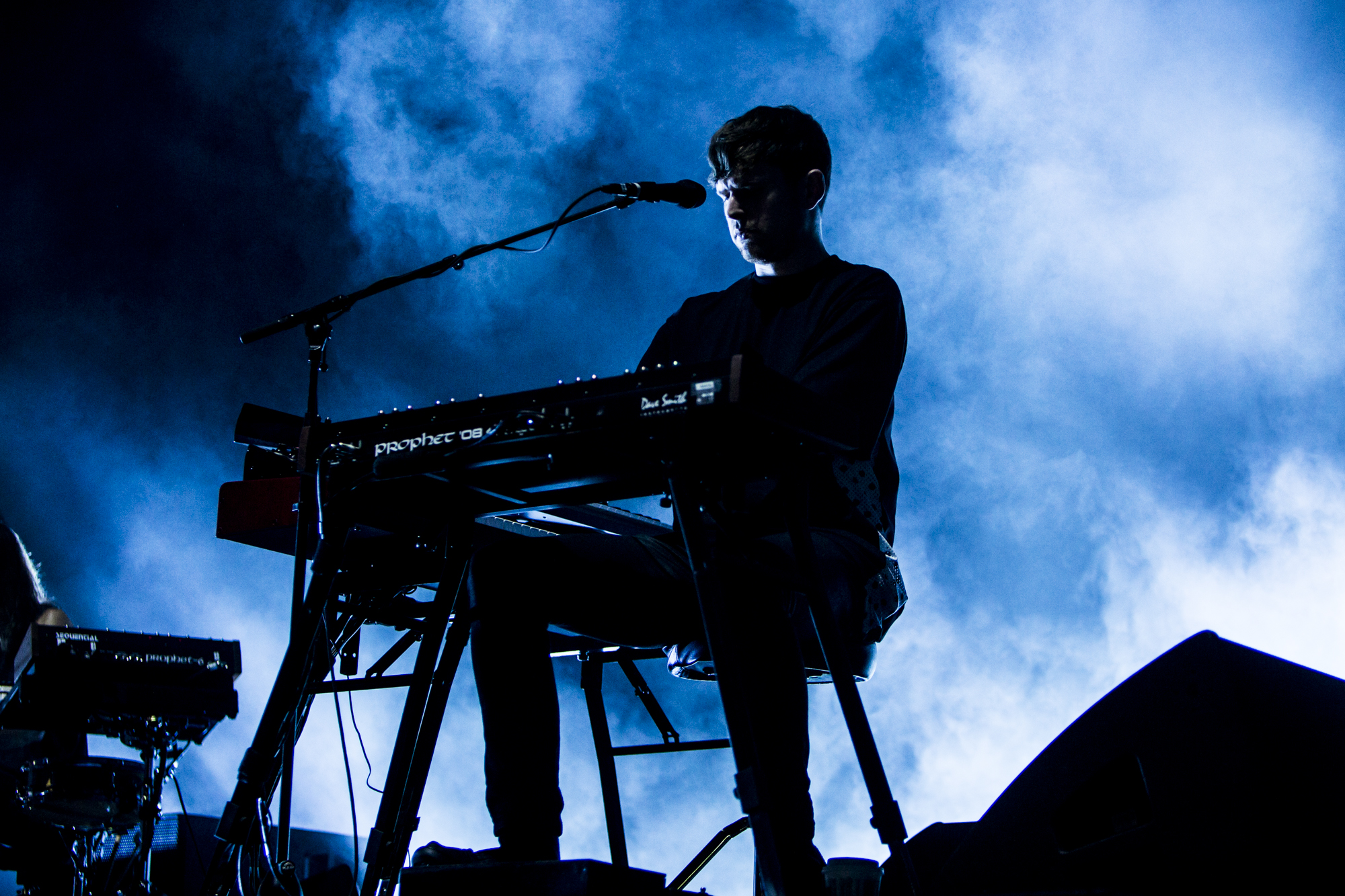 III Points was an equally effective showcase for lesser-known artists. Masego proved to be a breakout star, juggling singing, rhyming, and saxophone duties all while proving to be an expert entertainer. SOB X RBE couldn't contain the joy they experience performing together, even if their audience was minimal due to conflicting set times with James Blake. And both Dean Blunt and Tim Hecker brought intense emotions with minimal light to the Main Frame stage. Even a legend like Herbie Hancock, who was making influential jazz music long before most of the audience was born, found his place at the festival, with attendees content to groove on his impromptu jams.
Is III Points a perfect festival? Not quite. It could have used some better culinary options, though its placement in the Wynwood district and 5pm start time meant that most fans could easily grab dinner in the neighborhood and enjoy a slice if they got snacky later. But overall, III Points demonstrated an exciting vision that took what other greats like FYF Fest and Day For Night accomplished, and ran with it to the next logical place.
"We're going to try to hold onto this stance, and financially grow our festival while still staying in this line, instead of trying to book Cardi B or Foo Fighters to try to grab tickets," David Sinopoli, the festival's co-founder, told me ahead of the event. "You've got to be discerning and you also have to toe the line, because this is a big festival and we have to keep it alive."
Uproxx was hosted by III Points Music Festival for this story with travel and accommodations. For more about the Uproxx hosting/press trip policy, go here.