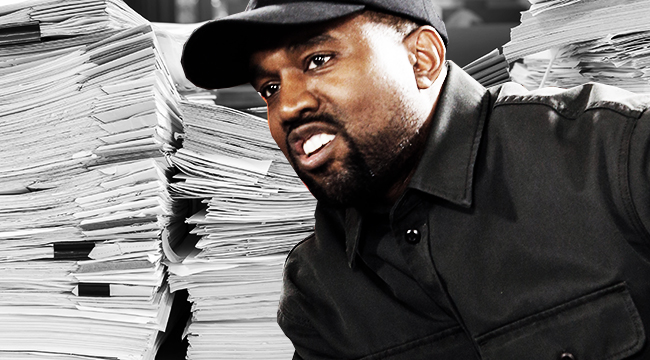 If Kanye West retired today and never made another record he would have one of the most impactful catalogs in music history. But unfortunately for Kanye, he can't retire. That's what the mercurial artist and his legal team are alleging in a lawsuit against his labels Roc-A-Fella and Def Jam Records, their parent company Universal Music Group, along with music publishing giant EMI.
The Hollywood Reporter reports that Kanye is seeking money that he believes he's owed and a "transfer of property" on the grounds that "EMI has unjustly earned millions of dollars by tethering Mr. West's songwriting efforts for an unlawful term." Kanye signed his initial record contract in 2003, as an aspiring artist so notoriously driven to succeed that at one point he let two different management teams take 20% a piece from his proceeds, according to his onetime manager/production mentor Deric "D-Dot" Angelettie. His laser-focused determination was admirable but shortsighted. That contract he signed contains the following clause that Kanye is calling "servitude:"
"At no time during the Term will you seek to retire as a songwriter, recording artist or producer or take any extended hiatus during which you are not actively pursuing Your musical career in the same basic manner as You have pursued such career to date."
That clause essentially states that Kanye can never stop making music. His legal team is attempting to get out of the deal by evoking California's seven-year rule, or Labor Code Section 2855, which limits personal service contracts to a seven-year maximum. Given that Kanye signed the deal in 2003, he not only wants out of the deal, but to be paid retroactively for publishing from 2010, when he claims the deal should have expired. Acts like Courtney Love, 30 Seconds To Mars, and Rita Ora have used the rule to get out of their own restrictive contracts. EMI is looking to circumvent Kanye's suit with a countersuit claiming that the contract is legal in New York.
Kanye is so protective of his art that he once ran away from "authorities" with the reel for his "Jesus Walks" video on an episode of MTV's Punk'd prank series, but this struggle for what is his is no laughing manner. Kanye has always advocated for his art, but he should have also been as ardent about advocating for his rights as a recording artist. He put everything he had into his music, but his contractual negligence could have sacrificed the rights to that music for the rest of his life.
Music publishing is the golden goose for any artist; having control of your publishing allows you to control who gets to use your music commercially — and reap the benefits. Kanye's extensive catalog gets play in everything from commercials to sporting arenas, so he could be owed a huge windfall of backpay. Many of the previous major label acts who evoked the seven-year rule settled out of court, but they likely didn't get the money that Kanye could be owed.
The circumstance sheds light on just how insulated Kanye has been in his lair of beat and threading machines over the past two decades. Kanye alleges that the contract should've ended in 2010, at the height of his career. Signing a new deal at that point would have been a chance for him to renegotiate a contract and publishing deal to make him one of the biggest earners in music — but apparently, he wasn't minding his business. For perspective, Drake's next label move has been speculated about since 2016's If You're Reading This It's Too Late, which some people erroneously conjectured was his last under Cash Money. The right deal could help catapult Drake to mogul level, so how did Kanye miss out on that moment, especially standing next to Jay-Z, who has been in "corporate takeover" mode his whole career?
In 2013, Kanye claimed that he was in debt after pouring his money into his fashion dreams. He went to the lengths of tweeting at Mark Zuckerburg asking for a billion dollars — instead of auditing his own situation and realizing he was in what amounted to a slave deal. That's like an everyday person DMing a stranger to help them put money down on a house when they could just get the backpay their job owes them.
The past year alone has demonstrated that Kanye is a person who is specifically wired for just a couple of things. In an ideal world, he would just be left to make his music and clothes and be with his family. He would probably be better off kept away from any office, oval or otherwise, for his own sake. But he's not in an ideal world where people generally look out for the best interest of their workforce, he's in the music industry, where labels are looking to get over. He shouldn't have made it that easy to get over on him by failing to get a lawyer who would point out the insolvency of that bondage clause, and then not check on his contract as his career ascended. In a twisted way, it contextualizes his offbase comments of recent years. He clearly doesn't think about anything outside the bubble of his creative passions or family — even things that would benefit him.
He has seen the heights of music and made millions, but it turns out he probably should have made more. The story of artists locking horns with greedy labels is a timeless one, from Ray Charles to Michael Jackson to Prince, and as we see unfolding even today in the De La Soul-Tommy Boy situation, where the iconic trio is seeking an equitable profit from streams of their catalog.
As Lupe Fiasco recently noted while checking Offset, musicians are a team, from the heights to the grassroots. The collective relies on prominent, powerful figures like Jay-Z, Kanye West, and Nicki Minaj to leverage their influence to make strides for smaller and future artists. While Kanye didn't get it right in the beginning, his current fight could reshape the language of contracts forever as well as redefine copyright rules. If nothing else, hopefully, his legal wrangling will help aspiring artists realize how treacherous labels are, with literal slave verbiage in contracts, and take a long pause at whether signing a major label record deal is truly beneficial for them in the long-term.
If artists do sign, they need a lawyer who's in their corner and surveying their contracts like a hawk before they sign. And as their star rises, they need to figure how to leverage their influence into better situations, and not stay in a contract for a second longer than they have to. Artists should do everything they can to become the next Kanye in a musical sense, but under no circumstances should they be the next Kanye in a business sense.