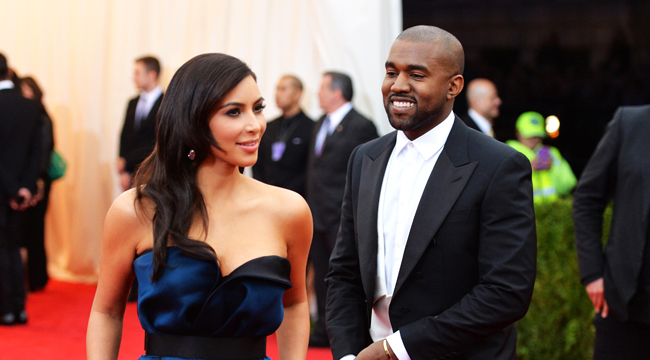 Kanye West and director Steve McQueen (12 Years a Slave) appeared at a top-secret LACMA event last night to reveal their "All Day / I Feel Like That" video collaboration. The final product is said to be a nine-minute extravaganza that plays like a conceptual art project.
The entire museum affair held more secrecy and intrigue than a 007 movie. All cell phones were confiscated, and journalists were sworn to secrecy until an unspecified date. All told, 120 people listened to West and McQueen speak. To no one's surprise, West did most of the talking. The LA Times explains the presentation as "a conversation dominated by the mega pop star's rambling":
"I go off on these rants that don't make any sense, but I don't give a … ," West apologized. Sitting regally in the front row of the audience was his wife, Kim Kardashian. The cellphone ban didn't apply to her, but the reality TV star, sheathed in a low-cut, form-fitting number, politely stowed her device prior to the start of the talk.
Kim Kardashian's presence ushered in some irony when it comes to Kanye's next statements:
The Grammy-winning pop star permitted himself to launch into a number of conversational tangents. At one point, he criticized the state of the music industry, saying there are few true artists in the business. "Please quote it," he told the reporters in the room. He described himself as a "bad celebrity, but a pretty good artist." West ranted a number of times about the effects of money on art. And yet big business was in the house Friday, with a number of UTA top brass in the audience. The agency began representing West earlier this year.
Few people can argue that Kanye does not display an astounding degree of artistry. In fact, he fits the textbook definition of "artsy-fartsy." Is he trying to distance himself from his celebrity status? That's a difficult task to accomplish after marrying into the Kardashian family.
(via LA Times)