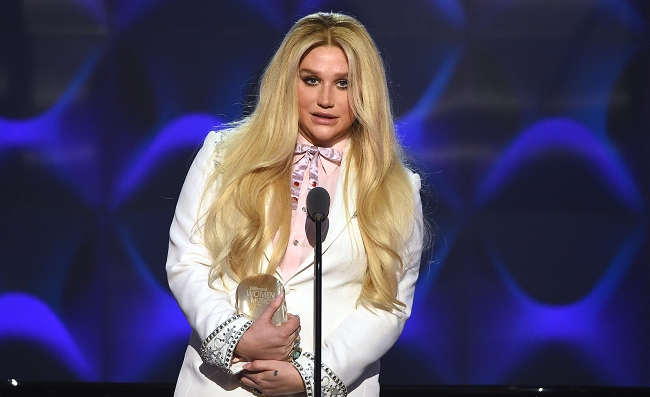 Kesha's legal battle to be released from her contract rages on. And today, the most damning evidence yet that Kesha was suffering through an abusive relationship with her producer and label boss has come to light. Page Six published a series of emails between Dr. Luke and her manager Monica Corina that seem to support the idea that Dr. Luke tormented the singer about her weight.
In addition to claims that Dr. Luke raped her, Kesha claimed that the producer was verbally abusive to her and that working with him had a serious effect on her mental health. These emails seem to support the latter claim.
Via Page Six:
"Nobody was calling anybody out," Dr. Luke writes to Cornia at 2:11 a.m. on June 28, 2012, according to a copy of the email.

"We were having a discussion on how she can be more disciplined with her diet. there have been many times we have all witnessed her breaking her diet plan. this perticular [sic] time — it happened to be diet coke and turkey while on an all juice fast," the producer gripes.

Cornia asks him to be more supportive because she's "a human and not a machine," then adds, "if she were a machine that would be way cool and we could do whatever we want."
In the same thread, Luke reportedly said that songwriters were avoiding working with Kesha because of her weight, though apparently not enough to keep Kesha from making a great album on the sly. They also published a bit of a spat over the lyrics to the 2012 song "Crazy Kids." According to Cornia's version of events, when Kesha asked to change a line Dr. Luke responded that he "he didn't give a sh*t what [she] wants."
Kesha and Dr. Luke are scheduled to talk to a judge in a telephone conference next week.
UPDATE: Dr. Luke's lawyer Christine Lepera reached out with a statement, claiming that Kesha selectively released emails to paint an incomplete and negative picture.
"Kesha and her attorneys continue to mislead by refusing to disclose the larger record of evidence showing the bad faith of Kesha Sebert and her representatives which is greatly damaging to them. It also shows the tremendous support that Dr. Luke provided Kesha regarding artistic and personal issues, including Kesha's own concerns over her weight," she said. "Rather than agree to a thorough disclosure, Kesha and her representatives improperly publicized, without Court permission, three out-of-context emails which do not present the full picture regarding the events they concern. For example, these emails do not show that the lyrics of "Crazy Kids" were, in fact, rewritten at Kesha's request. Any claim by Kesha to the contrary is deceiving the public-just like her other meritless claims of wrongdoing by Dr. Luke. Dr. Luke looks forward to full vindication in Court."