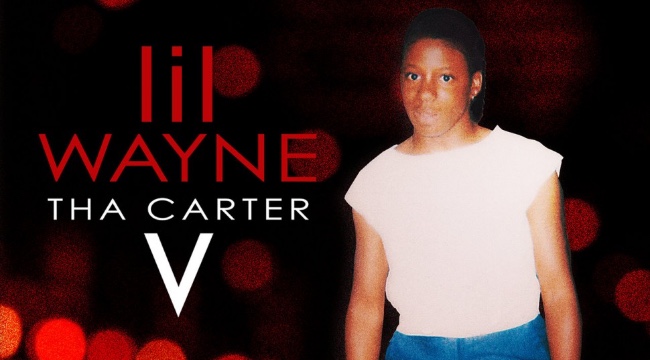 Starting as it does with the almost uncomfortably ghostly crooning of late rapper XXXtentacion on "Don't Cry," Lil Wayne's Tha Carter v is as mournful as it is celebratory. Clocking in at 23 tracks, it joins the list of uncomfortably long projects that have come to dominate the streaming service landscape, yet with good reason: The album is both a celebration of Lil Wayne's longevity and perseverance and it's a haunting look back at just how long it took Wayne to get here. Yet, at the heart of this duality lies a simple truth: The rap game is better with Weezy in it, and The Carter V is an entertaining reminder why.
Tha Carter V's long, troubled gestation period has been well-documented, as have the various health and financial issues that have supposedly dogged Lil Wayne himself throughout his forced hiatus. The album's existence alone would be a testament to his resilience and boundless creative energy, but fortunately, the music itself justifies both the wait and album's duration as a pure demonstration of Wayne's continued lyrical sharpness.
Because he is Lil Wayne, he could have tossed out a rushed, slapdash project or a collection of older tracks from his catalog of, apparently, hundreds, to general acclaim to appease the demographic who stuck it out with him through the most recent drought and introduce himself to a generation weaned on his musical descendants. But because of who Lil Wayne is, his professional pride just wouldn't let him get away with that. He had to prove himself. He does that, but he also proves why he never needed to do so — at least in the eyes of his staunchest fans.
In many ways, Tha Carter V is a little like some of the other albums released by aging vets this past year. On Eminem's Kamikaze, the aggrieved Detroit rapper brought critics and political enemies alike to task in an extended, belligerent apology for his previous album, 2017's wayward Revival. Wayne does a little of the same here, making up for the previous Tha Carter IV, as well as reestablishing his technical prowess, something that had become a bone of contention in his time restricted from actively appearing on many peers' projects. However, for him, crafting tricky rhyme schemes doesn't need to be such a self-serious exercise. He rhymes with the best of them, but he would never have fit in on Rawkus.
Likewise, Nas' Nasir carried the onus of proving that the aging Queens legend could innovate stylistically and find new depth lyrically with Kanye West's production finally supposedly alleviating the primary complaint of Nas' catalog so far. Wayne was faced with the same predicament; if he returned with No Ceilings quality bars and more awkward crooning than ferocious rhyming, he would likely lose the last of the goodwill he'd garnered with the first three entries in his Carter series. If he failed to adjust to the newly confessional tone of modern rap, he'd miss a prime opportunity to connect to two generations of fans. One loves the modern style of weeping wound, freshly-snatched Band-Aid grunge hop, while the other is simply looking for more substance from musical heroes that have largely lapsed into complacent, one-note pandering (see: Scorpion, Queen, and Daytona all from acts most closely associated to Wayne and his rise to prominence).
Wayne surpasses the competition though, in that he never lets his need to construct a complex bar override the sheer enjoyment of rhyming. His rhymes continue to be shot through with his trademark, Halloween prank sense of humor and wicked gift for slick comparisons and magician trick wordplay. On "Start This Sh*t Off Right" he flexes and flips word meanings like a three-card monte hustler: "I f*cked around and made a buncha f*ck around money / Now I feel like found money / I'm fuckin' awesome, 'til awesome have a child for me / Got homies who ain't comin' home 'til the cows coming." On "Mona Lisa," he reels off a compelling crime narrative alongside GOAT heir apparent Kendrick Lamar, detailing a late night setup and the easily lured loyalties his star status grants him.
He gets surprisingly deep too, for someone with so many toilet puns in his repertoire on "Don't Cry" and "Let It All Work Out." XXX's aforementioned guttural groaning smartly sets the stage for revelatory bars from Wayne on the former, while the latter functions as a Sampha-assisted therapy session, dragging Wayne's closeted skeletons out for the sort of exposure that seems harder and harder to draw from celebrities later in life, as it seems their every move is publicly assessed and analyzed for maximum entertainment value. Yet, the devil still hangs out in the details, and Wayne's raw, unflinching examination of motivations and means in his 1994 self-shooting incident — now revealed to be a suicide attempt after being told he couldn't rap anymore. Rap is literally Lil Wayne's life and his willingness to interrogate the nooks and crannies and idiosyncrasies of both is what drives his constant pushing of boundaries and the limits of the art.
It's also what prompts him to pay homage when and where he can, marrying the old to the new. "Uproar" is a rather straightforward sample of G-Dep's "Special Delivery," but Wayne's specific attack on the beat gives it a renewed vigor — and turns it into prime viral meme material as an Uproar Challenge has already surfaced, which Wayne also participated in with his younger kids. "Dope N—-z" with Snoop Dogg likewise updates an early-century hit with its filtered interpolation of Dr. Dre's "Xxplosive," on which Snoop featured as well. Wayne introduces the world to his daughter on "Famous" and skips from soulful choir samples — a hallmark of the Carter series — on "Dope New Gospel" and syrupy trap with Travis Scott on "Let It Fly." He has, in short, mastered the art of aging gracefully by remaining musically curious and generous with his platform.
Which is why the album's length isn't as bothersome as some of the other efforts this year. Wayne doesn't get repetitive, because there's a pure joy in his rap that keeps him from growing complacent. He's never satisfied with knowing where he is or where he's been; he needs to push, to explore, to expand his references and his styles, beats, and features. With so many years in the rearview, Wayne's innovation is easy to take for granted, even if we can't forget it with so much of his influence permeating the game. Tha Carter V is a much-needed reminder of how much Wayne has contributed to the game — and, if we're lucky, how much he still has to give.
Tha Carter V is out now via Young Money. Get it here.