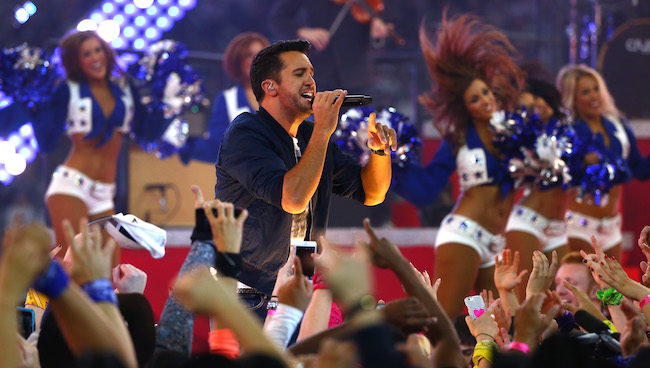 The National Football League has sorted which recording artist will join the illustrious ranks of Whitney Houston, Beyoncé and Kathie Lee Gifford in the history of Super Bowl national anthem singers.
Country megastar Luke Bryan has been tapped for the role at Super Bowl LI in Houston and beamed about the gig on Twitter. He'll be the first dude to sing that familiar oldie since Billy Joel sang the anthem in 2007 and is probably the only anthem singer to have a song titled "Country Girl (Shake It for Me)" to their name. (We'll have to double check Cheryl Ladd's discography to be sure.)
"Is the anthem challenging? Yes. Is it nerve-wracking? Yes. But I moved to Nashville to follow my dreams and singing the national anthem on that stage doesn't get any bigger," mused Bryan when chatting with People about the announcement.
According to Bryan, he sees the high-profile gig as a brand of national service.
"I never served in the military — that's something I wish I had had the opportunity to do," he offered, "But I feel like this is my way of honoring my country. It's a little chance to serve."
Meanwhile, Lady Gaga will be serving up hits and daredevil imagery as this year's Super Bowl halftime attraction. The NFL insists that it's not going to censor any potential political messages from Mother Monster, so maybe an anti-Trump message could be in store too. Or a buncha stuff off Artpop. We'll find out on February 5.
(Via Deadline)