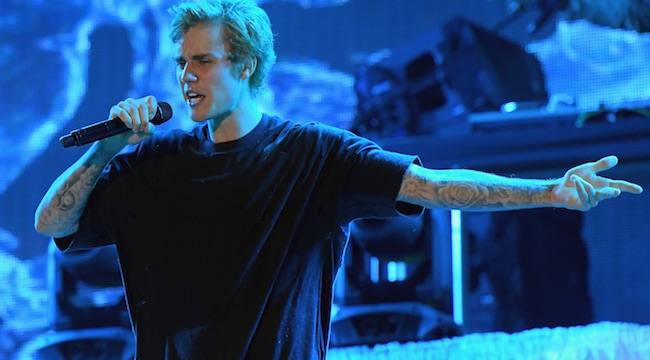 Perhaps you're familiar with one Justin Bieber, pop star extraordinaire whose latest album Purpose officially welcomes him into the realm of "adult," and who has been on a bit of a tear when it comes to unf*ckwithable pop singles lately, word to "I'm The One."
One such is a remix of Daddy Yankee and Luis Fonsi's "Despacito," a co-sign that has catapulted the song into the wider mainstream consciousness in a way that a Latin single has not seen in quite some time.
However, keep in mind that the song was great before he hopped on it, that he is not Latinx in any way — in fact he's Canadian — and even further, that he doesn't even know the Spanish section of the song. In fact, at a recent performance he was openly mocking the Spanish lyrics. Not the greatest look for our young pop star.
All that context is probably why a recent Spotify-sponsored ad that was showing up in social feeds has stoked quite a bit of outrage from the actual Latinx community. The sponsored post purports that Justin is "Now Latin King" and people have already been calling the company out for this rather gross generalization:
And really? Based off one remix of one single they're going to hand over the throne? This was a poorly conceived and poorly executed attempt to ride for one of the summer's hottest songs. Instead, Spotify should've highlighted some of the fascinating Latinx artists who are working in the pop milieu.
For instance, I would like to know so much more about Daddy Yankke or Luis Fonsi, what are their stories? Spotify has the resources to tell those narratives and the platform to get people to pay attention, why not highlight the real creators of the song? Or, they could've praised Bieber another way, he certainly is worthy of admiration as well. This wasn't the right way to go about it, though.
This screengrab is from a couple days ago, so who knows if the company has since phased this particular ad out or not. Hopefully they have. Yesterday, a user wrote in to the Spotify community asking them to take the ad down, but the company has yet to publicly respond.