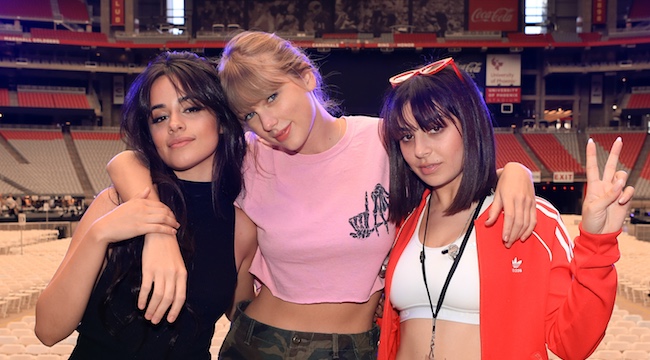 If you thought Taylor Swift season was over after the promotional cycle surrounding Reputation started to die down, think again. She just kicked off her huge tour in support of the record at the University Of Phoenix Stadium in Glendale, Arizona, and it was full of big moments.
Swift tapped Camila Cabello and Charli XCX as openers (which she previously announced a couple months ago), and during XCX's set, she performed a brand new song, which may be called "Five In The Morning." She introduced the track by saying, "This is a brand new song. I've never played it before, ever." The song is a midtempo trap-influenced track that lays on the heavy bass nice and thick, which is even apparent in a fan-shot video:
Swift also brought the two out during her set, and together, the trio sang "Shake It Off."
In case all that wasn't enough, the show even featured a Tiffany Haddish cameo: Haddish wasn't there in person, but she appeared in a pre-taped video of her doing the "The old Taylor can't come to the phone right now" line from "Look What You Made Me Do" in the middle of the song.
Check out the evening's setlist below, and learn more about Swift's upcoming tour dates here.
Taylor Swift
1. "…Ready for It?"
2. "I Did Something Bad"
3. "Gorgeous"
4. "Style / Love Story / You Belong With Me"
5. "Look What You Made Me Do"
6. "End Game"
7. "King Of My Heart"
8. "Delicate"
9. "Shake It Off" (with Camila Cabello and Charli XCX)
10. "Dancing With Our Hands Tied"
11 ."All Too Well"
12. "Blank Space"
13. "Dress"
14. "Bad Blood / Should've Said No"
15. "Don't Blame Me"
16. "Long Live / New Year's Day"
17. "Getaway Car"
18. "Call It What You Want"
19. "We Are Never Ever Getting Back Together"
20. "This Is Why We Can't Have Nice Things"
Camila Cabello
1. "Never Be the Same"
2. "She Loves Control"
3. "Inside Out"
4. "Bad Things"
5. "Can't Help Falling in Love" (Elvis Presley cover)
6. "Consequences"
7. "In The Dark"
8. "Into It"
9. "Havana"
Charli XCX
1. "Boom Clap"
2. "I Love It"
3. "Break The Rules"
4. "Unlock It"
5. "Boys"
6. "Five In The Morning"
7. "Fancy"