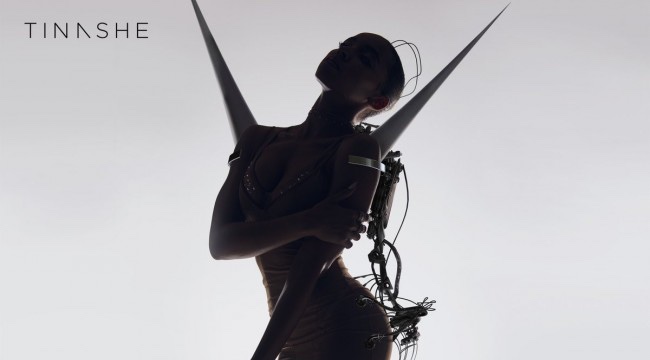 "2 On" may have been a fluke, but it was a fluke that worked out in strange and unexpected ways for Tinashe.
Until the release of Aquarius, the Los Angeles native singer had always dwelled in murkier sonic waters. She was fond of dark storytelling and haunting, downtempo ballads on her self-produced mixtapes. Sharply departing from the dance-pop of her previous girl group The Stunners, her mid-career work drew comparisons to Jhene Aiko and The Weeknd, enlisting the production of hip-hop beatmakers like Boi-1da, Best Kept Secret, and the eclectic Dev Hynes.
However, mainstream exposure eluded her until the label-induced, DJ Mustard-produced experiment in blending West Coast ratchet party hip-hop with poppy R&B, resulting in a runaway smash whose success was only accelerated by a remix from Drake, who poured gasoline on its fast-burning flame. Suddenly, Tinashe was a pop commodity, but her inclination toward inky, introspective themes grated against her newfound audience's preference for the turn-up, which left her to flounder in search of a way to repeat the success of "2 On."
In the meantime, her complaints about her reception in the public's eye didn't go over well at all, putting her in the unenviable position of trying to win over a fanbase she wasn't sure she even wanted in the first place, that she'd only happened on by accident. Further attempts at crossover pop success were poorly received, thanks at least in part to a schizophrenic presentation that couldn't decide whether she was the Tumblr art chick she'd been on earlier efforts or the dance-pop princess she'd worked so hard to bury with them.
With Joyride, delayed for over a year due to politics and those stalled-out singles, Tinashe finally finds some semblance of balance between the dueling impulses to create for herself versus creating for fans of her upbeat singles like "2 On" and "All Hands On Deck." It doesn't always hold together, but it does a better job of presenting the two sides of the dualistic singer than anything she's done since Aquarius.
First off, it addresses the problem of bloat that bogged down Nightride by stripping down the tracklist and speeding up the proceedings. With only 11 songs and two (awkward, skippable) intermissions, the album breezes along at a brisk clip. With less fat to chew, she's forced to get right to the point. While the self-titled lead-off track starts off on an awkward step, it's probably the most developed song on the album, eventually transforming from post-apocalyptic robo-pop to an optimistic symphony. It almost works as a metaphor for Tinashe's career so far.
Then there are the singles. While there no obvious club anthems in the vein of the song that launched her prematurely into the mainstream's awareness, "No Drama" features a timely Offset verse and a strong, 3 AM house party vibe, while the Future-featuring "Faded Love" trades on the recent resurgence of Caribbean influences in pop to create something that might work as a party starter without obviously aping the singer's earlier hit.
That tropical outlook is reproduced and turned up to ten on "Me So Bad," which is fortunately bolstered by Ty Dolla Sign's hitmaking vocal touch and wisely limits French Montana's verse to a short enough span that keeps it from becoming overly distracting. "Stuck With Me" with Little Dragon scales it back once again, stirring in a healthy dollop of the EDM flavoring that highlighted her 2016 collaboration with Snakehips, "All My Friends." It's a spare ditty whose simplicity belies its impending longevity as a potential summertime dance floor staple.
However, the true meat of the album comes from those songs where Tinashe is allowed free rein to indulge her PBR&B proclivities; the sultry, synthy "He Don't Want It" and the regretful, imploring "Salt" provide the best examples of Tinashe fully inhabiting her element to powerful effect. The moody, melancholy melodies on display here will be he stuff of late-night drunk Tweets and Instagram captions, which is the best indicator of success in the surprisingly enduring era of Drake dominance that is 2018.
"Fire And Flames" is the album's supremely satisfying closer, a simple, acoustic piano loop that lets Tinashe wax poetic and brings her full circle, echoing "Deep In The Night," the Aquarius interlude that reproduced a recording of a young Tinashe performing a song she wrote at just seven years old. It's a tender reminder that at heart, she's still the same girl who just liked singing, writing, and producing her own, darkly precocious music, even after all the twists and turns that have brought her to this point in her career. The destination and the journey are ultimately secondary concerns on Tinashe's wild joyride through the music industry — no matter what changes she goes through, her only real concern has always been remaining true to herself.
Joyride is out today via RCA Records. Get it here.