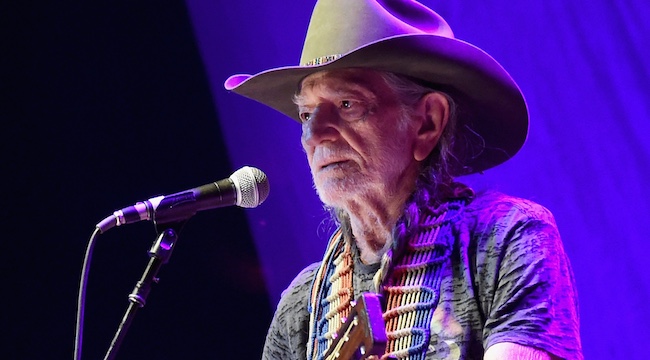 In addition to being a dogged road warrior who keeps up a concert schedule that would make artists a quarter of his age balk, Willie Nelson is also one of the most prolific recording artists out there, dropping new full-length records at a staggering pace.
In fact, just five months after unveiling his latest studio effort Last Man Standing, the "Red Headed Stranger" is already back with another full-length release. This time, he's decided to follow in the footsteps of his friend and peer Bob Dylan and bring his own spin to some classic Frank Sinatra standards for an 11-track album appropriately titled My Way.
To give his fans a sneak-peek into what he's been cooking up, today, Willie has decided to share the lead single from that album, a take on the song "Summer Wind."
In an interview for AARP Magazine, Willie talked about what he took from "Old Blue Eyes" through the years. "I learned a lot about phrasing listening to Frank," he said. "He didn't worry about behind the beat or in front of the beat, or whatever — he could sing it either way, and that's the feel you have to have."
Willie Nelson's latest album My Way is available on September 14 via Legacy Records. Check out the full tracklist below.
1. "Fly Me To The Moon"
2. "Summer Wind"
3. "One For My Baby (And One More For The Road)"
4. "A Foggy Day"
5. "It Was A Very Good Year"
6. "Blue Moon"
7. "I'll Be Around"
8. "Night And Day"
9. "What Is This Thing Called Love" (with Norah Jones)
10. "Young At Heart"
11. "My Way"