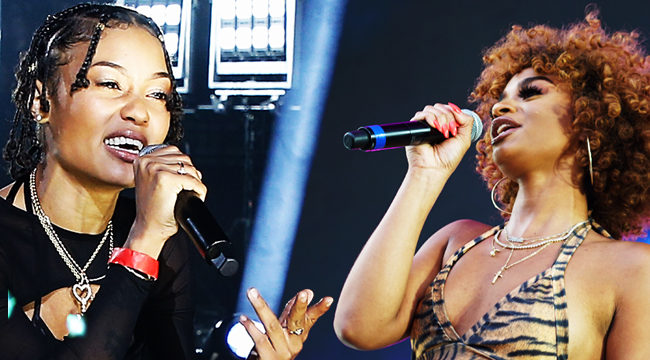 XXL released its much-ballyhooed, annual list of Freshman rappers yesterday, and as usual, opinions and debate spread like wildfire as hip-hop fans weighed in on the picks the magazine tabbed to have big breakouts in the coming year(s). One notable aspect that underlined the big changes the culture has undergone recently was the inclusion of three females rappers to the mix, the most of any list since its inaugural issue.
By selecting Megan Thee Stallion, Rico Nasty, and Tierra Whack, XXL co-signed the impression many rap fans have had that women are breaking into the game at a much-higher rate than ever before — and that they deserve to be recognized and touted as much as their male counterparts. In fact, there were so many that popped up in the last few years that some observers felt that the list didn't recognize enough of them.
So, here's a list of the female rappers that could have made the list — and wouldn't surprise anyone if they make the list next time around. The methodology was simple: We simply chose from the list of available candidates on XXL's own Vote For The 10th Spot webpage. We've already highlighted the invasion of the dolls, so they were skipped in favor of the artists who haven't gotten as much shine of late. Rappers like BbyMutha, Doja Cat, Leikeli47, Noname, and Tommy Genesis were left off the available list, so we had to leave them off of ours, but they should definitely be in the discussion.
Abby Jasmine
Staten Island native Abby Jasmine is as much a social media personality as she is rapper, filling her social media with comedic skits, off-the-cuff memes, and impromptu freestyle videos that had bubbling all through 2018, including catching mentions on Complex's Everyday Struggle. Her EP Trap Mom is out now via Cinematic Music Group, featuring the underground hit, "No Hook."
Bali Baby
Bali Baby hails from Jacksonville, North Carolina by way of Atlanta and has been steadily building her fan base with a series of well-received mixtapes, including three in 2018: Bali Blanco, Baylor Swift, and Resurrection. Possessed of a wicked, dark sense of humor balanced with a playful, pastel lightness, Bali is one of the few rappers who is open about her sexuality. Her latest single, "Swiper No Swiping," is menacingly funny freestyle that highlights her gift for snarky wordplay.
Coi Leray
A high school dropout who left her life in New Jersey behind to pursue her goal of rap stardom, Coi Leray is off to a strong start after her mixtape EC2 made waves with its lead single "Huddy." The laid-back flow on that single made a return on her Spider-Man: Enter The Spider-Verse contribution "Save The Day," and now that her Instagram is filled with clips of Coi cuddling with her boo, fellow rapper Trippie Redd, her following is growing by the day.
Kodie Shane
Likely one of the most established of the rappers listed here, Chicago's Kodie Shane first rose to prominence as a member of Lil Yachty's Sailing Team crew. However, she's proven to be a strong performer and magnetic talent in her own right, with her 2018 album Young Heartthrob reestablishing her gift for melody and superb songwriting skill. The video for "Sing To Her," the album's lead single, has since amassed over 1 million views on Youtube, while "Love & Drugz II" with Trippie Redd has become a fan favorite.
Melii
Harlem's own Melii has survived her share on industry drama, including a canceled deal with Philly rapper Meek Mill based on what Melii called "uncomfortable situations" after touring with Meek on his Motivation tour. She has since signed with Tory Lanez and released her debut album, Phases, to resounding support, especially for her singles "Sh*t Talk," "HML," and "See Me." Her versatile flow blends rhythmic and melodic deliveries as well as lyrics in both English and Spanish — a legacy of her Dominican upbringing.
Molly Brazy
Credit Molly Brazy with carrying on Detroit's reputation for direct, brick-hard rhymes, as her non-nonsense delivery bounces over beats with all the authority of fellow Motown street rappers Tee Grizzley and Sada Baby. She's also got the latter's sense of humor; her latest single is a cheeky, self-deprecating celebration of her physique called "Lil Booties Matter." The sentiment has clearly resonated with fans, as the accompanying hashtag was already semi-circulating in jokey circles online and will now be associated with her body positive anthem.
Queen Key
With an album title like Eat My Pussy Again, it's no surprise that Chicago rapper Queen Key seems to live for the spotlight. Fortunately, she seems super comfortable there, handling the attention with casual aplomb and a witty, unabashed predilection for jokes that stretch the limits of propriety. While her single "Hey" is generating much of the buzz with its speaker-destroying bass drop and cocksure hook, album cut "Evil" is the standout, proving that she's more than capable of rhyming with the best MCs, regardless of gender.
Saweetie
Saweetie is the closest thing to a superstar on this list already, riding her 2018 freestyle "Icy Grl" to a label deal with Warner Records that has the Bay Area native flying high alongside her beau Quavo on the theme song from the new Shaft sequel. She also recently dropped the breezy ICY EP, demonstrating that her skyrocket rise to stardom was no fluke. She's also an in-demand features artist, popping up on Kid Ink's "Yuso," Quavo's "Give It To Em," and Dua Lipa's "IDGAF."
Tokyo Jetz
Although underrated, T.I.'s ear for talent is rarely wrong, so when he signed Tokyo Jetz to his Grand Hustle record label, he sent a signal to pay attention to the fast-rising spitter from Jacksonville Florida. Her 2018 album Bonafide confirmed her mentor's instincts, showcasing a deft rhymer with an athletic flow and powerful narrative sensibilities. Her single "No Problem" racked up over 16 million Youtube views in 10 months and she's set to feature on Trina's comeback album, The One. She recently announced her pregnancy on social media, but with the continued success of Cardi B and City Girls' Yung Miami, she's got every reason to stay on track and plenty of evidence that being a mother shouldn't slow her down a bit.
Some of the artists mentioned are Warner Music artists. Uproxx is an independent subsidiary of Warner Music Group.