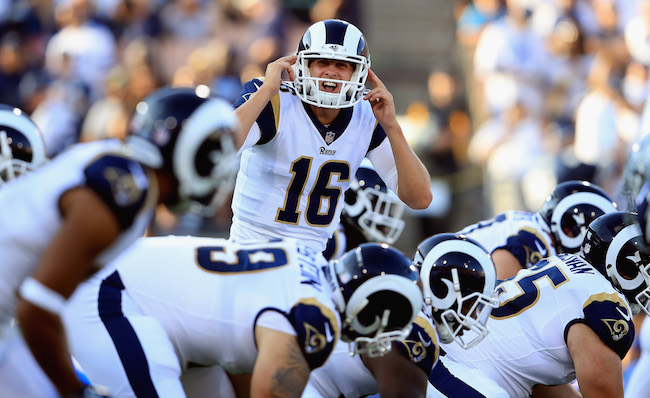 Football's cruelty knows no bounds. Athletes with a limited earning window dive head first into a sport where injuries are plentiful and the culture of disposing of athletes with said injury is an everyday part of the NFL fabric. We're monsters for condoning the league in its current state, really. That said, WOO! DAILY FANTASY FOOTBALL IS THE CAT'S PAJAMAS BECAUSE I AM REBORN EVERY FUDGIN' WEEK RENDERING HUMAN MISERY USELESS AND GLORY AT MY FINGERTIPS! KISS MY GRITS, DAD! So, uh, y'know, football contains multitudes.
As you weep into your vodka and cheap pizza over David Johnson going down in Week 1, there's a glorious new dawn of possibility in the world of DFS. You're reborn free of sin and ready to do things all over again. I'm Dan and while I sure as sugar am not a professional football expert (I quit the high school team 36 hours in because I wanted to eat tater tots and watch NewsRadio reruns instead), I have some observations of varying quality on Week 2 options for your DraftKings or FanDuel lineup. Let's get to Week 2, shall we?

Quarterback
Invest In Tom Brady: After a lackluster (by Brady standards) opener against the Kansas City Chiefs, Tom Brady should be more than equipped to bounce back against a Saints defense that made Sam Bradford look like a merger of "Steamin" Willie Beamen and a grown-up allowed to start a pee wee game. As you may have noticed, Tom Brady is a smidge better than Bradford. (Maybe Bradford needs to co-brand with a quack?) The Pats have had extra time off to prepare for the mirage of a competent Saints defense and ex-Saint Brandin Cooks might want a TD or five against his former football club. Brady currently sits in top spot in terms of QB salary on Draft Kings, but if you crave a pivot ready to torch a vulnerable defense, Brady's ROI could prove to be a bargain.
Avoid Tyrod Taylor: Did you catch Sunday's AFC Championship Game preview between the Bills and Jets? Provided you weren't watching because a loved one had been kidnapped and put in the stands in Buffalo, why would you? (I bought a timeshift package because this was one of only two games showing in my area. YOU'RE KILLING ME, NATIONAL FOOTBALL LEAGUE BROADCASTS!) The Bills beat a surefire bottom-feeder NYJ team and now head to Carolina to play a defense that exposed me as a moron with hot Niners sleeper talk in Week 1. Buffalo were weaker on the road and versus NFC competition last year in the passing game and their receiving corps was better in 2016. Brian Hoyer barely cracked the 5 fantasy point margin against the Panthers in Week 1 and I expect similar headaches for the Bills in Week 2.
Consider Jared Goff: God help us all, we've reached the "maybe Jared Goff isn't a trainwreck under center" narrative in 2017 and we've only seen one Rams game. Feel the 2017 excitement! Approach Goff with the caution of dealing with a skunk with a bazooka, but Week 1 was a fantastic outing where last year's top overall pick looked more comfortable than he ever did during his rookie campaign. Goff threw for a career-high 306 yards, had his side of the ball under control and did more than enough to add points to the jumbotron in L.A.'s obscene 46-9 thrashing of the hapless Colts. Week 2 sees a tougher test at home against Washington (who let another second-year QB thump them in the opener), but if you're willing to gamble, Goff's $5,100 price tag is very tempting and potentially a far better value than other quarterbacks in that price range like Browns starter DeShone Kizer. Give it a think.

Running Back
Invest In Jay Ajayi: Things bigger than football kept the Miami Dolphins *lets out dolphin squeal* off the field in Week 1, but the Fins will now kickoff their 2017 campaign on the left coast against the Los Angeles Chargers. Jay Ajayi (currently a very reasonable $6,400 on DraftKings) appears primed to feast on a Chargers defense that wasn't air-tight against C.J. Anderson and the taped together torso of Jamaal Charles. Ajayi looked strong in the preseason (including taking care of business for goal line work) and isn't going to be the victim of rust.
Avoid C.J. Anderson: C.J. Anderson turned in 81 yards in 20 attempts against the Chargers on Monday and he will find himself hard-pressed to match those totals against a stifling Cowboys run game that allowed the fewest yards and third fewest TDs to the run in 2016 and held (the admittedly tepid) the Giants to only 35 yards on the ground in 2017's Sunday Night Football opener. At $4,700, faith in the Broncos back won't break your bank, but it might bust your hopes of daily fantasy triumph.
Consider Jacquizz Rodgers: Like the Dolphins, the Bucs found themselves getting the double treat of missing Week 1 and finding out its going to be their bye week too. WHEEEEEEEE! Provided you haven't forgotten about him, Jacquizz Rodgers could make for a worthy sleeper in Tampa's season opener against the Bears. Chicago trotted out an MOR performance against the Falcons running game and Rodgers (who serves as the starter with the Muscle Hamster popped on a PED test) could be reaping the benefits in Week 2. He's a brand of back that can punish the Bears as a rusher and receiver in a potentially explosive Tampa Bay offense. Currently available in the Matt Forte/Alfred Morris/Eddie Lacy price range, Jacquizz Rodgers can provide significant value this Sunday.
Wide Receiver
Invest In Larry Fitzgerald: The Cardinals looked lousy (and downright cursed) in their season debut loss against the Lions and among those woes was a poor passing attack and an underwhelming outing from Carson Palmer and Larry Fitzgerald. There'd be reason to worry if we weren't living week-to-week, but we are RENEGADES living that sexy daily fantasy life and can enjoy Fitzgerald bouncing back against a flaming diaper of a Colts team that were disembowelled by Jared Goff and the Rams to the tune of 46-9. The Cards clearly need to work some things up so they don't repeat 2016's flop, but the Colts seem like a big fat tomato can for Week 2. Let the red splatter and enjoy a favorable fantasy outcome while you're at it. Once again, the Colts gave up career high totals to Jared Goff. This needs to be stressed.
Avoid Sammy Watkins: For all my tire pumping of last week's Rams game, that blowout of a Luck-less Indianapolis football team didn't really zazz up Sammy Watkins' stock too much. He and Goff had good chemistry, but he's still a work in progress with the unpleasant adventure of going up against Josh Norman in Week 2. As Alshon Jeffery can tell you, going up against the NFL's Dark Knight of the secondary isn't a delight, it's a pain in the ass. Speaking of which, Watkins' pain could be rookie Cooper Kupp's gain against Washington. While Watkins is being locked down, Kupp will get more looks and try to build on a strong debut. Kupp's currently a very reasonable $4,100 option and Watkins will set you back over $1K more, so investigate your options if you're bullish on the Rams.
Consider Kenny Golladay: Not unlike the Rams, the Lions can boast a third round rookie receiver that's already lighting things up in the National Football League. Kenny Golladay had a spectacular introduction to the NFL with a pair of TD receptions in Detroit's victory over Arizona. The 23-year-old Northern Illinois product still sits behind Golden Tate and Marvin Jones Jr. on Detroit's depth chart, although he displayed the sort of outing that has visions of breakout WR dancing in the heads of fantasy GMs. He might come crashing back down to earth in Monday's primetime clash with the Giants, but for now, he's worth sitting yourself down and giving yourself a PowerPoint presentation on the guy's potential.

Tight End
Invest In Kyle Rudolph: Stefon Diggs and Sam Bradford scored the bulk of the attention in Minnesota's 29-19 win over New Orleans, but Rudolph earned his share of the spotlight with a strong outing that with all three targets caught and a TD reception for his trouble. The Steelers at home aren't pushovers as an opponent for Minnesota, but Bradford to Rudolph isn't something that'll go missing in Pittsburgh. (Heinz Field is friendly to tight ends.) The 6'6" target has a knack for red zone scores and his sensible $4,200 cost doesn't make you want to run screaming. Being skeptical of a Bradford-led offense is natural, but the Browns kept the score tighter against the Steelers than you'd expect and a competitive Vikes will put this galoot of a tight end in a position to a TD pass or two.
Avoid Jordan Reed: Against the Eagles, Jordan Reed didn't exactly live up to his reputation as a monster TE where his only real obstacle is staying healthy. Reed's numbers were poor in the season opener which feels like a mix of a bad Kirk Cousins afternoon and an offense still trying to figure out how to operate following a significant overhaul. Jack Doyle looked like trash against the Rams in Week 1 and Reed enters the Coliseum to play against a Los Angeles squad that looks good and is traditionally cruel to tight ends at home. Factor in a toe issue and you might want to think twice about splurging on the Washington star.
Consider Julius Thomas:
A week off for the Dolphins might bump Julius Thomas further down your radar, but at $2,800 he's worth investigating. Miami's starting tight end has escaped the misery of playing in Jacksonville over the past two seasons and could bounce back big (like back to his peak Denver form) as a weapon in Jay Cutler's passing attack. Against the Chargers, Thomas will have the lots of opportunities to turn in quality numbers and potentially become Jay Cutler's best bud in the offense. Miami coach Adam Gase has coached both of these players in previous stints, so there's fantasy gold in there hills. Or not. THE THRILL OF UNCERTAINTY!
For the sake of a visual aid, here's how a sample lineup with these folks might look.
Now that I've put it out into the universe, all these players will be sent to break rocks on Mars and Matt Forte will somehow score 5 touchdowns and run for 600 yards.