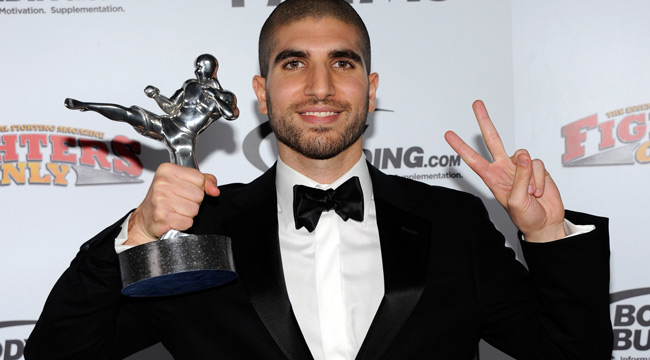 ESPN has begun to level up its MMA reporting staff in anticipation of their big streaming partnership with the UFC that kicks off in 2019. The sports broadcaster recently revealed a $150 million dollar a year deal to broadcast 15 UFC events a year on ESPN+ and loads of side programming on all of their platforms. To aid with that side programming, they've just poached six time World MMA Awards Journalist of the Year Ariel Helwani from VOX Media's MMA Fighting site.
According to a press release, Helwani will be taking on 'several roles at ESPN' including on-air reporter for MMA on both ESPN and ESPN+. He'll also have a weekly show co-hosted by former UFC middleweight and current Bellator open-weight contender Chael Sonnen called 'Ariel & The Bad Guy.'
We imagine Helwani will play a big part in expanding ESPN's on air coverage for the sport, which up until now has been carried on the web by Brett Okamoto.

While it's no surprise that ESPN would be looking to pick up some experienced MMA people, it is a bit surprising that Helwani would get the nod, given his antagonistic history with UFC president Dana White. White has been known to fly into expletive riddled tirades against Helwani, and had Ariel fired from FOX Sports and a Showtime gig covering Mayweather vs. McGregor. Fortunately for Helwani, we imagine ESPN is a lot less likely to can one of their journalists because the people running the sport don't like him breaking forbidden news.
We're excited to see all the new kinds of shows and coverage ESPN is going to be producing on mixed martial arts with Ariel on board. But it's also with some sadness that we bid adieu to his popular projects with MMA Fighting.
What will we do with our Mondays without his MMA Hour show, which often lasted closer to five hours than one? Will we still get a steady stream of on location footage and interviews before and after big UFC events? It would be a shame if ESPN brought Ariel in and tried to transform him into just another sports desk talking head.