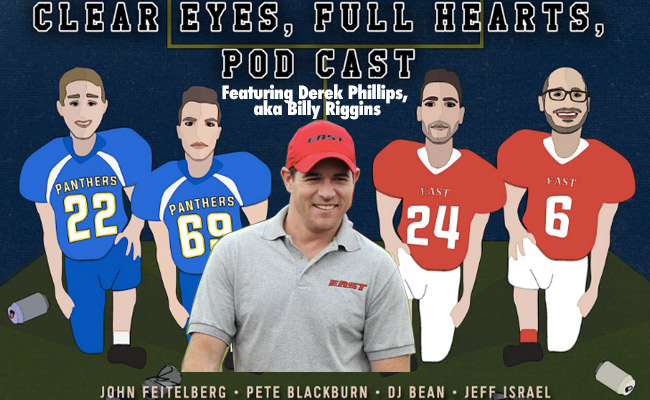 With the Friday Night Lights cast reuniting this weekend, we've been celebrating the show's 10th anniversary by taking a deep dive into its five-season run with a weeklong podcast series.
Clear Eyes, Full Hearts, Pod Cast carries out an in-depth examination of FNL in a season-by-season format. Each episode features a roundtable discussion about key characters and plot points from that particular season, as well as an interview with a cast member from the show. From the beautiful, triumphant moments to the hilarious and infuriating imperfections, it's all broken down by myself, DJ Bean (WEEI), John Feitelberg (Barstool Sports) and Jeff Israel (Funny Internet Man.)
Friday brings the fifth and final episode of the series, in which we discuss the last season of FNL and some overall general questions regarding the show. After Coach Taylor's inaugural season in East Dillon, the much-improved Lions make a run at state in season five. Vince Howard and Luke Cafferty both draw interest from major college programs, though both experience bumps in the road along the way.
Some season five topics:
Julie having the lamest breakdown ever
Billy Riggins being a treacherous influence on Luke
Becky being way too into her own storyline
Is Levi over being a principal or just over being alive?
Whether proposing at the Alamo Freeze is romantic
Whether Vince actually would have been benched in real life
Vince's turbulent relationship with his father
Would Coach Taylor scare away potential significant others for Julie?
Did Coach Taylor make the right decision to leave Dillon?
Which season had the best team and who was the best player in show history?
Season five's special guest is Derek Phillips, who played Billy Riggins in all five seasons of the show. In a candid interview, Phillips talks to us about his character and storylines, as well as some interesting plot points that never actually came to fruition on screen. We also discuss his lasting off-screen relationship with Taylor Kitsch and other cast members from the show, and Phillips tells us what tends to happen whenever the Riggins brothers show up to a bar. (Interview starts at 49:30.)
Previous episodes:
Thanks to everyone who followed along with the podcasts all week, as well as those who took part in the making of it. If you enjoyed the series, you can feel free to subscribe and review on iTunes. I'm also available for feedback on Twitter (@PeteBlackburn) and would love to hear your thoughts.