(These logos are the work of David Rappoccio. You can find him on Twitter at @drawplaydave.)
My trip around the Uproxx offices continues. I started at With Spandex by reimagining every NFL logo as a famous wrestler. Then I got around to harassing the DIME crew to make people argue about who is the all-time best player on each franchise. Now it's time to go bother the Life section crew. They thought they were safe, tucked away in their safe little corner of Uproxx. They were wrong.
So, with the help of Life managing editor Steve Bramucci, we once again bring you a fresh spin on NFL logos — this time focused on iconic foods of each NFL host city, because what goes better with football than stuffing as much sustenance as you can down your gullet?
This one might feel a touch familiar to anyone who's seen my old fat logos, but it's mostly due to a related premise resulting in a few similar final products — there really isn't anything notable about Buffalo besides chicken wings or snow, and you don't eat snow unless you are a weird little kid. Also, some of these food choices are represented by silly visual puns, because seriously, how do you draw Fry Bread in Arizona Cardinals colors? Have you seen fry bread? It's a light brown lumpy thing.
The food choices and the descriptions are Steve's and the pictures are mine, please direct your hate accordingly!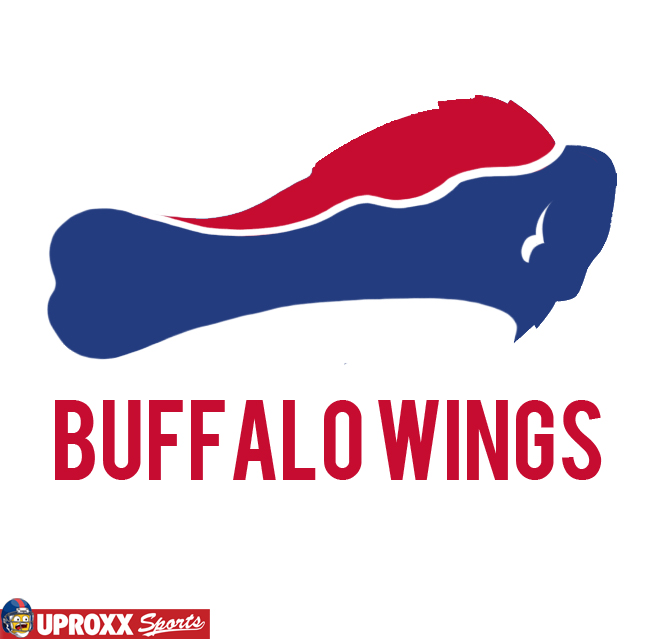 Truth be told, I'm not sure that Buffalo makes the best hot wings in the country. No one is sure of that because very few people make food odysseys to Buffalo. Which is really saying something because food writers will cross continents to eat endangered limpets that have been frozen with liquid nitrogen and turned into an espuma. I do know this though: Buffalo has a name association with hot wings and the world is better because hot wings exist — we should honor that.
Fact: N.E. Clam chowder is better than all your tomato-y cioppinos and Manhattan chowders. Cream and clams is a killer combo, especially on a cold, kinda dreary New England day when there's beer to drink and football to watch.
New York has the best single-serving pizza on the planet. I know pizza's origin story, I know what proper "leoparding" on the cornicione is supposed to look like, and blah blah blah. A lot of people do pizza well — because pizza is easy to do well — but NYC's five boroughs do it best.