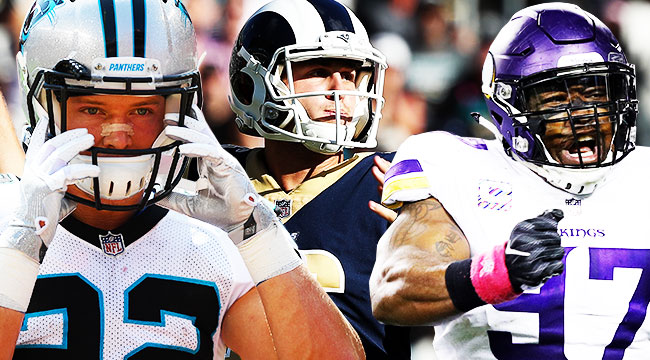 The NFL season is officially half over as we head into Week 10. Every team in the league has played at least eight games while some have played nine since they haven't had their bye weeks yet.
When I wrote my picks out last week it was before the devastating ACL injury suffered by Houston Texans QB Deshaun Watson, who was coming off a monster game losing to the Seahawks in Week 8. A lot of people were heartbroken about it including NFL players, who admired how good he was and also how much of a leader he had been as a rookie. It looked like the Texans had finally found a great QB after 15 years in the NFL, but now he's out. It's a reminder of how quickly everything can change for a team in the NFL. One week there's a high and the next, the lowest of lows.
Speaking of those lows, what's with the fighting in games? Last week, Bengals star WR AJ Green got into a fight with Jaguars CB Jalen Ramsey by putting him in a UFC style choke hold, which led to both guys being ejected. It got so serious that Ramsey even tried to get into the Bengals locker room to fight Green. The Buccaneers also got into a scuffle with the Saints when WR Mike Evans and QB Jameis Winston started trouble. Evans is suspended this week for his actions while Winston is injured.
Here's hoping there aren't as many fights on the field this week and that the games are what people talk about the most, especially those of us with important fantasy football matchups to think about. Warning: Some of these games are going to be blowouts and some will be bad to watch, but there could be some hidden gems in here too.
Last Week's Results:
9-4 Straight Up (83-49 Season)
7-6 Point Spread (63-68-1 Season)
That's the third straight week of great picks straight up. By this point in the year, we have a much better idea of what teams are likely playoff bound and who stinks, so that helps. There are still a lot of inconsistent teams out there that make things difficult when picking games.
Note: The point spreads I use come from VegasInsider. All times listed are in the Eastern Time zone.
The following teams have byes this week: Baltimore, Kansas City, Oakland, and Philadelphia.
Seattle (5-3) -6 @ Arizona (4-4) [8:25pm THU]
The stat that jumps out right away is that the Seahawks are second in pass yards per game (275 yards) and the Cardinals are 24th against the pass. We know Seattle can't run even though they are doing their best to do so. They just don't have the personnel to do so. In a QB matchup with potential MVP Russell Wilson and adequate backup Drew Stanton, give me Wilson and friends every day of the week.
The Pick: Seattle 27-20
Minnesota (6-2) -1 @ Washington (4-4) [1:00pm SUN]
Huge road win by Washington in Seattle last week. Wet ball and guys slipping all over, but they got through it. I was impressed because if they fell to 3-5 they would have had no shot at making the playoffs. At 4-4, they have a chance now. Love that Vikings D, which is 3rd against the run and 7th against the pass. The offense is actually pretty good, but their defense is definitely carrying them. This feels like a close game with Washington scoring late to win. I like QB Kirk Cousins in late game situations where he usually keeps his poise and finds a way to win.
The Pick: Washington 24-20
Green Bay (4-4) @ Chicago (3-5) -5.5 [1:00pm SUN]
It's hard to go with the Packers considering how bad QB Brett Hundley played at home against the Lions on Monday. In terms of stats, Hundley was 26 for 38 with 245 yards, but he just didn't make any exciting plays the displayed confidence in his team. We have been spoiled by Aaron Rodgers for the last decade, that's for sure. The Bears have a solid defense that could force some turnovers at home. They should run RB Jordan Howard a lot as he leads their 6th rank rush offense to victory.
The Pick: Chicago 20-13
LA Chargers (3-5) @ Jacksonville (5-3) -4 [1:00pm SUN]
The Jags beat up on some bad teams the last two weeks with a 27-0 win over the Colts and 23-7 over the Bengals. The Chargers come into this game off a bye after building up some momentum with a 3-1 record in their last four. The stat that jumps out at me is that they are first in rushing offense with 167 yards per game led by rookie RB Leonard Fournette, who was benched last week for disciplinary reasons. Meanwhile, the Chargers are 31st against the run. I expect Fournette to get over 30 carries in this game and that impressive Jags defense should be able to slow down the inconsistent Chargers. Big day with Fournette getting 150 yards and two rush TDs. I'll take the Jags by a field goal, so the Chargers will cover the spread.
The Pick: Jacksonville 27-24
Pittsburgh (6-2) -10 @ Indianapolis (3-6) [1:00pm SUN]
Give the Colts some credit for getting their first road win last week in Houston over a Texans team decimated by injuries. The Steelers are a different beast, though. They are coming off a bye and are healthy, so expect a heavy dose of superstar RB Le'Veon Bell and WR Antonio Brown having some big games. The Colts are 31st against the pass, so I think Steelers QB Ben Roethlisberger will have no problem putting points on the board even though he's much better in home games. Indy shouldn't be able to rattle him at all.
The Pick: Pittsburgh 34-17
NY Jets (4-5) -2.5 @ Tampa Bay (2-6) [1:00pm SUN]
The Bucs won't have QB Jameis Winston (out with an injured shoulder) or WR Mike Evans (suspended for fighting last game), so I have a hard time picking them this week with Ryan "Fitzmagic" Fitzpatrick at QB. The Jets impressed me last week with a heavy dose of their RB duo of Matt Forte and Bilal Powell last week (they combined for 151 yards on 23 carries with two Forte TDs) when they beat the Bills. I still think the Jets are lacking in talent, but they are playing hard for coach Todd Bowles while it looks like the Bucs have given up on this season. Jets veteran QB Josh McCown has really impressed me and I think he'll lead his team to the road win here.
The Pick: NY Jets 24-13
Cincinnati (3-5) @ Tennessee (5-3) -4.5 [1:00pm SUN]
That spread seems too low. The Titans are clearly the better team, they're 3-1 at home and the Bengals are 1-3 on the road. Last week, Bengals star WR AJ Green lost his mind getting into a fight and destroyed fantasy football teams in doing so. The Bengals are last in the NFL at running the ball and 28th passing, so they have a lot of issues scoring on anybody. This seems like an easy Titans win to me.
The Pick: Tennessee 31-10
Cleveland (0-8) @ Detroit (4-4) -12.5 [1:00pm SUN]
Sorry Browns, I can't pick you on the road against one of the best QBs in the league in Matt Stafford and a pretty good Lions defense too. The weird stat about this game is the Lions are only 1-3 at home. They should be able to get it right this time. Lions win big.
The Pick: Detroit 34-13
New Orleans (6-2) -3 @ Buffalo (5-3) [1:00pm SUN]
This is one of the better games of the week featuring two teams that many people would consider a surprise. I love how the Saints are much more than QB Drew Brees throwing the ball. While they are 4th in passing, they are also 8th in rushing and rank in the middle of the pack on defense. This is the most complete Saints team since their 2009 Super Bowl winning season. I'm not saying they are going to win the Super Bowl, but they are very well rounded.
The Bills got stomped on the road against the Jets last week, so I can see why people may not want to pick them. I just think they're going to be pissed off going into this game and know how important a win is as they try to keep pace with the Patriots. Plus, that 4-0 record for the Bills at home is staring right at me. Give me the home team led by QB Tyrod Taylor, RB LeSean McCoy and new addition WR Kelvin Benjamin to win what should be an entertaining game in not yet frozen Buffalo.
The Pick: Buffalo 27-24
Houston Texans (3-5) @ LA Rams (6-2) -12 [4:05pmET]
This one is going to be a blowout too. My Rams are first in the league in scoring at 32.9 points per game and the more impressive stat is their +108 point differential. That means a lot of blowouts including the last two weeks where they scored 84 points against just 17 given up. It's not just an offensive juggernaut led by QB Jared Goff (4 TDs last week) and RB Todd Gurley (10 TDs lead the league). The defense is playing very well led by DT Aaron Donald, who is probably on his way to his first Defensive Player of the Year award. If QB Deshaun Watson was healthy this could have been an awesome game, but with Tom Savage at QB, it should be a huge win for the Rams.
The Pick: LA Rams 41-10
NY Giants (1-8) -2.5 @ San Francisco (0-9) [4:25pm]
Awful game. I feel bad for anybody in attendance. I'll go with the Niners getting their first win of the year.
The Pick: San Francisco 24-17
Dallas (5-3) @ Atlanta (4-4) -3 [4:25pm]
Last week when I picked the Chiefs to win at the Cowboys it was done because I thought RB Ezekiel Elliott would be suspended. That suspension was lifted for a week and as of this writing, he is back to being suspended for six games. If he ends up being allowed to play in this game, I may pick the Cowboys, but assuming there's no Elliott I'll go with the Falcons at home. This is must win for the Falcons because if they lose, they're going to drop too far behind the Saints and Panthers ahead of them in the NFC South. I think a veteran team like the Falcons realize the importance of this game and I expect QB Matt Ryan to have a big game. This one could be a shootout too.
The Pick: Atlanta 33-27
New England (6-2) -7.5 @ Denver (3-5) [8:30pm SUN]
The Broncos defense has done well against legendary Patriots QB Tom Brady in the past, but I don't see them doing well enough to save them when they have Brock Osweiler at QB. Despite their QB issues, the Broncos are 3-1 at home, so I expect them to put up a fight and cover the spread at least.
The Pick: New England 23-17
Miami (4-4) @ Carolina (6-3) -9 [8:30pm MON]
I've been on the Panthers bandwagon all year, so I can't go against them in a home game like this. The problem with them is one week they look like a dominant defense and other times they are exposed. The good news is it looks like star QB Cam Newton is healthy again (86 rush yards with a TD) and they featured rookie RB Christian McCaffrey a lot with 20 touches. As for the Dolphins, they have offensive issues since they are 29th in passing and 30th rushing. I think the Panthers defense will have a big night.
The Pick: Carolina 27-6
My Fave Five Bets Of The Week
I rode three of the best NFC teams (Eagles, Rams, Saints) to big wins and lost my other two, so it was a winning week to put me right at .500 for the year.
Last week: 3-2 (Season 22-22-1)
Here are my five favorite bets for this week.
@ Tennessee -4.5 Cincinnati
@ LA Rams -12 Houston
Dallas @ Atlanta OVER 50.5
@ Carolina -9 Miami
New Orleans @ Buffalo OVER 46.5
That's all for this week. I'll be back for more next week. Enjoy the games.