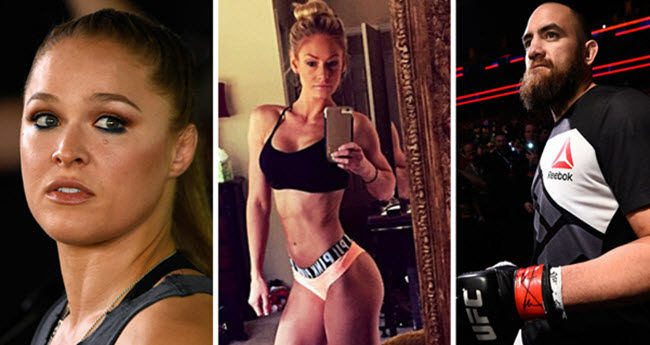 You've likely heard the name Travis Browne before, especially if you're into combat sports. The UFC heavyweight has been around for awhile, compiling a record of 18-3-1. On January 17, he was involved in a match with Matt Mitrione that resulted in perhaps the gnarliest eye injury the UFC has ever seen. You've probably come across the pic a half dozen times so we won't post it again (but you can totally see it here if you want).
Anyway, that's not all Travis Browne is famous for. You see, his girlfriend is also involved in the UFC, you might have heard her name before, Ronda Rousey. The two went out for quite some time before going public last fall. Browne was seated next to Ronda's mother for the kick heard 'round the world against Holly Holm. That's him right there with the arrow.
Now to the unfortunate part of Travis Browne's past. As many UFC fans are aware, Browne is still married to a fitness model named Jenna Renee Webb, pictured below.
They are technically separated and their divorce is in the works. Webb has accused Browne of physical abuse and has posted pics on social media of the injuries she allegedly received from him. Again, just to be clear, these are just allegations. The UFC suspended Browne pending an investigation in October but later said there was "inconclusive evidence." Also, Browne has stated time and time again that he never touched her: "Have I ever gotten physical towards her? No, absolutely not. Like I said, there's circumstances surrounding all this. That's up to her and her family to deal with."
Ahead of Rousey's Saturday Night Live gig this past weekend, several astute observers noted that she was wearing a sizable ring on her finger during promo clips. Some assumed it was an engagement ring and further assumed (quite logically) that it was from Travis Browne. Not at all shy about telling everyone how she felt, Webb took to Instagram with a photo blasting Rousey.
This is not the first time Webb has gone at Rousey. Back in August, she tweeted that she was "ashamed" of her and that it was only a "matter of time" before she saw his true colors. Harsh stuff to say the least.
As far as we know, Rousey has only addressed this issue once.
"But I know that he didn't do anything. Now I'm put in a situation where I'm finally happy with somebody that respects me and cares about me, and I'm like, 'What do I do?'"

"Why can't [people] have some confidence or trust in me that I would make a good decision and be with a good man regardless of how it looks," Rousey said.
Suffice it to say, this back and forth between Webb, Browne and Rousey isn't going to end anytime soon.
Now Watch: The Amazing Ronda Rousey 'Sports Illustrated' Pics That You Have To See