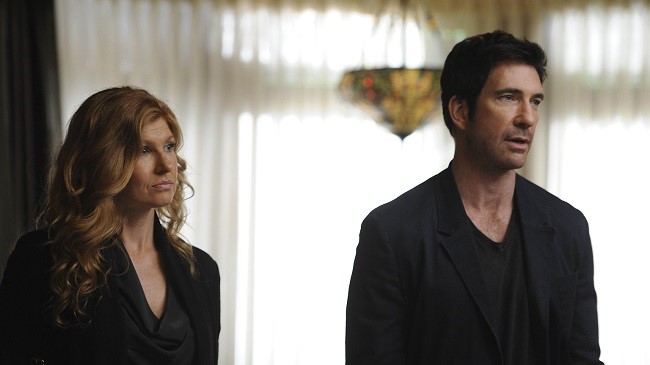 American Horror Story creator Ryan Murphy claims he is "not interested in shock value anymore," but that doesn't mean the television executive extraordinaire isn't down for some downright fan service. Hence American Horror Story: Apocalypse, the upcoming eighth season of Murphy's hugely popular horror anthology franchise on FX. Apocalypse is basically a confirmed crossover between seasons one and three, otherwise known as Murder House and Coven, and now it looks like two blasts from the show's past are about to drive this point home.
According to Variety, Murder House stars Connie Britton and Dylan McDermott are making their triumphant return to the series. Seeing as how Vivien and Ben Harmon, Britton and McDermott's characters from season one, did not make it out of American Horror Story alive, it will be interesting to see how Apocalypse incorporates them into its story. Then again, their ethereal forms did go on to inhabit the so-called "murder house" in an attempt to forbid any other living persons from inhabiting (and dying) within its walls.
Aside from Britton and McDermott, Apocalypse will see Jessica Lange return, as well as other show regulars and alums like Evan Peters, Sarah Paulson, Kathy Bates, Billie Lourd, Emma Roberts and Taissa Farmiga. Fleetwood Mac singer Stevie Nicks, who guest-starred in Coven, will also stop by Apocalypse, which Murphy himself recently confirmed on Twitter.
(Via Variety)