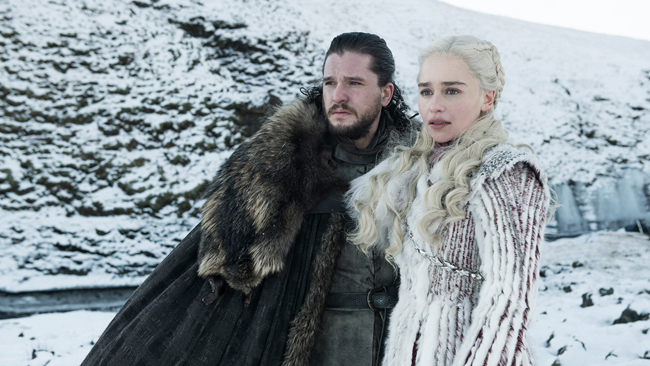 The abysmally long, fire-and-ice filled wait for Game Of Thrones' final season hasn't ended yet (the premiere is scheduled for April 14), but HBO has finally released some first-look photos. As expected, they're pretty bleak! You can check them all out below.
Obviously, Jon Snow and the Mother of Dragons look moderately pleased with themselves, indicating that their post-coital bliss may still be intact. That may not last long, and elsewhere, it's all gloom and doom in a season that is sure to see a bloody end. That's a given, and not simply because HBO has revealed that audiences will see the "most sustained" battle scene in pop-culture history. Maisie Williams also revealed Arya Stark's blood-spattered shoes, frowny Kit Harington admitted that the cast was entirely "broken" by wrap day, and the other actors aren't being subtle with the we're-all-gonna-die talk.
There's no telling when a trailer will arrive, given that the showrunners have made no secret of their wishes to not have to release one. They will eventually relent, but until that time, here's a look at how the Lannisters (Cersei, Tyrion, and Jamie) the Starks (Arya, Sansa, and Bran — he wasn't in the season 8 teaser, and people noticed), are greeting their final lap on the juggernaut series. Oh, and you'll also see Brienne of Tarth and several others. Here we go!