The Rundown is a weekly column that highlights some of the biggest, weirdest, and most notable events of the week in entertainment. The number of items could vary, as could the subject matter. It will not always make a ton of sense. Some items might not even be about entertainment, to be honest, or from this week. The important thing is that it's Friday, and we are here to have some fun.
ITEM NUMBER ONE – Hello, Raylan
Justified was a good show. There are, I suspect, a number of more eloquent ways than this to open up a weekly column about the goings-on in the world of entertainment, but that doesn't make the sentence any less true. It had just about everything you could ask for: Timothy Olyphant in a cowboy hat, a story from Elmore Leonard, Walton Goggins as an explosives-loving criminal with wild hair, Patton Oswalt sometimes, a one-off female hustler character named Jackie Nevada, all of it. I am not exaggerating at all when I tell you it was one of my favorite shows ever. I still dive into a rewatch every now and then, if not in full then at least to hit the highlights. Chadwick Boseman was in an episode. So was Alan Ruck. The show had range.
This is one of the many reasons I'm excited about City Primeval, the Justified continuation series that's coming to FX this summer. The first little teaser for it dropped this week. Very little happens. I still made the kind of sound you make in a restaurant when a waiter walks past you with a sizzling plate of fajitas destined for another table. Look at this.
And look at the official description, too. Find me one single thing about this that does not sound appealing.
Having left the hollers of Kentucky 15 years ago, Raylan Givens now lives in Miami, a walking anachronism balancing his life as a U.S. marshal and part-time father of a 15-year-old girl. His hair is grayer, his hat is dirtier, and the road in front of him is suddenly a lot shorter than the road behind. A chance encounter on a desolate Florida highway sends him to Detroit. There he crosses paths with Clement Mansell, aka The Oklahoma Wildman, a violent, sociopathic desperado who's already slipped through the fingers of Detroit's finest once and aims to do so again. Mansell's lawyer, formidable Motor City native Carolyn Wilder, has every intention of representing her client, even as she finds herself caught in between cop and criminal, with her own game afoot as well. These three characters set out on a collision course in classic Elmore Leonard fashion, to see who makes it out of the City Primeval alive.
I'm ready. I'm ready right now. Give it to me. Let me see Raylan get all tangled up with Detroit maniacs. Put it on my television before I finish typing this paragraph. Do it. Do it now. Do it… now. Now!
Hmm. Dammit. That did not work. I guess we only have one option then: Let's all kick off a Justified rewatch this weekend. We have about two months until this new series hits the screen. There are 78 episodes of the show. That's a little over one each day if you want to do it from beginning to end, which is doable, but I won't be mad if you bounce around a little bit. Hit the highlights. Watch Dickie Bennett's hair get progressively more mangled. Watch Dewey Crowe do… whatever exactly it is Dewey Crowe does. I'm a little sad that we won't get to see any of these Kentucky rascals in the new show but I'm thrilled about all the new Michigan criminals we are going to meet. It's exciting.
Let's just keep doing this. Let's check in with Raylan and this world every 5-10 years, just as a one-season limited series. Send him to a new city each time. Have him track down a crook in New Orleans. Get him tangled up with a gang that rides dirt bikes through the streets of Philadelphia. Break Boyd Crowder out of prison and send Raylan on a globe-circling manhunt that culminates with a showdown in Paris. It would be great. I would love it. That's the important thing here.
Hey, speaking of Justified and things that are thrilling to me, personally, look at this picture Walton Goggins posted on Instagram of his dad.
Going caps-mode for this next part because it is very important to me…
CAST THIS MAN IN THE NEXT JUSTIFIED SERIES
I DO NOT CARE WHO HE PLAYS
MAYBE HE IS THE LEADER OF A BIKER GANG
OR MAYBE HE IS A RETIRED LAWMAN WHO IS BACK FOR ONE LAST JOB
MAYBE HE IS THE PRESIDENT OF THE UNITED STATES
I DO NOT CARE
MAKE IT HAPPEN
THANK YOU
ITEM NUMBER TWO – Slipper heist
Well, this seems like a nice time to check in on the Midwest. Let's see what's going on in America's heartla-…
A 76-year-old man has been charged with stealing a pair of ruby red slippers from the Judy Garland Museum in Grand Rapids — the ones that the actress wore in "The Wizard of Oz" and that remained missing until they were recovered 13 years later.
A few things:
I had no idea that the iconic ruby red slippers had been stolen in the first place
I have been thinking about this pretty much non-stop since I saw it a few days ago
I am so mad none of you told me that there was apparently a decade-spanning nationwide hunt for them
I would absolutely watch an action-comedy television series — like a Justified, to choose an example that's on the top of my head — titled Slipper Hunters about a team of investigators who spend 13 years on the trail of a genius criminal who stole probably the most famous footwear in the history of cinema
I like to picture the thief selling them to a reclusive billionaire collector who keeps them in his office behind a remote-controlled trick wall that he slides open so he can marvel at them every now and then, alone, just for the thrill of it
I told you I've been thinking about it a lot.
Terry J. Martin, who lives about 12 miles south of the museum named for the hometown girl, was indicted by a federal grand jury in Minnesota on a charge of theft of major artwork in connection with breaking in overnight in 2005, smashing a plexiglas case and taking the size 5 ½ slippers that were then on loan to the museum from a Hollywood memorabilia collector.
Reached by phone Wednesday at his home, Martin told the Star Tribune, "I gotta go on trial. I don't want to talk to you."
I mean… yeah. This is fair. Tough to argue with the logic here.
As for where the slippers are now, the museum's Heitz said federal officials still have them. "We've been waiting to get them back," she said, revealing that there is a replica pair on display in the meantime.
Look. I'm not saying anyone should set up an elaborate roadblock — loose farm animals in the street, fake cop uniforms, radio-related trickery — to steal these again while they are in transit back to the museum. I would never say that. I don't want you to think I am condoning any sort of illegal activity, even if it's nonviolent and/or hilarious. I am not telling any of you to steal these slippers.
What I am saying, however, is that if it did happen, through any sequence of events, possibly involving loose livestock and fake cops using official-looking walkie-talkies…
I mean, it would make a really great little scene for the season one finale of that Slipper Hunters show I just joked about and now want desperately. Get Jere Burns from Justified. Let him straight-up play Wynn Duffy again. These are good ideas. Someone please listen to me.
ITEM NUMBER THREE – Mission: Impossible is going partial John Wick, apparently
This is the full-length trailer for the next Mission: Impossible movie, which has a very long title that I do not feel like typing out right now, but which I will very much see in the theater the first weekend it is out. These movies have been a blast for like 20 years now. Tom Cruise is out of his mind. Dude is like 60 years old and driving motorcycles off of cliffs just to try to convince you to go see a movie on the big screen. Imagine being that committed to… anything. I can't think of any reason good enough for me to drive a motorcycle off a cliff on purpose. Maybe if you promised me the Philadelphia 76ers would win a championship. And that I would not die. And that I could sit in the front row with Allen Iverson and the Phillie Phanatic and a cool dog whose name is, like, Detective Rex Raygun. Maybe then. Maybe.
That's not what this is about, though. This is about the part of the trailer when Tom Cruise — the character is named Ethan Hunt, but come on — goes to some sort of glowing neon Euro discocastle. This one.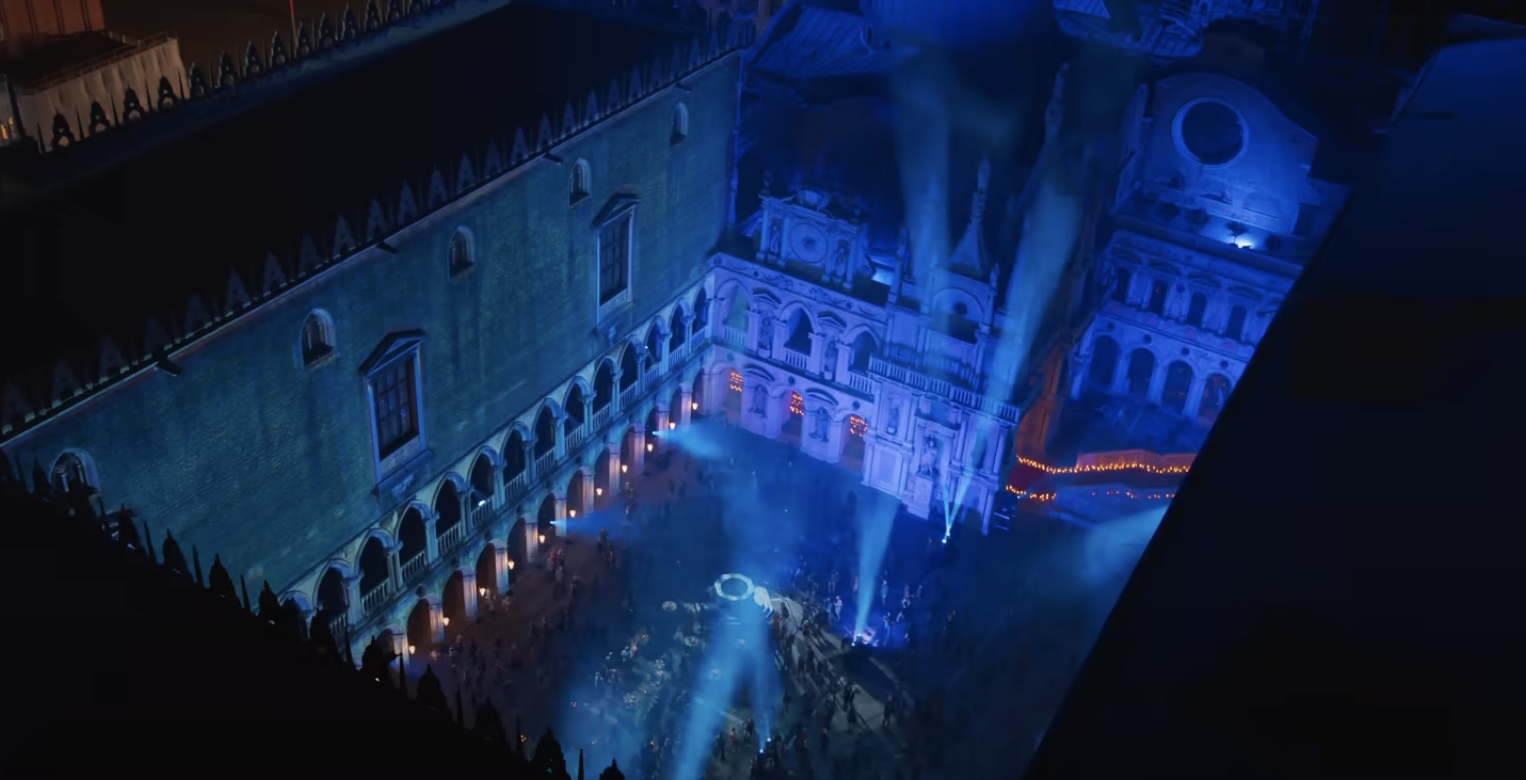 And the thing where a lady inside the glowing neon Euro discocastle pulls out a sword.
This is… this is some extremely John Wick stuff, right? The use of the bright colors and the thumping party and the swords and all of it? It feels like some extremely John Wick stuff. And it brings up an interesting question: Do you think Ethan Hunt, with all of his resources and gizmos, could have stopped or captured a mid-rampage John Wick?
I don't have an answer to this one. Mostly, I just typed it to ruin your weekend a little bit. Like, you'll be sitting around Sunday morning and the thought will shoot into your brain and you'll spend the next 30 minutes thinking about it and then you'll be all "Jesus Christ, Brian." That's all I'm looking for here. You are welcome and I am sorry.
ITEM NUMBER FOUR – This is the most adorable damn thing I have ever heard
Henry Winkler is a sweet man who loves to act and fish. I know this because I got to interview him a few years ago and we talked about all of that. And because the man posts big smiley pictures of himself with fish every summer on Twitter, which never fails to crack me up, because Twitter is a cobra pit filled with anger and sarcasm and then blammo, Henry Winkler has a fish. Truly one of my favorite things on the internet. I'm not a complicated person.
Anyway, I bring up the Winkler thing for two equally important reasons: One, I really like bringing it up; and two, look at this freaking adorable answer he gave to a question from Jess Cagle about the final days on the set of Barry.
So I felt, now of course, you know, in my imagination, this is what happened. It could very well not be the truth. But truly, I was the last shot of the last scene of "Barry." So I'm in my cabin by myself. I come out, the crew is there, and I make a little speech, say, "Thank you for taking such good care of me." And Bill hugs me and whispers in my ear, "I love you. Thank you for being such a great collaborator." Now, he could have said that to everybody. I don't know, but I flew out of my body. I flew out of my body because Alec Berg and Bill Hader are two, they're indescribably talented men. And I got to work with them, say their words, and be directed by them, go on this journey with them. Oh my God.
Absolutely the sweetest man alive. Everyone try to be more like Henry Winkler. Schedule a fishing trip and invite me. I don't actually fish. I don't really do boats or water or the woods. But I'll hang out in the cabin. As long as it has a television and a refrigerator. And wireless internet. Maybe don't invite me, after all. But you should go!
ITEM NUMBER FIVE – Good for Selena Gomez, man
I'll tell you who seems to be doing great right now: Selena Gomez. She seems to be doing really great. She's got a new season of Only Murders in the Building dropping soon where she's on-screen with everyone from her regular co-stars Steve Martin and Martin Short to guest stars like Paul Rudd and Meryl Streep. That would be enough for most of us. But she also has two cooking shows coming to the Food Network, too. They look pretty fun.
The multi-hyphenate star is working on two projects for the cooking channel, it was announced Wednesday. The first will be a "celebration-focused series just in time for the holidays," which will launch later in 2023.

The second will debut in 2024 and will have her meeting up with some of the best chefs in the country in a quest to cook their most popular dishes when she visits their kitchens.
I don't know, man. I just think this seems cool. Get more celebrities on the Food Network. Show me Tom Cruise and Guy Fieri skydiving into the parking lot of a little greasy spoon. Give me Miley Cyrus and Giada De Laurentis whipping up a nice Italian lunch for a party. Give Martha Stewart and Snoop Dogg a cooking show and let them… wait. No. That already was a show. I wrote about it and everything. I still kind of can't believe it was real.
Anyway, I'm happy for Selena Gomez. This seems like an excellent use of fame after a career filled with child-acting on various Disney-Nickelodeon-type shows.
READER MAIL
If you have questions about television, movies, food, local news, weather, or whatever you want, shoot them to me on Twitter or at brian.grubb@uproxx.com (put "RUNDOWN" in the subject line). I am the first writer to ever answer reader mail in a column. Do not look up this last part.
From Rachel:
New list of names dropped!

Tag yourself. I'm Patience Rawbone.
To be clear, Rachel is referring to this tweet, which about a half-dozen people sent me this week, which I really, really enjoyed and made me feel like I'm doing something right out here.
I've come across A LOT of good 17th- and 18th-century Quaker names over the past 3.5 years, as I've worked on my thesis. Now that my thesis is done and submission is near, it's time to share the more than 90 wildest early Quaker names I've found (in alphabetical order): pic.twitter.com/Qj18jPELMI

— Isabella Rosner (@IsabellaRosner) May 16, 2023
I've been looking at this list for days now and my favorite name keeps changing, but the one I always come back to is Israel Jelly. Something about that one just flows right off the tongue. It sounds like the name of a hitman in a Danny McBride show.
AND NOW, THE NEWS
To Australia!
James Balcombe's desire to be number one in Melbourne's jumping castle game has seen him jailed for up to 11 years over a series of arson attacks on rivals.
Two things:
"Jumping castles" are what they call bounce houses in Australia, which is a really funny cultural difference I had not been aware of until this week
Please make this the plot of the next season of Fargo
Moving on.
The county court of Victoria heard that Balcombe, whose company Awesome Party Hire was ranked number one on Google after he commissioned the attacks on rival businesses, was arrested after he ordered that his own shed be torched.
Just a perfect sentence. I have read it maybe 60 times and I have yet to find a flaw. The owner of a bounce house business called "Awesome Party Hire" was arrested after going on a firebombing spree that ended with his own facility. I almost don't want to know why.
Almost.
But I do.
A lot, actually.
The court heard that Balcombe had commissioned another man, Craig Anderson, to burn down his own Kangaroo Flat factory as he was concerned police would be suspicious that his business had not been targeted by arsonists.
Perfect.
All of it.
Right up to the thing where the firebomb-loving owner of a bounce house operation in Australia called Awesome Party Hire had his headquarters in "Kangaroo Flat."
You could not make up anything better if you tried. I know because I have. Pretty much every day of my life in my daydreams.
Many of the fires were unsuccessful, but A&A Jumping Castles was totally destroyed. The court heard that Anderson threw a molotov cocktail through a smashed window at that business, causing a huge blaze that engulfed the factory and destroyed 110 jumping castles.
I'm sorry. I know this is an actual crime and livelihoods might have been ruined. I hope everyone is okay and has insurance and can be made whole in all of this as soon as possible.
But.
I cannot stop thinking about a man firebombing a storefront to destroy over 100 bounce houses. I cannot think of a funnier business to be involved in fire-related sabotage. I keep picturing him pouring gasoline all over the warehouse and then flicking a lit cigarette toward it and walking away in slow motion as 100 plastic inflatable bounce houses go up in flames and the opening notes of "Gimme Shelter" by The Rolling Stones slowly build in the background. We call this "the full Scorsese."
A warrant was issued for his arrest and he was found living in Perth, running a fraudulent stamp operation under the name Paul Johnson, before pleading guilty once extradited back to Victoria.
Perfect.
No notes.
One note, actually. I'm a little disappointed in his choice of fake name. He could have done so much better than Paul Johnson. He could have used Israel Jelly if someone had sent him that tweet we just had fun with a minute ago. It actually makes me a little sad.
But just a little.
Because the rest of it is… flawless.