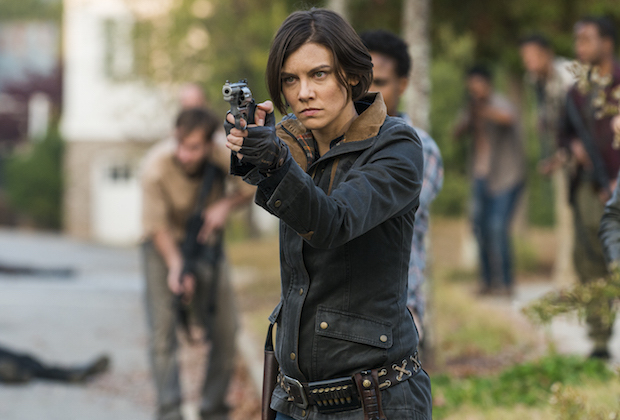 For most of 2018, much of the talk concerning The Walking Dead surrounded the status of Lauren Cohan on the show. Beginning as early as February, there was talk about Cohan asking for a bigger contract, one that would match that of her co-stars Andrew Lincoln and Norman Reedus. In March, Scott Gimple — still the showrunner on The Walking Dead at the time — was concerned that she would not return. However, two weeks later, he was confident that she would come back for a ninth season of the series.
When contract talks didn't go perhaps as hoped, Cohan made herself available for other shows, and some networks began competing for her services until she ultimately landed a gig with ABC on an action drama with Scott Foley, Whiskey Cavalier. While it seemed like that would be the end of Maggie on The Walking Dead, Cohan eventually announced that she would be back, and we subsequently learned that she'd signed on for six episodes in season 9.
Soon after that, however, news broke that series lead Andrew Lincoln was leaving the series and Cohan's status on the show became something of an afterthought in the deluge of The Walking Dead stories about the status of Rick Grimes. Would Cohan's six-episode stint in season 9 be the end of Maggie? Or would she make a return later on?
This morning on SiriusXM's Andy Cohen Live, Cohan seemed to answer that question. First, she told Cohen that she had, indeed, entered into a contract renegotiation with AMC earlier this year, but that was standard for anyone whose contract had ended. However, she did seem to concede that she had asked for "parity," but also admitted that she was also looking for something else. "It's time for me to explore comedy and happier fare."
However, that does not mean that she's leaving the show permanently. "The good news is, which is good for me and good news for fans is that my The Walking Dead story is open. It's not finished."
In other words, Maggie Rhee may only appear in six episodes of season 9, but she won't be killed off. The series has left the door open for her return, should she decided to do double duty with Whiskey Cavalier or return full time if her ABC drama is canceled after only one season.
"A very good mentor of mine said to me last year, 'Stop trying to decide. You're just going to do all of it,'" Cohan said. "We don't close doors. We don't break-up with someone and forget about them. No. Things transition to different places." For Cohan, it looks like things will remain in flux for the foreseeable future.
(Via SiriuXM's Andy Cohen Live via Variety)