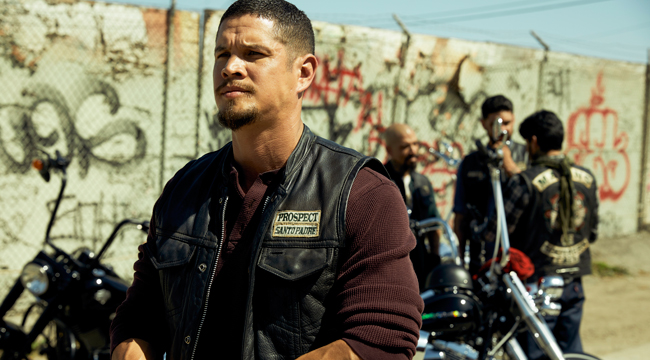 WARNING: Spoilers for premiere of Mayans M.C. will be found below.
The opening moments of FX's Mayans M.C., co-created and written by Kurt Sutter and Elgin James and directed by Norberto Barba, reveal an affectionate middle finger of sorts. It's a symbolic move, but the scene shows prospect Ezekiel "EZ" Reyes (J.D. Pardo) running over a dead crow — presumably meant to signify the final nail in the coffin of Jax Teller and Sons of Anarchy — to send a firm message. Since nothing happens unconsciously when it comes to Sutter, one can rest assured that despite other writers downplaying the overriding voice of this chapter, the original creator wishes to honor a mythology while moving forth without a trace of subtlety.
As such, Mayans M.C.'s premiere introduces the ambitious next chapter in this biker-drama universe. The Santo Padre Mayans charter (located on the Cali-Mex border) wastes no time in presenting far dicier challenges than those faced by the (initially) gun-running SAMCRO of small-town Charming, and things swiftly get ugly in for this spinoff, with elements of the absurd landing amid the stark reality of club life near the border. Although the familiar touches within this chapter will arrive as a comfort to Sons fans, the series aims to possibly do too much, right out of the gate. That is, there's a lot to enjoy, but there's also an abundance of all elements, both good and lukewarm.
The pace of this debut episode is at once dazzling and dizzying due to the sheer volume of new characters and violent sh*t flying at the screen, and viewers might get the sense that, like protagonist EZ, they've bitten off more than they can chew. Yet one of the main reasons for EZ's overwhelmed state isn't immediately clear, given that he's got a secret, as do multiple members of the club. Whether these secrets are damning or redeeming, time will tell, but fortunately, there are glimmers of dark humor to cut through the seriousness.
EZ arrives to the M.C. as a prospect who's recruited fresh out of prison by his older brother, Angel (Clayton Cardenas), a fully-patched member. His swift initiation, a far cry from his former days as a sweatshirt-brandishing Stanford student, takes us deep into the club's drug-running adventures. Atop initial impressions, there's the usual amount of action one expects from this universe, and more. Again, it's a lot to digest, and devoted fans might want to make a second viewing, maybe to pick up all the cues coming from the characters' haunted eyes, especially when it comes to full-patch M.C. member Coco (Richard Cabral), who's a stand-out among the current sea of leather.
Other dynamics are set up, including the relationship between EZ and his dad, Felipe, who runs a butcher shop where secret meetings happen. It's at this venue when we learn that EZ believes that his time with the Mayans will be a fleeting affair. Although he's assured Angel that he's "all in" and embraces the filthy grunt work of a prospect, EZ alludes to some sort of plan as well as his belief that he'll leave the club as soon as the DEA gets enough evidence to move on the cartel. He plans to "walk away … and get my f*cking life back." And we've seen how well that turns out in the Sons universe, right?
In other words, EZ might not be the spoiled, swaggering prince that Jax Teller was, but they may ultimately have their delusions of grandeur escape from the M.C. in common. Despite his prison stint and lowly status, EZ's downplayed idealism evokes memories of Jax sitting atop the Teller-Morrow bike shop while poring over his father's manuscript. That realization, in and of itself, is a sobering one, knowing what we do about a universe that's already heavy with Shakespearean and The Godfather references, especially the most fateful brand of utterance: "Just when I thought I was out, they pull me back in."
Overall, the Mayans M.C. premiere sets high goals for this spinoff while taking care to provide some links to its predecessor. That lofty ambition will either be the saving grace or tank the show if viewers grow too impatient before they fall in love with the characters. The latter likely won't happen during the show's first episodes, due to information overload, but as the season progresses, several characters should rise.
Some scattered thoughts:
— How perfect was that Gemma cameo, in flashback form, to tide over fans of She Who Is Impossible To Replace while the series starts rolling? There's also a scarily sweet moment when members of an ambiguous SAMCRO charter (the San Bernardino chapter, led by Robert Patrick's Les Packer) show up to support the Mayans during a cemetery gunfight. The two presidents greet each other with a hug, as if to tell the audience that Sons-associated goodwill is welcome here.
— At one point, Angel tells EZ, "You're the only one I can really trust." Has a character ever uttered this phrase without later regretting it?
— More Marcus Alvarez (Emilio Rivera), please. If there's gonna be an official carryover from Sons, viewers want to see him do more than toss his bike keys to EZ and demand a detailing.
— Perhaps the main slip-up of this premiere would be the gore factor. While viewers are attempting to commit loads of new characters to memory, watching a man "lose 40 pounds" by getting his arm chopped off at the orders of a cartel leader, arguably, functions as sensory overload. It's a step too far, even in a universe where we became used to too much of everything. We know that cartels are ruthless, so the limb-chopping scenes can wait until it doesn't feel gratuitous.
— Danny Pino is an intriguing choice to play a cartel leader, given that audiences are used to seeing him on the opposite side of the law in Cold Case and Law & Order: SVU. His controlled fury at a $2.4 million loss is belied by the aforementioned limb chopping, and he's also trying to be a family man, so we'll see how the show handles the balance of his double life in the future.
— The two female characters present an interesting contrast. Emily (Sarah Bolger) presents herself as a Mafia-type wife much more than an M.C. old lady, although the cartel and the M.C. are fully entrenched in each other's affairs. Adelita (Carla Baratta) and her animal-masked army of rebels make a lasting impression with a fearless attitude toward the Galindo cartel, especially when she gives the signal for future action.
– The constantly reappearing stray dog must be a Sutter-borne quirk. In addition to the aforementioned middle-finger scene, in which the straggly canine chomped upon the crow's roadkill carcass, other appearances by the pup are ominous but still random. Maybe the dog's meaning will eventually get ironed out, or he'll be ambiguously dragged out for seven seasons. Honestly, both options are workable ones in this wild universe.