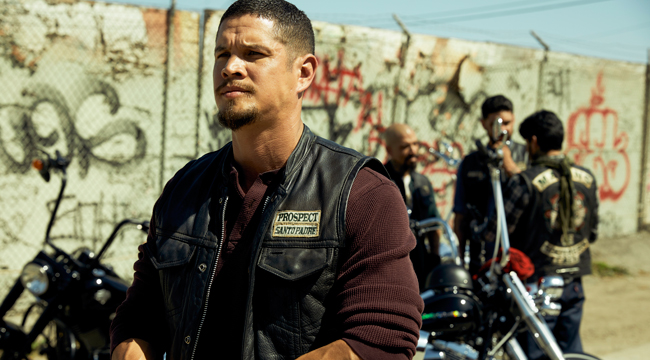 While promoting Mayans M.C., Kurt Sutter has repeatedly taken great pains to tell prospective viewers this Sons of Anarchy spinoff stands far apart from its predecessor. Yes, the underlying mythology shall be honored, he has further insisted, but this new show is a different creature, not simply a "Latino version of Sons of Anarchy." And based upon the first episodes of Sutter's newest biker drama, yes, the showrunner, his writers, and director Norberto Barba have delivered upon those promises.
Sons fans should feel vague stirrings of a place that feels like home, even if the comfy conveniences haven't fully materialized. And that's a good thing, for Sutter wants to forge a new creation based upon a successful mold, even while risking a few awkward bumps due to an abrupt gear change. This M.C. has very different objectives than the Sons, and also notably, Mayans M.C. doesn't come entirely from Sutter's mind, for he made sure to incorporate Latinx writers into the mix to downplay his own voice in the telling of this new saga.
As such, the follow-up treads familiar ground but wouldn't be mistaken for a carbon copy, and the show even strives for an enhanced (and at times, ghastly) pedigree. Overall, FX's new arrival holds the potential to be more sweeping and heartbreaking than its predecessor, and Mayans M.C. (mostly) successfully distances itself from Sons while preserving its legacy. That's not to say that the ride is a flawless one so far, but it's a work in progress. Let's count the ways this M.C. presents differently.
1. It gets the party started with no time for celebration — No one ever accused Kurt Sutter of subtlety, and he relishes his reputation for embracing crudeness when the moment is right. Right from the very first two minutes, in fact, Mayans M.C. makes a few positions clear while making several direct callbacks during its opening scene, even going so far as to pantomime the Sons opening scene before turning the tables.
The show picks up a few years after Jax Teller's death-by-green-screen. A stray dog is seen chomping upon a dead crow, and the canine dodges out of the way as a motorcycle destroys the meal. The message couldn't be more obvious — Sons is dead — and that message would seem cruel, but does the intended audience need hand-holding here? Nope, and a Mayans M.C. promo recently covered all bases by paying tribute to Jax in a tear-jerking manner. Although some unidentified bikers in Sons jackets do briefly appear onscreen, the former SAMCRO president is never spoken of within the first episodes. The biker who ran over the crow — he's the new show's protagonist, Ezekiel "EZ" Reyes.
Is EZ the "new Jax"? Not even close. Although both characters are seen riding in their series' respective opening scenes, there's a sharp contrast at hand. Jax rode into town as the relatively happy-go-lucky, charismatic prince of Charming, California. As the future charter president, life was pretty sweet while buying condoms and flirting with a store clerk. In that scene, serendipitously enough, members of the Mayans Oakland charter — including Marcus Alvarez (Emilio Rivera, the only credited returning Sons cast member in Mayans M.C. so far) — blew up a Sons illegal-arms warehouse. Yet Jax's privileged existence wasn't disturbed for long. He soon hassled a prospect, got ogled by ladies, and mere moments later, was already bedding one.
Whereas EZ is the prospect who has to deal with borderline-crap treatment from guys like Jax. In his opening scene, he's riding away from prison toward his new life as a recruit for the Mayans Cali/Mexi border charter. EZ must prove himself to the club — ironically, nothing comes easy for a guy nicknamed EZ — and he's certainly not getting busy with the ladies. Instead, he's pining for his past love, Emily (Sarah Bolger), who is now married to the Galindo cartel leader, Miguel (Danny Pino, looking as polished as during his Law & Order: SVU days but with a wholly sinister vibe), which is served by the Mayans.
For sure, there's an obvious (and needless?) love triangle being set up, and things will surely get messy in that regard further down the line, but Mayans is initially more concerned with setting up EZ's other all-important dynamics to wallow too much in romance.
2. Less swagger, much more seriousness — That last point drives home Sutter's ferocity with which he kicks off Mayans M.C.. It's not immediately apparent whether or not this series will be as sexy as Sons (although let's get real, there's gotta be some biker butt shots at some point), but it jumps straight into the muck. For example, the Mayans aren't messing around with a "softer" M.C. trade like guns. Instead, they're very much heavily involved in the drug trade, and they're not weighing outside-world connections (like the Irish or the Russians) but solely focused upon a war for survival. As such, they are pretty insular and do their own smuggling by stashing drugs inside quinceanera dresses. Indeed, the stakes here are immediately higher for this M.C., for very reality-based reasons.
Throughout, the characters operate against the current sociocultural backdrop, but Sutter doesn't hammer heavily when it comes to politics. Yes, there's a secret Trump Easter egg in the Mayans' drug packaging, and very serious real-world issues are at hand, but the writers refrain from commentary. What these characters go through in their struggle to maintain a foothold might seem unreal, but watching EZ absorb his new life — not entirely from the audience's viewpoint but from an outsider finding his way in — shines light on horrors that do persist near the border.
What's also clear is how the writers feel differently about portraying family ties in this show. Sacrifices must be and are already being made by characters when it comes to family, rather than the Sons way of Jax's family pretending to be honorable toward each other until, well, killing each other. That twisted Sons code of ethics has rolled differently with Mayans M.C., and we'll have to wait and see how it fully plays out, but family loyalty isn't seen as a guarantee. Yes, this M.C. feels like family again, but Mayans M.C. doesn't waste its breath with a cheery group dinner sequence at the end of the first episode like Sons. That is to say, there are fewer upfront illusions from these characters.
As for what this means for EZ, he's receiving a speedy initiation while vying to become a full-fledged member of the M.C. He's well-liked and sharp as hell, but his father, Felipe (Edward James Olmos), isn't part of the gang. He runs a butcher shop, where EZ can hold secret meetings and receive some wisdom in the process. So far, this is perhaps the most comforting relationship shown in the series, although it's worth noting that children are already heavily (and tragically) embedded within the fabric of the show's narrative. Not even the most fragile humans are exempt from the gang-associated violence, whereas with Sons, Sutter downplayed the M.C.-sparked peril faced by kids until a few seasons into the show.
3. Some crowd-favorite characters are in the making — Will the Mayans eventually show their swagger? It's difficult to say whether any of the members will transform into fan favorites in the manner of Opie or Chibs. As it stands, two full-patch members — EZ's brother, Angel (Clayton Cardenas), and Johnny "Coco" Cruz (Richard Cabral, who received an Emmy nod for American Crime) — receive the most face time. In particular, the latter member has some messy ties (and accompanying haunted eyes) that should be fun to explore. And both men gamely relish the action scenes, full of car chases, gunfights, and explosions. Hell, there's even a gleefully shot fight inside a dog kennel. On the unpleasant side, plentiful carnage illustrates the Galindo cartel's ruthless ways, but that's to be expected.
Yes, the gory scenes are graphically rendered, so we feel the full gravity of why a vigilante group, Los Olvidados ("The Forgotten Ones"), led by the quietly kickass Adelita (Carla Baratta), hopes to shift the balance of power. And back to EZ, well, he isn't having a good time yet, since he's doing the grunt work for the M.C., although it's not hard to guess that his rank shall rise. Perhaps then, his character shall display a swaggery stride, but for now, his level of charisma sits at a muted level because he lost a lot before the series began. So hopefully, there's nowhere for him to go but up.
One final note on characters — Sutter loves to play around with archetypes so much. With the Sons, there were plentiful Shakespeare, Godfather, and biblical parallels throughout. So far in Mayans M.C., he's oddly toying with the audience through an omnipresent … stray dog. Why? No one knows yet, but there's sure to be more oddities on the way before that question is answered. For now, it's best to buckle up and enjoy the ride.
Mayans M.C. premieres on FX on September 4.