Saturday Night Live has been kind enough to give the classic board game Life the modern revamp it deserves for 2018. A dark, miserable, xenophobic revamp, specifically.
Welcome to The Game of Life: DACA Edition where all the ups and downs of Life™ (like being a rock star!) come true and Dreamers that play the game get to enjoy all kinds of exciting bonus features like endless legal hell, deportation and the dreaded Presidential Tweet Card. The perpetually underrated Melissa Villaseñor shines as the player tasked with the seemingly impossible challenge before her. Look! There's even an exciting Immigration Court System Expansion Pack!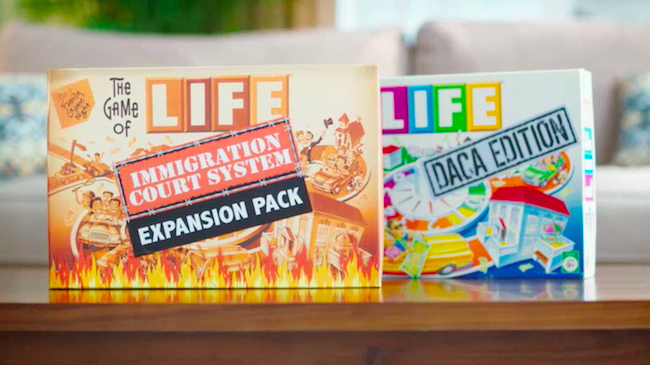 "Introducing The Game of Life: DACA Edition!" beams Beck Bennett as the commercial's cheery narrator. "Only dreamers can jump through bureaucratic hoops, duck from ICE officers and work three jobs just to get by!"
Dreamers get the exciting alternate route of wandering aimlessly in a bid to get citizenship rather than all the stuff the other players get to do in their board game adventure. It's dark, funny and offers some valuable bite while also raising questions about how long the behind-the-scenes team worked on those mini Western Union locations. Good things all around.
Looking onward to the next live go-around at Studio 8H, we'll be getting the combo of John Mulaney and Jack White for the April 14th edition of SNL. Should be fun.