It's not as darkly comic as the "Dinner Party" episode and it didn't cause Ed Helms to duck behind a wall because he couldn't stop laughing, but the fire drill in season five's "Stress Relief" ranks among the funniest scenes on The Office. After Dwight tries to teach his co-workers a lesson about fire safety, things go horribly wrong: Michael Scott panics ("We're trapped! It's everyone for himself!"), Kevin throws a chair at the vending machine, Andy thinks the "fire is shooting at us," and poor Stanley has a heart attack. Also, this happens.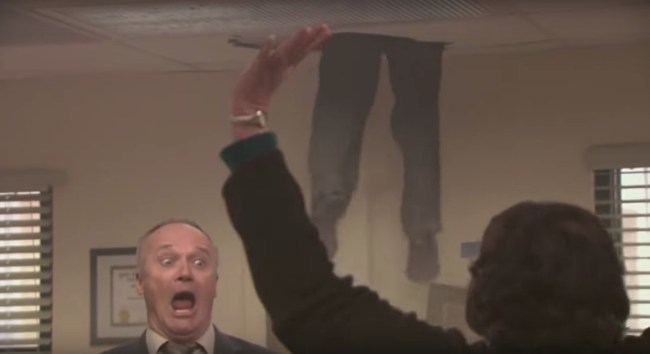 But my favorite moment of the scene is when Angela throws her cat, Bandit, up to Oscar, who's crawling around the ceiling, only for the cat to come crashing back down. It's apparently actress Angela Kinsey's favorite, too, because during an episode of her wife-and-husband video series, Baking with Josh & Ange, she (with special guest Oscar Nunez!) was asked by a fan to "recreate your [favorite] scene from The Office." Good thing they had a stuffed cat around.
Kinsey also delighted Office fans with a recent tweet to Netflix.
In related news, John Krasinski (who will soon be seen in Jack Ryan: Threat Level Big Tuna) told Entertainment Weekly that he's game for an Office reunion. "I think it's hard obviously with everybody's schedule to do an Office reboot, but I would so be down. It wasn't just a show for us. It was a family," he said. "Maybe we could do like a Christmas special or something. The British show did a Christmas special, which is like, 'Where are they now?' for one episode, because I don't know how we'll get everybody together for 22 episodes."
As long as Bandit's invited, too.
(Via Angela Kinsey on Twitter)