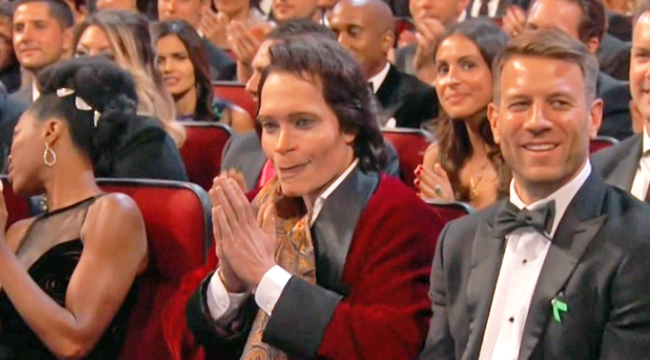 Last night at the Emmys, FX's heavily nominated Atlanta took home none of the gold. This development, of course, led to murmurs of a shut-out that were fueled in conjunction with the #EmmysSoWhite hashtag and co-host Michael Che's own "Reparation Emmys" skit. Given that Atlanta is not only critically acclaimed and beloved but also more evidence that Donald Glover had a phenomenal summer, folks talked, and they also wanted to know exactly what was up with Teddy Perkins' appearance at the ceremony. Who exactly was disguised as this Michael Jackson-esque character from a 2018 episode?
It wasn't, as some folks initially speculated, Donald Glover himself, and the subject stayed alive when Atlanta writer Ibra Ake tweeted this photo of Teddy, live from the Governors Ball after the ceremony.
Ake's caption may have been a shout out about the shut out, so to speak, for Glover didn't even take home (as many believed he deserved) the Outstanding Lead Actor in a Comedy Series award. And then the "Who Is Teddy Perkins" mystery deepened when Shutterstock posted this image on Instagram.
Given that Glover and his Atlanta co-stars, Brian Tyree Henry and Lakeith Stanfield, posed alongside Teddy, this clearly rules all of them out … so who is wearing the costume? We may never know, but at least Atlanta inspired the best joke of the opening monologue.