Are you aware of what's happening with CSI these days? It's kind of incredible. There's a show out there called CSI: Vegas. If you read that just now and said "Wait, wasn't CSI always in Las Vegas?" then you are both right and wrong and about to go on a real ride. That original CSI ended in 2015. There were others in there for a while, too, most notably CSI: Miami (Caruso, sunglasses, etc.), but also CSI: NY (Gary Sinise solving City murders), and my beloved CSI: Cyber (Ted Danson and Patricia Arquette doing computer things, sometimes using a Roomba to solve a murder). Those all ended and then CBS brought back some of the original crew in 2021 and plopped them back in Sin City and called this revival/continuation CSI: Vegas, which is somehow both less and more confusing than if they had just called it CSI again. It's really a lot, and that's before we even get to the various NCISes or the thing where Without a Trace and Cold Case exist in the same fictional universe as CSI, too. Ask your dad about it. He'll probably have most of it nailed down.
In fact, buckle in for a long chat about television with your dad, or any dad, really. The last few weeks have been kind of wild for them. There are spinoffs and continuations and prequels of so many of their favorite shows happening or about to happen right now. Most of the shows are going to Miami, like many dad shows and dads eventually do. It must be so thrilling. The Dad Show Extended Universe is growing at an exponential rate.
Let's start at the top. The top of the ratings, at least. Things are happening in the world of Yellowstone. So many things, honestly, in addition to all of the other things showrunner Taylor Sheridan has going on right now. The big one is the chaos of the original, which could be ending soon on account of Dad North Star Kevin Costner (Field of Dreams, Bull Durham, Tin Cup, all the dad classics) allegedly wanting to step away from the show soon. But fear not! Plans are in place! Probably!
What all parties are now wrangling is a Yellowstone franchise extension that Sheridan will write with McConaughey as the star. The True Detective star is currently in negotiations.

Because of the wild success of the prequel series 1883, 1923 and expectations on upcoming Sheridan shows, the studio has more flexibility and isn't as dependent on Yellowstone as was the case two years ago.
Matthew McConaughey stepping in for Kevin Costner for a spinoff of a show about a ranch where sometimes murders happen. This is some powerful business. But let's not miss the other key part of this. There are so many Yellowstone spinoffs already and there are going to be so many more. Look at this list.
Prequel limited series 1883, which starred Tim McGraw, Faith Hill and Sam Elliott, premiered in December 2021 and told the story of how the Duttons came to own the land that became the Yellowstone ranch.

1923, which stars Helen Mirren and Harrison Ford, premiered in December 2022 and is set for a second and final season, taking in the time of Western expansion, prohibition and the Great Depression.

As Deadline scooped last October, also on the drawing board are two separate limited series that encompass the struggle to hang onto the ranch in the 1940s and the 1960s.
For the math-averse, this adds up to four Yellowstone prequels, in addition to the original and the McConaughey extension of that. My great hope is that this universe keeps growing in both directions and the next batch of spinoffs includes one called like 3023 set 1000 years in the future but nothing has changed on the ranch. Maybe the cars fly now. That's it. Everyone still in cowboy hats and working the soil as the sun expands and threatens to swallow the planet whole. Or maybe they are ranching on Mars. Maybe both. The only thing limiting us is the furthest reaches of our imaginations.
It's not just Yellowstone that's expanding its universe. Bosch is growing, too. At a rapid pace. Everyone's favorite show about a loose cannon cop who gets results and listens to jazz in a glass house overlooking Los Angeles is getting two new spinoffs (spins-off?) in the next year or two, in addition to the spinoff it already has. Here, look, there's one about Bosch's partner, Jerry Edgar, played by Wire veteran Jamie Hector…
A police drama following Harry Bosch's former partner, Detective Jerry Edgar, who is tapped for an undercover FBI mission in Little Haiti, Miami. In this glamorous city, he is forced to balance his new life with the gritty underbelly of the city, while being chased by his mysterious past.
… and there's one about Renee Ballard, too, who is a figure in a series of books by Bosch author Michael Connelly.
Detective Renee Ballard is tasked with running the LAPD's new cold case division. Beyond simply investigating unsolved crimes, Renee is dedicated to bringing credibility to the department and justice to the community. Having learned from retired ally and mentor Harry Bosch, Renee does things her way – solving cases in unconventional ways while navigating the politics of being a woman on the rise in the LAPD.
Which is fine. Great, even. My only request is that both shows let Lance Reddick's character, police chief Irvin Irving, swing by every once in a while to grumble the lead character's name and/or swear a little bit. I could use a few more screencaps like these.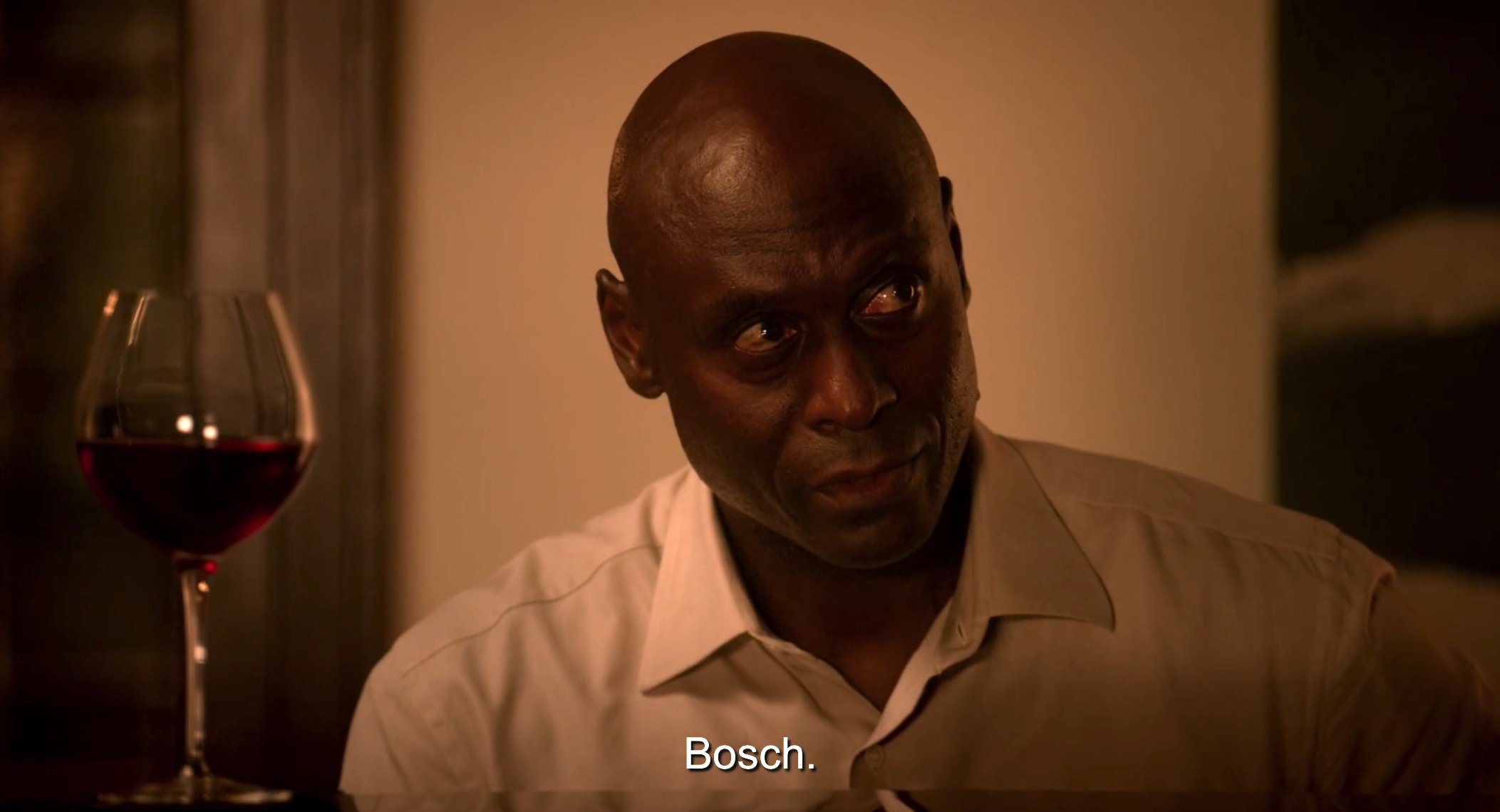 Sometimes I think about what I would do if Lance Reddick ever yelled at me. So far the best answer I have is "dissolve into a little pile of dust and blow away in the first reasonably stiff breeze." I will continue to ponder this. I do not think I would enjoy it.
Hey, guess what other show is getting a handful of spinoffs in the next few years. Did you say Billions? Is it because Paul Giamatti is in the image at the top of the page? Hmm. Well, you're right, for whatever reason. It's Billions!
The looser plan for "Billions" is designed to give viewers various entry points to fictional worlds of money and power, and to provide Showtime with related content to premiere throughout the year. "Billions" co-creators Brian Koppelman and David Levien are developing a spinoff set in Miami, a hub of cryptocurrency (and tax breaks for TV productions). The producers will also oversee development of a potential London spinoff, plus two planned takeoffs on the "Billions" title: "Millions," about young characters on the come-up in finance; and "Trillions," a soapier foray into the ultrarich set.
My God. Read that again. And another time after that. Millions, Trillions, Billions: Miami, and Billions: London. This is incredible. I need the Miami one to star Giamatti and let him go full Caruso. Sunglasses, bright shirts unbuttoned to the middle of his chest, all of it. I need to see him do exactly this but with a golden suntan and a white linen suit, preferably as soon as this afternoon.
The things I need you to take away from this discussion can best be summarized in three bullet points, so let's go ahead and do that:
This is an exciting era for dads everywhere
I'm still kind of blown away by the CSI revival series being called CSI: Vegas even though that's where the original series was set
We need to figure out a way to get Bosch, Billions, and Yellowstone to do a three-way crossover series, maybe about a crypto tycoon who gets murdered on a ranch in Miami that Bosch is visiting
Get your dad on the phone this weekend and ask him about it. He probably has lots to say about all of this.