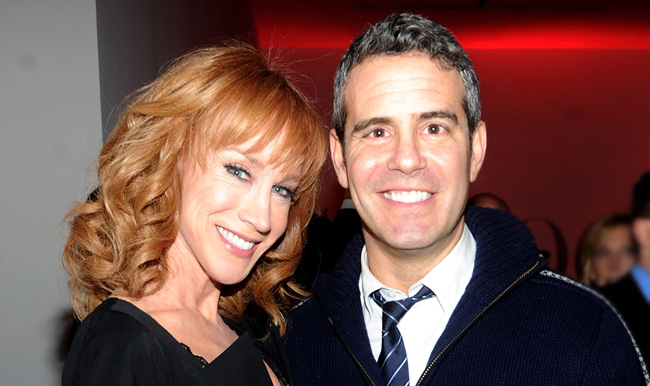 Kathy Griffin caused quite a stir on Saturday after releasing a blistering 17-minute video running down a number of allegations against TMZ founder Harvey Levin, Watch What Happens Live host and former Bravo head of development Andy Cohen, and their connection to the ongoing Harvey Weinstein scandal. The video, posted to Griffin's Twitter account, alleges that both played a part in covering up the accusations against Harvey Weinstein. She also alleged that both men harassed her, claiming that "People like Harvey Levin and Andy Cohen, honestly just live to take women down."
While Levin possibly received the brunt of the criticism in the video, including his phone number being released in the video, Griffin made the shocking allegation that Cohen offered her cocaine before his show and seemingly left her sour over their business relationship over at Bravo.
"He was a miserable boss for all of those years," she explained. "The whole time I was working there, I didn't know how Andy Cohen wanted to be me … I didn't know Andy Cohen was on the red carpet, trying to be funny and asking questions on BravoTV.com. I didn't know when they ended The D List and I desperately wanted to do a talk show, Andy Cohen would be the first television executive in the history of television to give himself a talk show. Which seems to get picked up every season."
Coen quickly denied the story on Twitter, adding that he was stunned by the allegations and calling them "100% false."
Griffin's video comes on the heels of TMZ posting video of Cohen claiming he had no clue who Griffin was while answering questions about his new gig alongside Anderson Cooper for CNN's New Year's Eve show. Both events together seemed to help fuel Griffin's video, stemming from the controversy that grew after her photo shoot with a severed Donald Trump head that eventually led to her dismissal from CNN's telecast.
Griffin has lashed out at many others following the controversy, including lawyer Lisa Bloom, who Griffin claims "exacerbated" the controversy, and Cooper, who Griffin referred to as "The Spineless Heiress." Why Griffin chose now to lash out and accuse Levin and Cohen in her video has yet to be answered, but it seems to be the latest to connect itself to the growing Weinstein scandal that is reverberating throughout numerous industries at the moment.
(Via US Weekly / The Daily Beast)