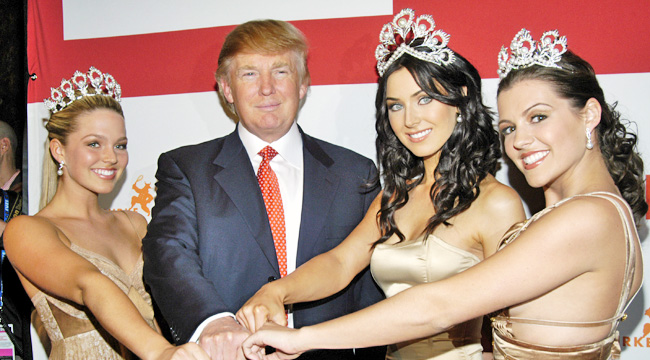 On Friday, the The Washington Post released damning hot mic footage of Trump making extremely lewd comments while Billy Bush whooped and hollered. The "grab them by the p*ssy" comment bears repeating as a singular example that summarizes decades of Trump's degrading comments about women. The search is on for more media outlets to uncover more Trump footage, and word on the street is that they exist (including a rumor that Trump drops the N-word in one of them).
For now, easy pickings come in the form of Howard Stern archives. In the past, these conversations have involved Trump's support of the Iraq invasion (though Trump has continually denied this). The raunchier conversations featured Stern and Trump discussing how Melania doesn't poop.
More conversations surfaced on Saturday, thanks to CNN. There are so many of them, and much of the initial rush focused on Trump being cool with Stern referring to his daughter, Ivanka, as "a piece of ass." But another conversation from 2005 is creating a stir, for it involves Trump talking about he'll improve the Miss USA pageant by only including beautiful women instead of the "educated" ones favored by the previous owners. He promised Stern that the women would wear less clothing (almost thongs) and skirt up against network rules. In a particularly eye-raising moment, Trump discussed how he gets away with "inspecting" the contestants while they're getting dressed:
"Well, I'll tell you the funniest is that before a show, I'll go backstage and everyone's getting dressed, and everything else, and you know, no men are anywhere, and I'm allowed to go in because I'm the owner of the pageant and therefore I'm inspecting it. You know, I'm inspecting because I want to make sure that everything is good. You know, the dresses. 'Is everyone okay?' You know, they're standing there with no clothes. 'Is everybody okay?' And you see these incredible looking women, and so, I sort of get away with things like that. But no, I've been very good."
"The funniest." Trump also explained how it was his "obligation" as the pageant owner to do this inspection, but former Miss New Hampshire Bridget Sullivan spoke with Buzzfeed about how Trump performed this sexist charade in 2000, and she wasn't amused. Sullivan called him a "creepy uncle" who'd hug you "just a little low on your back." And she confirmed that, yes, it was as bad as it sounds: "The time that he walked through the dressing rooms was really shocking. We were all naked."

You can hear the boastful clip from Trump below, where he also discusses how sleeping with contestants could be a conflict of interest, but "you tend to think about the conflict a little bit later on." This clip arrives with a major language warning, for Stern and Trump discuss explicit sexual positions involving Tiger Woods and his mistresses.