Over the course of a whirlwind 24 hours, Roseanne Barr sort-of apologized after backlash over her racist tweet about Obama advisor Valerie Jarrett, but she couldn't mop up that mess. Hours later, ABC cancelled the Roseanne revival despite its stellar ratings, a move that thrust the network's normally reticent president, Channing Dungey, into the spotlight. Dungey labeled Barr's tweet as "abhorrent, repugnant and inconsistent with our values," and although Barr had declared that she'd quit Twitter amid the ruckus, she predictably broke her silence on Tuesday night.
What wasn't entirely predictable was Roseanne's attempt to blame her racist statement on the sleep drug Ambien. In this now-deleted pair of tweets, she also begged her followers not to seek retribution on ABC through a boycott.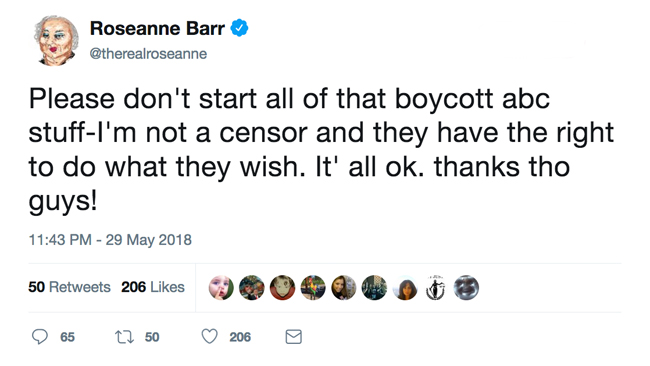 Barr also tweeted and deleted and argued with other tweeters throughout the night, so perhaps she decided to forgo the Ambien. Or maybe she was Ambien-tweeting about Ambien. No one really knows!
In the meantime, Hulu has joined Viacom-owned cable channels (including TV Land and CMT) in yanking Roseanne episodes (both from the original run and the revival) from public view. The show's sudden cancellation has plunged Barr's fellow cast members, crew, and writers (who had just returned to begin crafting Season 2), into unemployment land, and Barr also acknowledged that on Twitter before deleting that sentiment as well.
Ambien, of course, was one of the drugs that was famously found in Tiger Woods' system after his DUI arrest. It can make people loopy, but it obviously doesn't cause racism. Twitter is having a ball with this right now, and this tweet may be the best one out there.