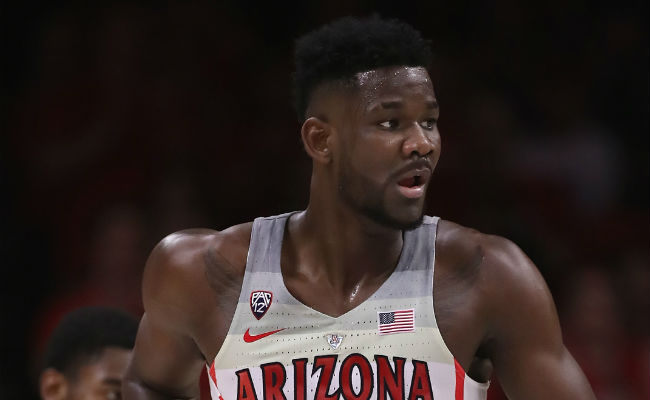 The Arizona Wildcats won the Pac 12 title on Saturday night, beating the Cal Golden Bears, 66-54. The win marked the end of a regular season that's been suddenly tumultuous, with head coach Sean Miller embroiled in a recruiting scandal.
Reports surfaced last week that Sean Miller discussed a payment to star Deandre Ayton and his family, something that was allegedly caught on tape in an FBI wiretapping investigation. But Ayton and his family denied the report's accuracy, as did Miller, and now it seems that ESPN's initial reporting on the investigation may not be entirely accurate.
Regardless of what happens with that investigation, it's now clear that Ayton and two other members of the Wildcats won't be back next season. Miller told reporters after the game that Ayton, Allonzo Trier, and Rawle Alkins will not return to Arizona.
"They're not coming back," Miller said of the three.
Miller raved about the departing Ayton in particular after the game on Saturday, saying he may never coach another player like him.
The scandal has marred what's been a fantastic season for the Wildcats, but it's one that's far from over. The Pac 12 tournament starts in Las Vegas on Wednesday, and the Wildcats will certainly be playing in the NCAA Tournament later this month. Once all that's over, though, Ayton will move on to the NBA, leaving Miller and Arizona to face whatever will come of the investigation once it concludes.