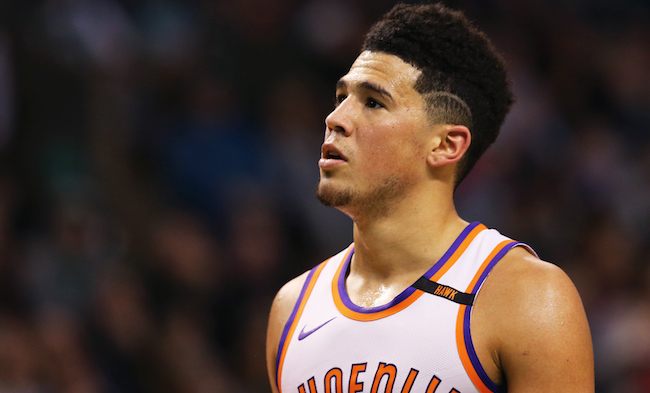 On Tuesday night, the Suns were blown out by a bad-but-improving Nets team, 104-82. What Phoenix star Devin Booker saw in that Brooklyn squad, interestingly enough, is what he wants in the Suns — a team that, despite its faults, finds ways to grow and improve. The Nets are pesky and fight every night. Nobody enjoys playing the Nets, because they're always going to push whoever they play to their limit. It's a credit to the Nets organization that they can do this despite years of being in NBA purgatory.
The Suns, however, aren't like that, because while they have been just as bad as Brooklyn, they have shown none of the improvement or peskiness that should come with a rebuild. The only time the Suns make headlines are when they're firing their General Manager a week before the season, or their coach three games into the regular season, or Eric Bledsoe tweets that he doesn't want to be in Phoenix.
The best thing the Suns have going for them right now is Booker, as the young guard is only 22 and just signed a 5-year max deal over the summer. He has the ability to put up gobs points, and every year of his career, he's gotten better at doing just that. There's a concern that his numbers have an emptiness to them, but he's the reason Phoenix has even been competitive this season to begin with.
When Booker is on the floor the Suns have a net rating -6.1. Not great, but nobody on the Suns has a good on court net rating. Take Booker off the floor, though, and the Suns net rating plummets to -21.4. Without Booker, the Suns are brutal. So when he speaks, everybody listens, and after the Suns loss to the Nets, he spoke.

"All good teams have that trust and chemistry where you're able to get on each other and know that it's for a better purpose," said Booker, who signed a max contract extension with Phoenix over the summer. "I don't think we have that right now.

"We're not comfortable with each other. We don't step on each other's toes. We don't push each other, and I think that's what we need to do."
The season is barely a month old and it sounds like Booker is already calling out the trust and effort of his teammates. This is a problem for the Suns, but those problems have nothing to do with Booker. For the entirety of Booker's short career, the Suns have been a doormat for the NBA and consistently get blown out. He's tired of it. This is a Suns-wide issue that needs to be resolved.
The Suns need to find where their biggest issues lay and fix them. For years the same effort and accountability issues have existed in Phoenix. If they continue, it will only waste the incredible talent of a player like Booker. He's seeing this happen and he wants to fix it, and the Suns should do him a courtesy and help.