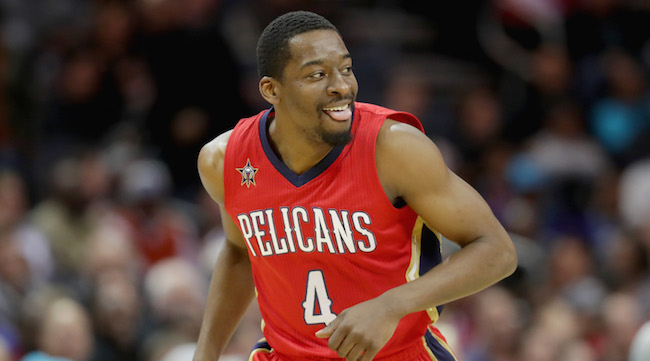 There is very little middle ground when it comes to how people feel about LaVar Ball. The patriarch of basketball's Ball family that he insists is poised to take over the NBA speaks his mind freely and unconcerned with consequences at all times. He hypes up his sons, most notably his eldest Lonzo that is a presumptive top-3 pick in the upcoming NBA Draft, and isn't afraid to compare them to the all-time greats in the game.
LaVar Ball has rubbed many the wrong way. He has, within the last six months, beefed with LeBron James, Charles Barkley, and Shaquille O'Neal among others over various things, but not everyone is anti-LaVar. Among those that Ball can count in his group of supporters is none other than Jordan Crawford aka Steez aka Steezus. The bucket-getting legend that has bounced in and out and back into the NBA with the Pelicans to end this past season is on board with the Big Baller Brand movement.
On Wednesday, Crawford tweeted out that he needed the "LaVar Ball shoes" and then, once provided with the link, quickly pre-ordered his pair of the ZO2 Primes.

Crawford's has NBA player sized feet so he had to pay $695 for his ZO2s since they are above a size 14. The best part about this whole thing is that he doesn't call them Lonzo Ball's shoes, but LaVar Ball's shoes. There's a non-zero chance that Jordan Crawford, like DeMarcus Cousins, has no idea who Lonzo is but simply knows that LaVar is a legend and that he wants to support him. Crawford joins Chad Johnson and others as those that will be the first to rock Big Baller Brand's first signature shoe in November.