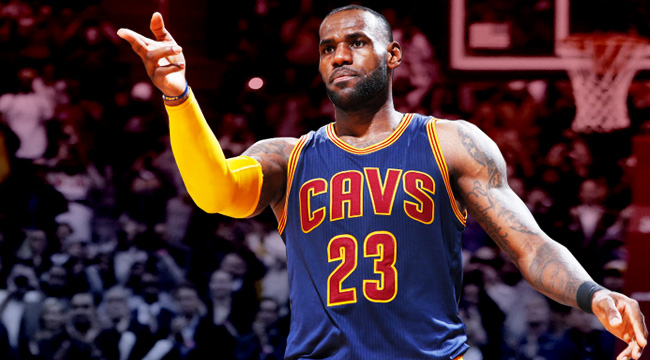 LeBron James went into Boston on Wednesday night and put the Celtics to sleep on their home court. There's no other way to describe it, other than the well-worn yet accurate term that lingers around most conversations about James: domination.
James was ruthless in his performance, 38 points, 9 rebounds, and 7 assists in a stat line that at times looked effortless. James casually drove on Kelly Olynyk — who couldn't guard him — and playfully fed teammates like Kevin Love, who himself had 32 points and 12 rebounds in a rout of a Celtics team that survived John Wall and Washington just long enough to walk into a home court beatdown on Wednesday night.
It looks like there's little hope for Isaiah Thomas and the Celtics because there's no bouncing back from a defeat at the hands of LeBron James. Not this postseason, anyway. James has consistently tore through his opponents this spring in a way that continues to set records. Forget the all-time playoff scoring mark, which will certainly fall sometime over the next two weeks. We're talking all-time efforts for consistent dominance.

James has already won a road game in every Eastern Conference arena outside of Cleveland, and at this point he's comfortable playing pretty much anywhere. And why not? Few people can guard him consistently, and his focus in the postseason is infectious.
The regular season worries about defense and finding shooting depth are a thing of the past for this Cavaliers team. It's just a different animal in a best of seven series, and that focus starts right at the top with James.
Wednesday night's game was physical and featured a lot of bickering. The Cavs seem mad at Kelly Olynyk for his injuring Kevin Love two postseasons ago. Maybe someone on Boston took exception to James's play inside, and his jabbing after blocking Evan Turner.

It's often said that James doesn't respect his opponents, and he showed it with his in-game antics on Wednesday night. But at what point has James been proven that he can't afford to turn his back on a defender? Since he got right in Miami, who has humbled him outside of the NBA Finals?
James has said some bombastic things this postseason that have gotten some attention as well. He joked that he's been playing at his peak for 16 years, and later he told the media has nothing left to prove in the postseason. But he's far from alone in his praise of his own game.
Others say it's time to directly compare him to Michael Jordan, which seems fair because they are often the only two players that have hit the same impressive statistical feats. He's also responded to, you know, criticism of all kinds.

Perhaps James is kidding — though at this point it's hard not to believe him — but he seems to genuinely think he can do better.
"Having 10 days off I didn't feel that great," James said, somehow. "But I know I'll feel a lot better going into Game 2."
If there is a better LeBron James available, perhaps it's best he saves it for the Golden State Warriors. They're still looming over in the Western Conference, and Stephen Curry and Co. are a team that sports an equally terrifying efficiency with which they have dominated their postseason run. Watching James toy with Boston, though, is a good reminder that the postseason's best is yet to come.
James may only have one equal in this league come playoff time, and at this point it's clear the equal isn't coming from the Eastern Conference.