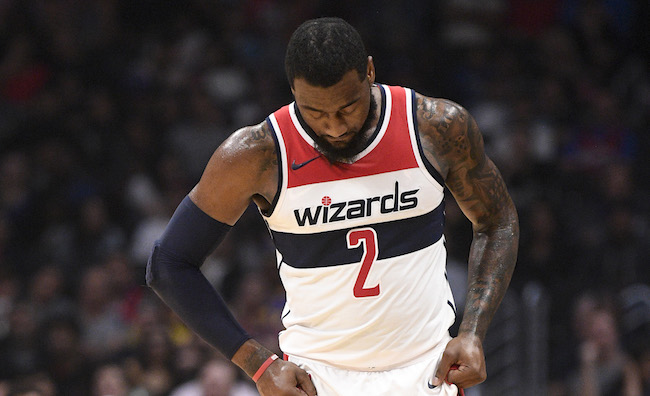 As the 2018-19 season approached, many jokes were made about the Washington Wizards. Virtually everyone picked the Wizards to make the NBA Playoffs out of the Eastern Conference, but, considering Washington's startling confidence level and bravado, it was easy to poke fun at a team that many expected to fall short of securing home-court in the first round of the postseason.
Through six games, however, things appear to be worse in the nation's capital than anyone could have expected and that issues begin on the defensive end. According to Basketball-Reference, the Wizards have allowed more points (750) through the first six games of a season than any team since the 1990-91 Denver Nuggets and, while some of that has to do with pace being up across the league, no one would mistake Washington's defensive performance as being unacceptable to this point.
From there, the Wizards appear to be an ongoing mess behind the scenes, with bickering from the team's best players and very little in the way of on-court chemistry. There is absolutely talent to bank on with this Washington team, headlined by John Wall and Bradley Beal, but it is also hard to ignore the signs that things could go sideways with haste and, without additional context needed, Dwight Howard hasn't even figured into the mix on the floor just yet.
Are the Wizards this bad? Almost certainly not. With that said, the possibility for a full-fledged meltdown does exist and, at 1-5 on the young season, there isn't much in the way of positive mojo to reference with this squad.
How far can Washington fall in this week's DIME power rankings? Let's find out.


1. Golden State Warriors (7-1, Last week — 3rd)
If there was any doubt as to whether the Warriors remain the best team in the NBA, it probably evaporated on Monday evening. Golden State scored 92 (!) points in the first half against the Bulls and Klay Thompson set a new league record for three-pointers in a game with 14. Obviously, one-game samples don't tell us much in general but, in short, the healthy Warriors are terrifying.
2. Milwaukee Bucks (7-0, Last week — 5th)

Look at the Bucks! Milwaukee survived a battle of undefeated teams on Monday, topping the Raptors in a game that didn't feature either Giannis Antetokounmpo or Kawhi Leonard. As a result, there isn't much to take away from that particular game but Milwaukee looks fantastic in the early going and, if not for the ridiculousness of the Warriors, Mike Budenholzer's team would be in the top spot.
3. Toronto Raptors (6-1, Last week — 1st)

The Raptors now have a loss (see above) but they have the characteristics of an unblemished team. If we're being honest, the Raptors are probably better than the Bucks and might be the best in the East when Kawhi Leonard's playing, but there will be plenty of time for them to prove it in the coming days.
4. Denver Nuggets (5-1, Last week — 2nd)
If not for a late collapse against the Lakers, Denver would be undefeated in their own right and it's been fun to watch the Nuggets. Virtually no one believes that this team's defense is as good as it has looked to this point but the Nuggets also aren't firing on all cylinders offensively just yet. When they do, look out.
5. Utah Jazz (4-2, Last week — 15th)

After a sub-optimal start, the Jazz posted three straight road wins against Western Conference foes (Dallas, New Orleans, Houston) and they looked good doing it. That isn't a surprise to anyone paying attention but Utah looked the part of a potential No. 2 seed in the West.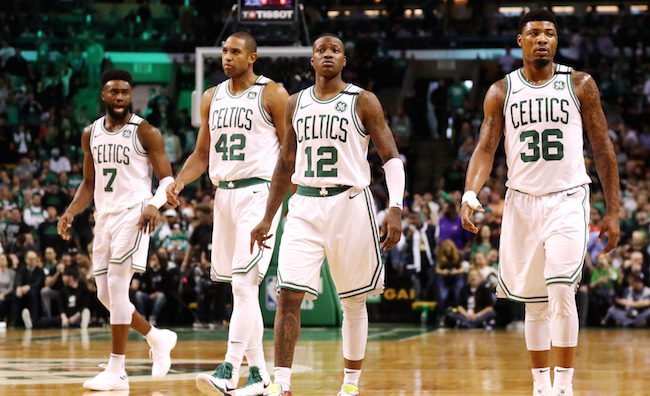 6. Boston Celtics (4-2, Last week — 6th)

I still can't get over Boston's home loss to Orlando earlier in the season but, since then, the Celtics look like the Celtics again. Defensively, this is an elite group but, on the other end, a bottom-five (!) offense might foreshadow doom if things don't tick up in the near future.
7. New Orleans Pelicans (4-2, Last week — 4th)
The Pels are 4-0 when Anthony Davis plays and 0-2 when he doesn't. It probably isn't that simple but… it might be that simple.
8. Los Angeles Clippers (4-2, Last week — 10th)

Raise your hand if you predicted that the Clippers would win by 20 in Houston and by 32 at home against the Wizards. I'm not raising my hand but that was a very impressive back-to-back effort from Doc Rivers' team.
9. Portland Trail Blazers (4-2, Last week — 13th)

Portland benefits from a bump on the heels of a 10-point road win in Indiana. The bench has been stellar in the early going and, while that may not be sustainable over 82 games, every win counts in the West.
10. San Antonio Spurs (4-2, Last week — 8th)
The Spurs currently boast a bottom-five defense and that is hard to fathom in the Gregg Popovich era. From a personnel standpoint, it absolutely makes sense but San Antonio is going to have to guard better than this or their playoff streak will evaporate.

11. Indiana Pacers (4-3, Last week — 11th)

It's been a spotty start for the Pacers but, on the whole, Indiana is outscoring opponents by 6.3 points per 100 possessions and that will certainly get the job done. Keep an eye on Myles Turner and Domantas Sabonis, though, as that duo is still sorting things out in a world in which Turner was paid handsomely in the form of an extension.
12. Detroit Pistons (4-1, Last week — 9th)

Detroit's perfect season came to an end with a thud in a 20-point home loss to Boston and the Pistons have to return the favor with a road tilt in Boston on Tuesday. That may not go well but there are at least some positive signs in the Motor City, including the surge of Blake Griffin.
13. Memphis Grizzlies (3-2, Last week — 14th)
There are two schedule wins (Hawks, Suns) on the ledger for Memphis but, in continuing a long-term theme, the Grizzlies are frisky when Mike Conley and Marc Gasol are healthy. They could use another quality option or two with JaMychal Green sidelined but their record isn't a fluke to this point.
14. Philadelphia 76ers (4-3, Last week — 7th)

Philly is 4-0 at home and 0-3 on the road. That's probably just noise but it's something to file away. Oh, and the Hawks (led by former Sixers assistant Lloyd Pierce) provided the rest of the league with quite a blueprint in dealing with Markelle Fultz on Monday. In short, Atlanta just didn't guard him at all.
15. Minnesota Timberwolves (3-4, Last week — 17th)

Your guess is as good as mine with the Wolves, who needed a flawless shooting performance from Jimmy Butler in the fourth quarter to get a win on Monday evening against the Lakers. With every passing day, things seem to get weirder and, in the West, they need to win to keep pace.
16. Miami Heat (3-3, Last week — 20th)
Honestly, the Heat should drop based on their showing on Monday, as a 10-point home loss to the Kings is unacceptable for any playoff-bound team. We'll grant a reprieve, though, based on the poor performance of a few high-profile teams below them.
17. Houston Rockets (1-4, Last week — 18th)

The Rockets are better than this (even with James Harden battling injury) but the team currently boasts a bottom-five defensive rating and that doesn't feel wrong. The Jimmy Butler buzz still exists but, even if Houston stands pat, they have to play better defense in order to even approach their big-picture goals.
18. Los Angeles Lakers (2-5, Last week — 23rd)

Blazers. Rockets. Spurs. Suns. Nuggets. Spurs. Wolves. That is the early schedule for the Lakers and, while 2-5 isn't a desirable result, that is quite a gauntlet for a team figuring itself out as the season arrives.
19. Oklahoma City Thunder (1-4, Last week — 21st)
Oklahoma City's lone victory is a home win over Phoenix. Let's just say we need to see more from the Thunder to ignore their opening four-game losing streak.
20. Charlotte Hornets (3-4, Last week — 19th)

In perfect Hornets fashion, the team is under .500 with a +5.3 net rating. Some of that is small sample noise but, on the positive side, Charlotte looks good when compared to preseason expectations.

21. Sacramento Kings (4-3, Last week — 26th)

There is an excellent chance that the Kings never rank higher than this during the season but, at the moment, their profile is actually better than this. The Kings have won three straight, are basically neutral in terms of net rating (-0.6) and have a winnable game against Orlando on Tuesday.
22. Dallas Mavericks (2-5, Last week — 16th)
Dallas has lost four in a row and that's never ideal. Each loss was by single-digits, though, and there are positive signs from Luka Doncic and, to a lesser extent, Dennis Smith Jr. at this early juncture.
23. Orlando Magic (2-4, Last week — 22nd)

This might be generous for Orlando, as the Magic have the 3rd-worst net rating (-10.6) through six games. With that said, the team's wins both came against playoff teams so this may just be a Jekyll and Hyde situation.
24. New York Knicks (2-5, Last week — 27th)

After losing five straight, the Knicks beat the Nets on Monday. That is the full rationale for New York being ahead of Brooklyn in this space.
25. Brooklyn Nets (2-5, Last week — 24th)
There is nothing wrong with the Nets losing to the Warriors and Pelicans, but dropping a 19-point decision to the Knicks is problematic. Of course, it is only 1 of 82 but Brooklyn has to be better against poor teams to be as frisky in an overall sense as some predicted.

26. Washington Wizards (1-5, Last week — 12th)

We might learn something about the Wizards on Tuesday with a road game in Memphis. If they continue to scuffle, Scott Brooks could be in trouble sooner rather than later, even with the dreaded vote of confidence already on the record.
27. Atlanta Hawks (2-4, Last week — 28th)

The Hawks were dreadful on Saturday in a 12-point home loss to the hapless Bulls and, while the team was more competitive for a half against the Sixers on Monday, the end result was very lopsided. There will be impressive nights when Trae Young, Taurean Prince and company have it going offensively but the numbers aren't pretty and Atlanta needs John Collins back in the worst way.
28. Phoenix Suns (1-5, Last week — 25th)
Remember when the Suns throttled the Mavs in their season opener? Since then, Phoenix hasn't been very competitive in dropping five straight and, in a "normal" situation, they may find themselves in the No. 30 slot. It hasn't been good.
29. Chicago Bulls (2-5, Last week — 29th)

I know the Bulls have two wins but this is a rough group at the moment. Their weaknesses were on full display against the Warriors on Monday and, even if there are built-in excuses with injury, the Bulls are allowing 117.8 points per 100 possessions. That's hideous.
30. Cleveland Cavaliers (0-6, Last week — 30th)

The league's only winless team lands in the basement and you had to know that was coming. The Cavs fired Tyronn Lue this week, Larry Drew seemingly doesn't want the job and there is real unrest with a roster that makes very little sense. Other than that, things are just fine.