It is, at least in some ways, bizarre to consider rampant optimism when the Los Angeles Lakers post an 8-10 record over an 18-game sample. For what is arguably the NBA's flagship franchise, "success" does not usually come with a sub-.500 mark but, for this season, Luke Walton's team engineered real buzz with overall competence through the first month of the season.
Much of that relative effectiveness stemmed from a top-five defense in the league, as the Lakers allowed only 100.3 points per 100 possessions in the time between the season opener and Nov. 21. Since then, however, the wheels have come off for Los Angeles and, non-coincidentally, the damage has been done on the defensive end. Over the course of a five-game losing streak that seemingly restored order in the standings, the Lakers have posted a bottom-five defensive rating (112.4) which, in all frankness, is closer to the baseline that many assumed for the 2017-2018 season.
Make no mistake, there are actual signs of positive growth for the Lakers, with Brandon Ingram taking great leaps since an uneven (to be kind) rookie season and the defense still improving from a league-worst mark a season ago. Still, the Lonzo Ball experience hasn't been quite as advertised from a shooting perspective and, even if he is quite effective in other ways, the overall talent level on this Lakers roster isn't quite what is needed to seriously threaten for the playoffs, or even a .500 record, in the Western Conference.
This particular version of the Lakers is far more interesting than that of the previous couple of seasons and the young talent is worthy of attention in many ways. Still, the overarching notion that Los Angeles could surprise to the point of borderline playoff contention is evaporating and, in the end, this is still a group that is a year (or two) away… as we expected all along.
Where do the Lakers land in this week's NBA power rankings? Let's find out together.

1. Golden State Warriors (19-6, Last week — 1st)
Monday night's win over the Pelicans was eventful and not for ideal reasons if you're a Golden State fan. Steph Curry left the game with an ankle injury, Kevin Durant got into it with Boogie Cousins and the Warriors had to overcome a 20-point halftime deficit to get a win. Naturally, they were able to (easily) do that to cement the top spot this week but there is some uncertainty until we know more about Curry's ankle.
2. Houston Rockets (18-4, Last week — 2nd)

The Rockets have been outrageous this season and that isn't changing. Chris Paul is back to help James Harden but, in all honesty, Houston has probably played better than anyone to this point. The Warriors have earned the trust necessary to just stay at the top until weird things happen but the Rockets look to be the chief challengers.
3. Cleveland Cavaliers (17-7, Last week — 4th)

It hasn't always been easy but the Cavs have won 12 in a row. That is more than enough to rise in the rankings, even if the top two are still off-limits for the time being.
4. Boston Celtics (21-4, Last week — 3rd)
Celtics fans will scream disrespect about this ranking and… they may have a point. Boston's most recent win came with a stellar Kyrie Irving performance and a near triple-double from Al Horford, reminding us of just how impressive that duo has been. When the Cavs (finally) lose, we might see Brad Stevens and company back in the No. 3 spot.
5. Toronto Raptors (14-7, Last week — 7th)

The Raps are a model of consistency right now. It also helps that Toronto's offense, while always efficient previously, now resembles a more modern look and that brings more entertainment to the table to go along with the overall performance level living in an impressive zone.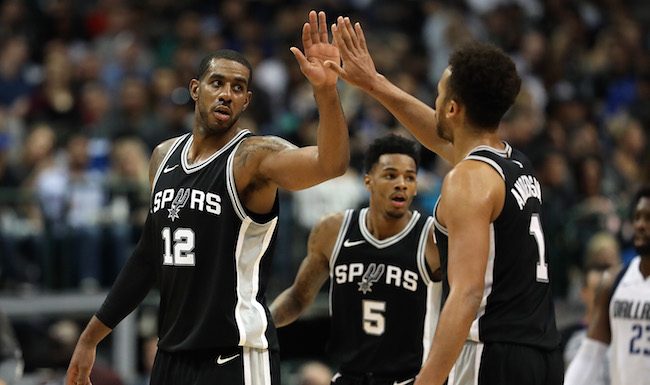 6. San Antonio Spurs (16-8, Last week — 5th)

Kawhi Leonard feels "pretty healthy" and the Spurs are terrifying when and if he returns to the floor. For now, we can simply take solace in the fact that San Antonio has performed admirably in his absence. Gregg Popovich is good at this and this most recent submission is a stark reminder.
7. Utah Jazz (13-11, Last week — 17th)
This may be the biggest single-week jump we see the rest of the season but the Jazz earned it. Utah owns an active six-game winning streak, Rudy Gobert is back on the floor (early, I might add) and the Jazz absolutely thumped the Wizards on Monday. It is fair to be skeptical but a top-five net rating says otherwise.
8. Indiana Pacers (13-11, Last week — 13th)

Indy's last three losses come at the hands of the Raptors, Rockets and Celtics. Let's just say I'm not going to hold those defeats against them. At least for now.
9. Philadelphia 76ers (13-10, Last week — 12th)

The Devin Booker buzzsaw caught the Sixers on Monday but, prior to that, Philly may have been even higher than this. When things are going well, this is a terrifying basketball team and that is something of a tiebreaker in the muck that is the middle of the NBA right now.
10. Detroit Pistons (14-9, Last week — 6th)
It's been an up and down season to this point for Detroit and we're in the middle of a "down" patch. The Pistons have dropped three straight but context is important and losses to the Wizards, Sixers and Spurs on the road aren't damning.
11. Portland Trail Blazers (13-10, Last week — 8th)
Every time I'm preparing to buy the Blazers, something dissuades me from doing so. This time, it is back-to-back home losses to the Bucks and Pelicans. While neither is individually troubling, there's just something about this basketball team that insists on making things difficult.
12. Denver Nuggets (13-10, Last week — 10th)

Denver falls a few spots on the heels of a decisive loss to Dallas. As we'll note later, that defeat isn't quite as bad as you might think but it still stings when picking nits in the way that we have to here.
13. Minnesota Timberwolves (14-11, Last week — 9th)
The Wolves have alternated wins and losses in nine consecutive games. If anything, that simply drives the point home that no one knows anything about Minnesota right now. It's just bizarre.
14. Milwaukee Bucks (12-10, Last week — 18th)

The Bucks have a bit of positive mojo working despite a loss in their most recent foray in Boston. Frankly, this is just Milwaukee looking like the team we expect with Eric Bledsoe in the mix but the returns have been encouraging lately.
15. Oklahoma City Thunder (10-12, Last week — 14th)

It remains amazing that the Thunder are under .500 at this point but back-to-back wins over playoff quality teams will do a lot to quell any lasting fear. Big-picture questions remain about the offense but perhaps some things have been figured out.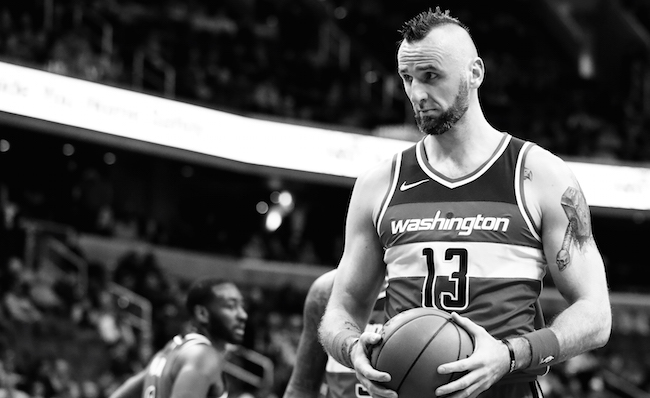 16. Washington Wizards (12-11, Last week — 11th)
The Wizards lost by 47 points in Salt Lake City on Monday. That is not a misprint. They remain a maddening team to watch due to the wild fluctuations in effort level on a nightly basis.
17. New Orleans Pelicans (12-12, Last week — 16th)

There is no shame in losing to the Warriors, even if it isn't great to blow a 20-point halftime lead (at home) to anyone.
18. Miami Heat (11-12, Last week — 15th)

After a rise precipitated by a 3-0 week, the Heat dropped three of four this time around. Miami is the definition of average right now.
19. New York Knicks (11-12, Last week — 20th)
It's been a weird stretch for the Knicks. A 29-point win over the Heat this week buoys the overall baseline but, in truth, New York has been struggling and it is tough to decipher what the actual expected performance level should be right now.
20. Charlotte Hornets (9-13, Last week — 21st)

Kemba Walker returned on Monday and looked great doing it. This has still been a maddening season for the Hornets but there are signs of life with the team's centerpiece back in the fold.
21. Brooklyn Nets (9-14, Last week — 23rd)

Three wins in five games, including a 20-point road victory, bring some optimism to the table. The Nets continue to operate in shorthanded fashion but the whole is greater than the sum of the parts in Brooklyn and they are even entertaining to watch on most nights.
22. Orlando Magic (10-15, Last week — 25th)
After a lengthy losing skid, the Magic have stabilized in knocking off the Thunder and Knicks this week. Of course, Orlando hasn't fully assuaged doubts about their early-season run acting as a mirage but, on the bright side, the hole isn't too deep to emerge from in the East.
23. Dallas Mavericks (7-17, Last week — 26th)

The 1-10 start still matters but, since then, the Mavs look a lot like the team we all expected to see this year. Dallas garners a tiebreaker win of sorts on the heels of beating the Clippers but, more than anything, it is important to note that this team doesn't resemble the one that started the season in a tailspin.
24. Los Angeles Clippers (8-14, Last week — 19th)

DeAndre Jordan now has an agent and, even with some positive news coming on the injury front, the Clippers are floundering. Could they stop the bleeding in time to avoid a sell-off? Probably, but the ship has kind of sailed when it comes to meeting lofty expectations this season in a world without a healthy Blake Griffin to lead this squad.
25. Phoenix Suns (9-16, Last week — 27th)
Phoenix's last data point is a 14-point road win over a quality Sixers team and, simply put, they were impressive in grabbing that victory. On the whole, though, the Suns are still a bottom-three team in net rating and they are probably closer to that than the team we saw on Monday.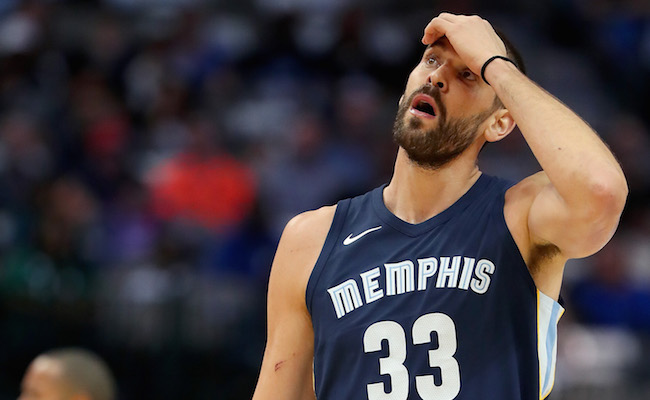 26. Memphis Grizzlies (8-15, Last week — 24th)

The Grizzlies won a basketball game on Monday evening and that saves them from an even more precipitous drop. Still, we shouldn't ignore an 11-game losing streak and we won't.
27. Los Angeles Lakers (8-15, Last week — 22nd)

Five straight losses can create a spiral and it does so here. The Lakers probably aren't this bad but they aren't playing well at the moment and as noted earlier, the defense has regressed to the mean in record time.
28. Sacramento Kings (7-16, Last week — 29th)
It's actually rather impressive that the Kings are sporting a 7-16 record despite an unsightly -11.4 net rating. Part of that, of course, is that the team has a few horrible losses but, in close games, Sacramento has performed relatively well and that is enough to bump up a spot this week.
29. Atlanta Hawks (5-18, Last week — 28th)

There are reasons to believe the Hawks are better than this but Atlanta's most recent "statement" came in the form of a 20-point home loss to the Nets. Let's just say that isn't going to do the team any favors when it comes to current evaluation.
30. Chicago Bulls (3-19, Last week — 30th)

The Bulls have been truly horrific through 22 games. Not only has Chicago lost nine games in a row but Fred Hoiberg's team has a ghastly -13.6 net rating and the pending return of Zach LaVine can only do so much. There is a real gap between the Bulls and everyone else.